RESULTS
Globe Derby Park - 10th January 2009
Proudly Sponsored by Harness Racing SA
Thanks to Jim Jacques for calling our Races tonight and thanks to Kelly for taking the photos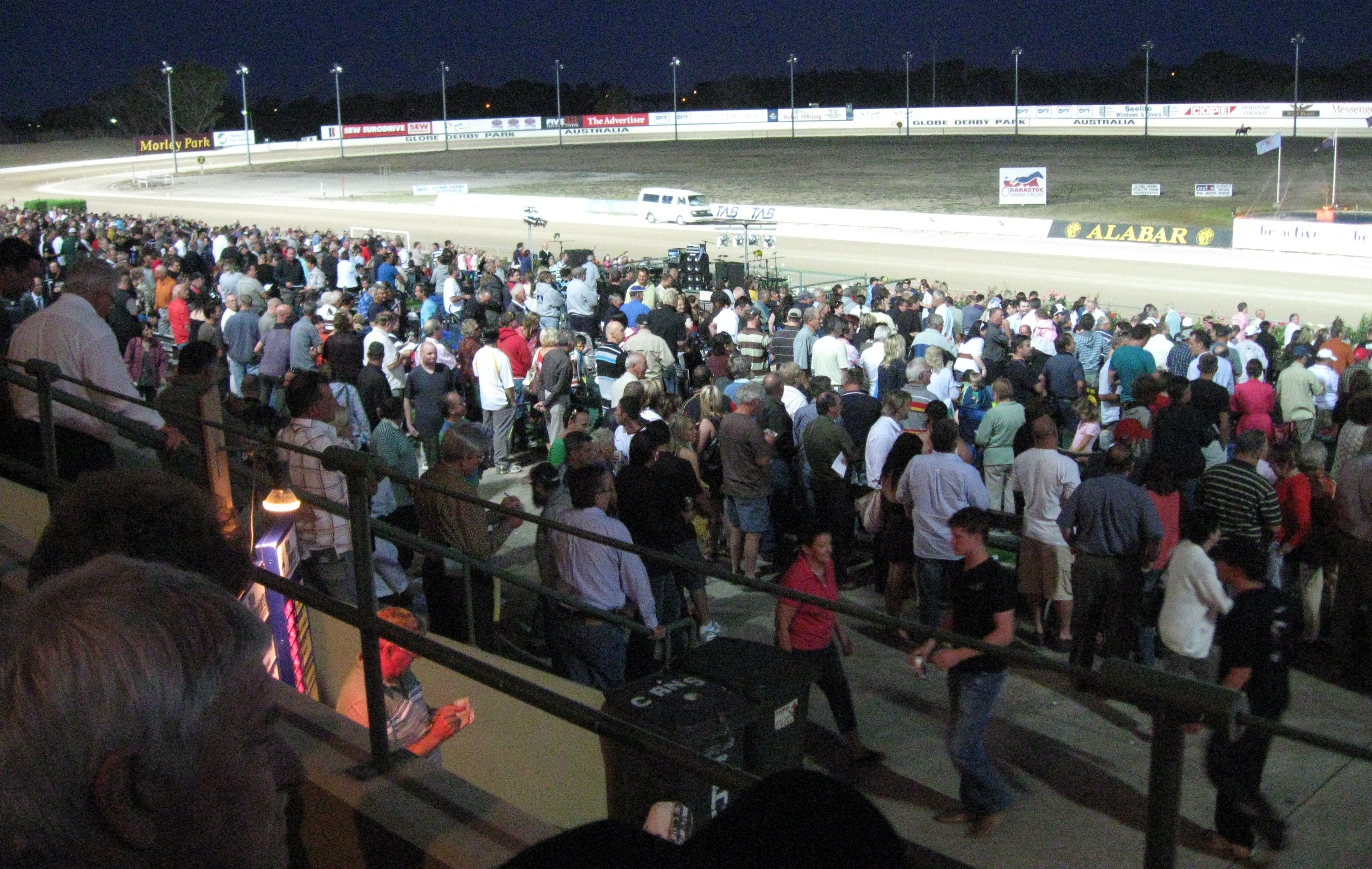 The huge crowd on the lawn to watch some great racing
RACE 1 - SA CUP SLOW CLASS
1st Chilli Knights - Brodie Webster
2nd Magpie Mary - Jodie Billinger
3rd Westbury Bogart - Jacinta Gilbert
4th Ben Bailey - Grayden Richter
5th Talking Donkey - Katelin Richter
6th Oungachucka - Chantelle Rendall
7th Born To Be Wild - Hayley Lehmann
8th My Little Pony - Jennifer Lehmann
9th Whataday - Jessica Pascoe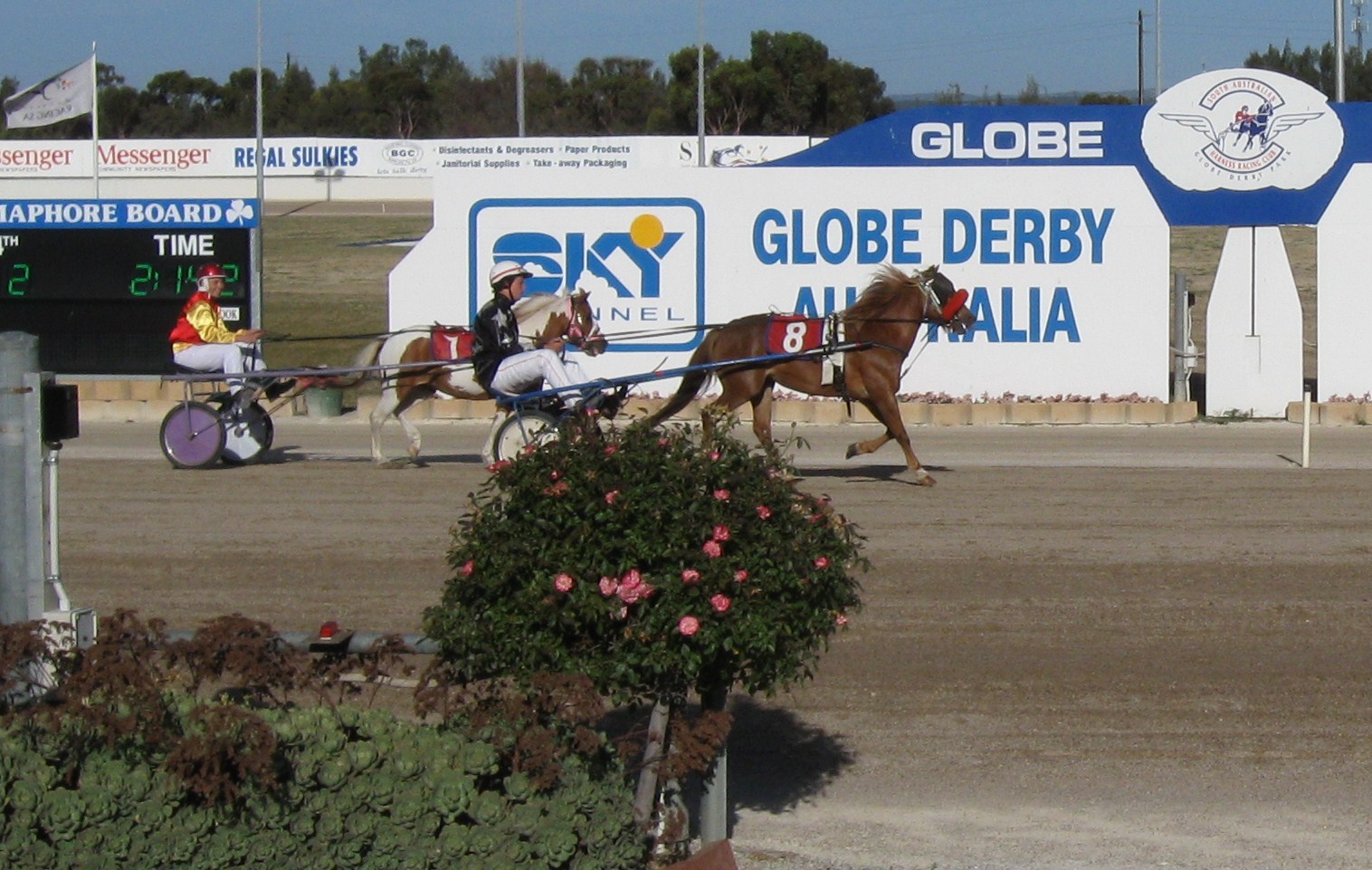 Chilli Knights 1st, Magpie Mary 2nd
Chilli Knights having just received Ribbon from Leanne Ewen on behalf of Harness Racing SA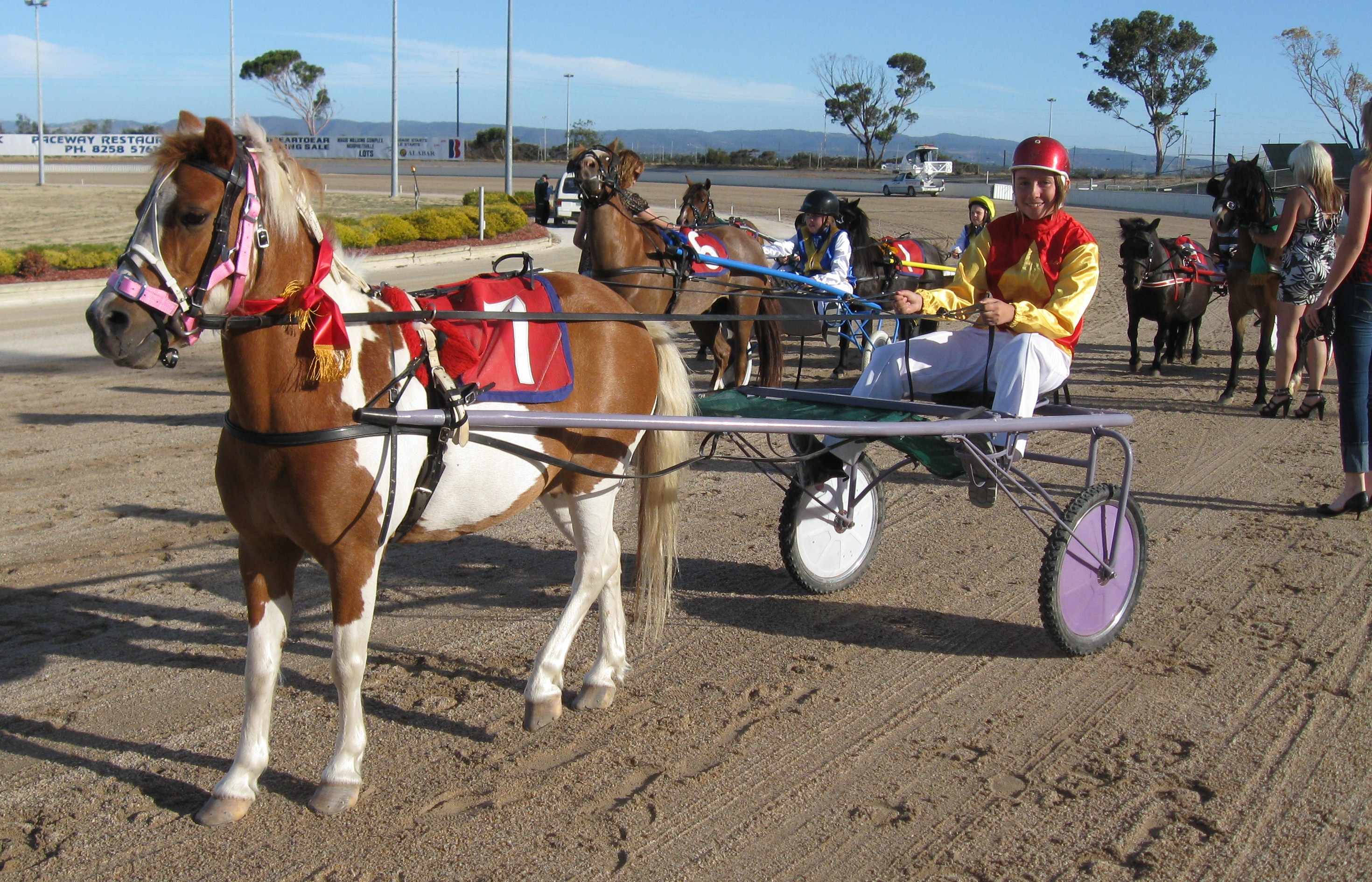 Magpie Mary with 2nd Ribbon
What a buzz for the kids to drive in front of the huge crowd tonight.  The three back-markers took control in this race.  Magpie Mary turned for home in front but was soon overtaken by Chilli Knights driven by Brodie Webster who went on to win with Westbury Bogart driven by Jacinta Gilbert finishing a few lengths behind in 3rd position.  When Jodie Billinger took up driving 6 years ago Magpie Mary was her first pony and first winner so she definitely has a soft spot for her but tonights race will probably be her last drive on Mary as from tomorrow little Kaycee Carey will be taking the reins.
RACE 2 - SA CUP MEDIUM CLASS
1st Wandarra Tess - Samantha Pascoe
2nd Till We Meet Again - Brodie Webster
3rd Monkey Business - Chantelle Dodd
4th Way To Go - Kathryn Lehmann
5th Little Paleface
6th Cheeky Charlie - Jacob Starick
7th Little Kizz - Jacinta Gilbert
8th Spirit - Shannon Platts
9th Aussie - Jodie Billinger
10th Mr Mischief - Matthew Williams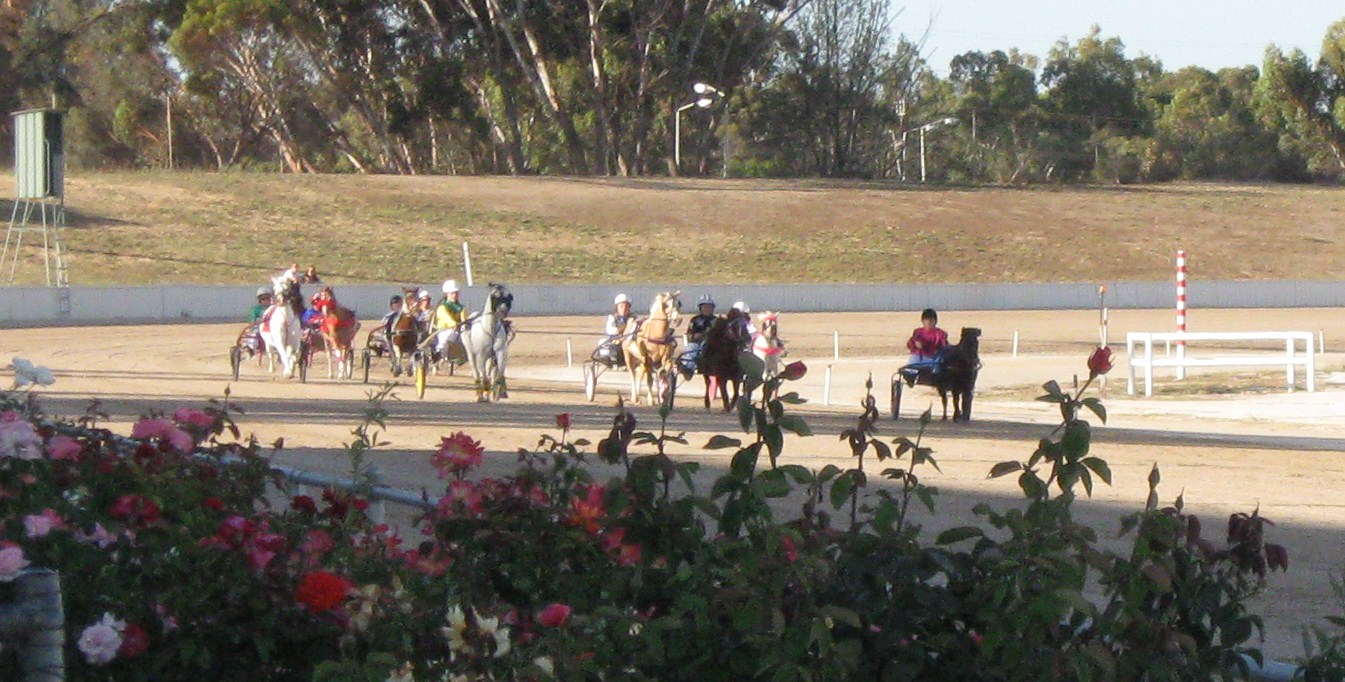 Wandarra Tess 1st, Till We Meet Again 2nd, Monkey Business 3rd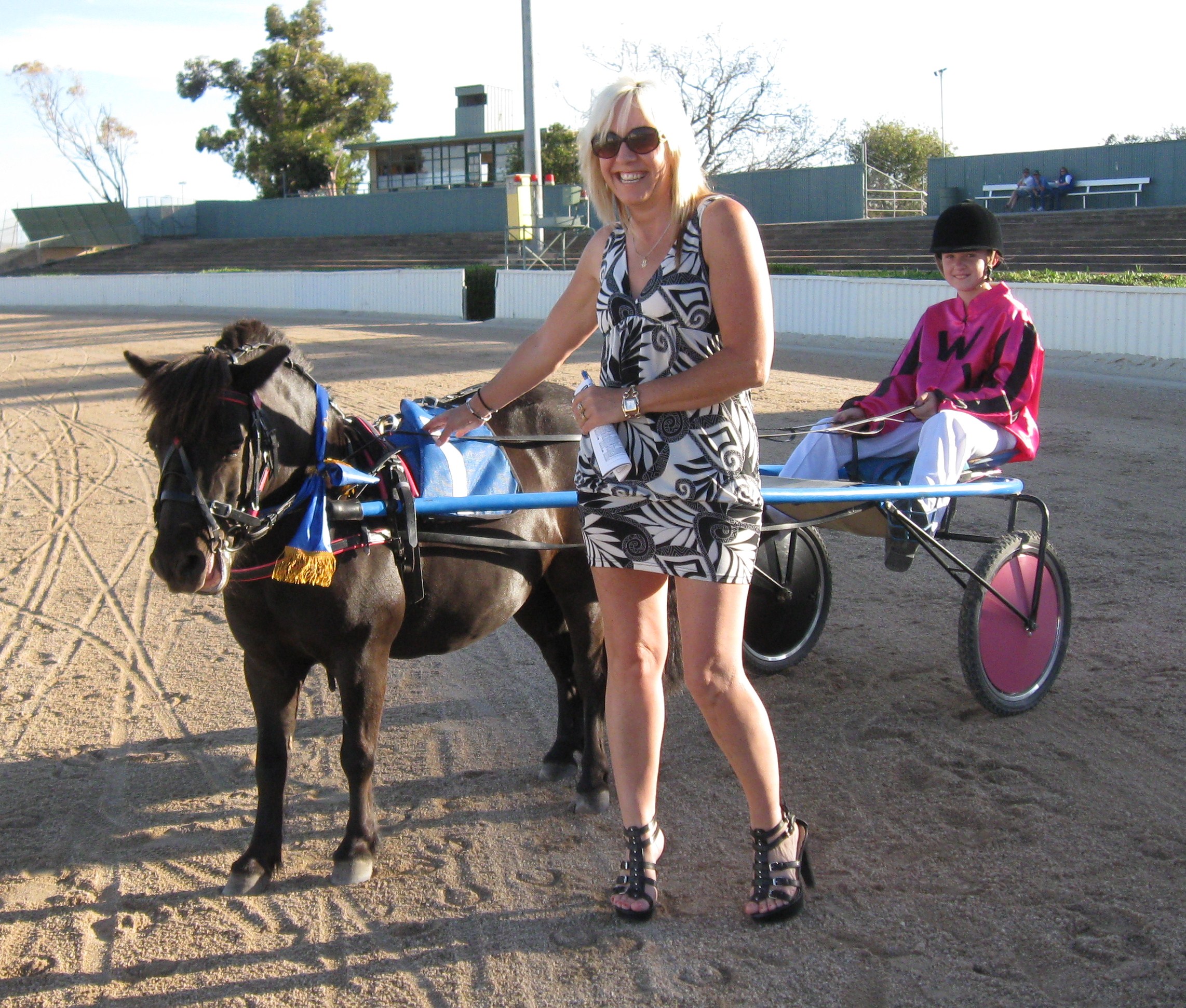 Leanne Ewen presenting Ribbon to Wandarra Tess on behalf of Harness Racing SA
The second of the races on the night was made up of all the classes but the two little shetlands weren't fazed at all and took out the quinella, they of course are Wandarra Tess tonight being driven by Samantha Pascoe and Till We Meet Again (Brodie Webster). At the top of the straight it looked like Monkey Business (Chantelle Dodd) and Way To Go (Kathryn Lehmann) were a threat to the shetlands but closer to the line they got a little tired and finished 3rd and 4th respectively. Interestingly, in the last 6 starts that Wandarra Tess and Till We Meet Again have clashed they have rotated finishing either 1st or 2nd in every race.
It was worth Scott and Mandy driving to Globe Derby the past two Saturday nights of the Carnival to watch their daughter Samantha drive as she picked up two nice outside drives who went on to win, last week Magpie Mary and this week Wandarra Tess.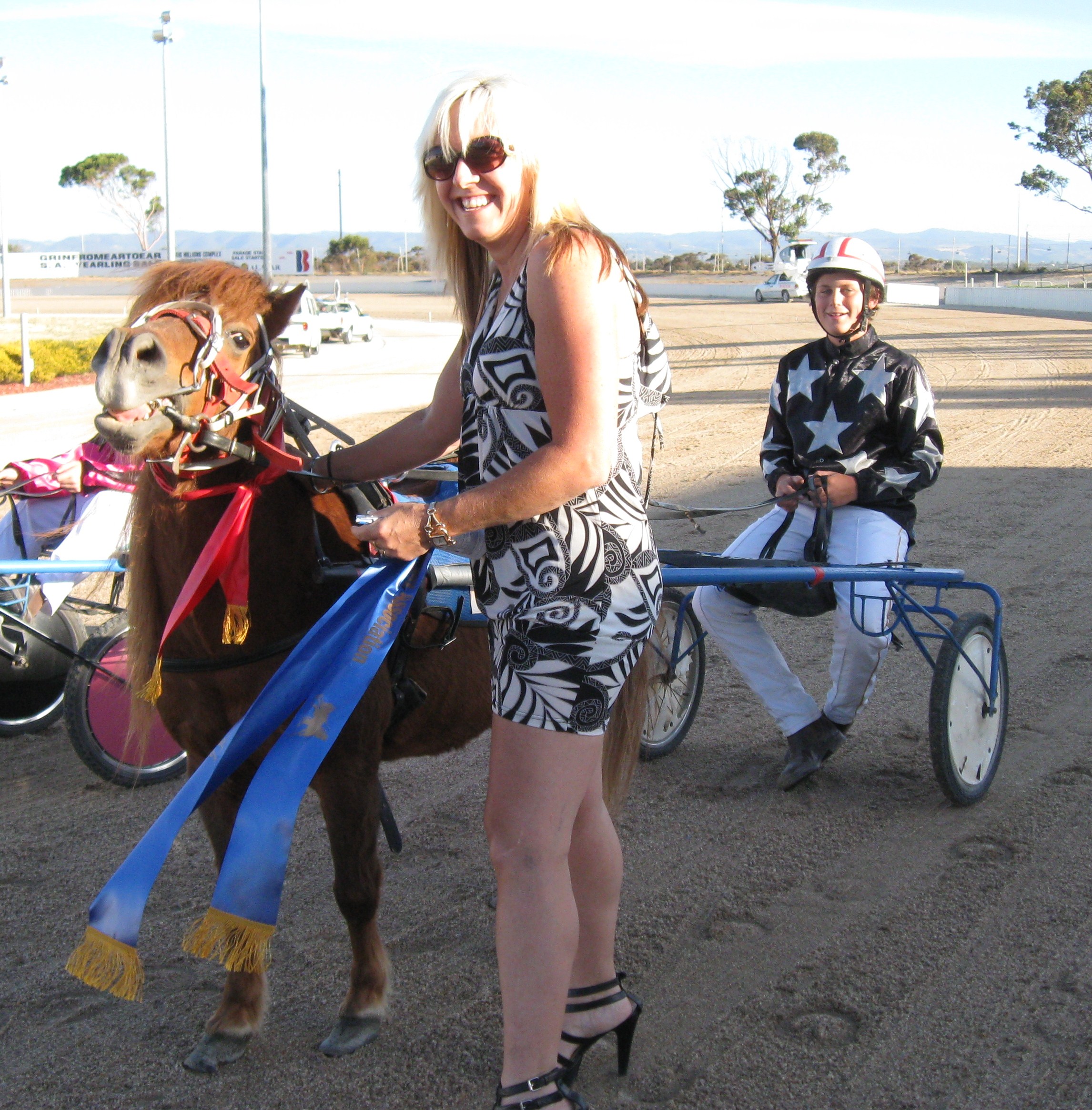 Till We Meet Again receiving Ribbon from Leanne Ewen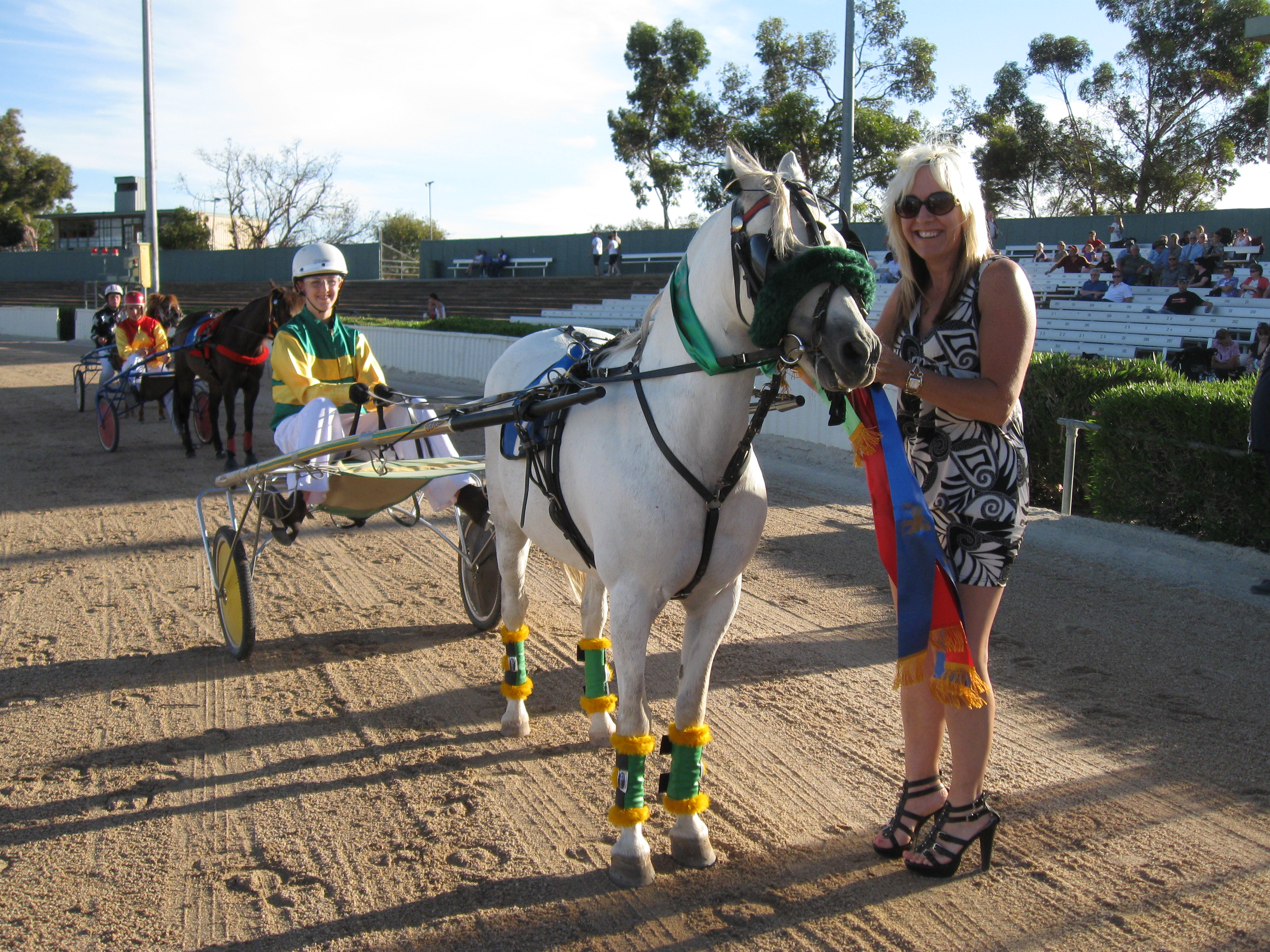 Monkey Business receiving Ribbon from Leanne Ewen