RESULTS
Globe Derby Park - 13 March 2009
Proudly Sponsored by Madeline Klose (previous pony driver) and Caltex Bolivar
Many thanks to John Crawford for taking photos tonight
1st – Aadelaidee Lady – Madison Smith
2nd – Lord Monty – Jacob Starick
3rd – Mr Murphy
4th – Born To Be Wild – Hayley Lehmann
PU – Magpie Mary – Kaycee Carey
Scr – Whataday – Jessica Pascoe
Scr – Mumbo Jumbo – Samantha Pascoe
Scr – Miss Vee – Matthew Williams
Scr – Spirit – Shannon Platts
Scr – Westbury Bogart – Jacinta Gilbert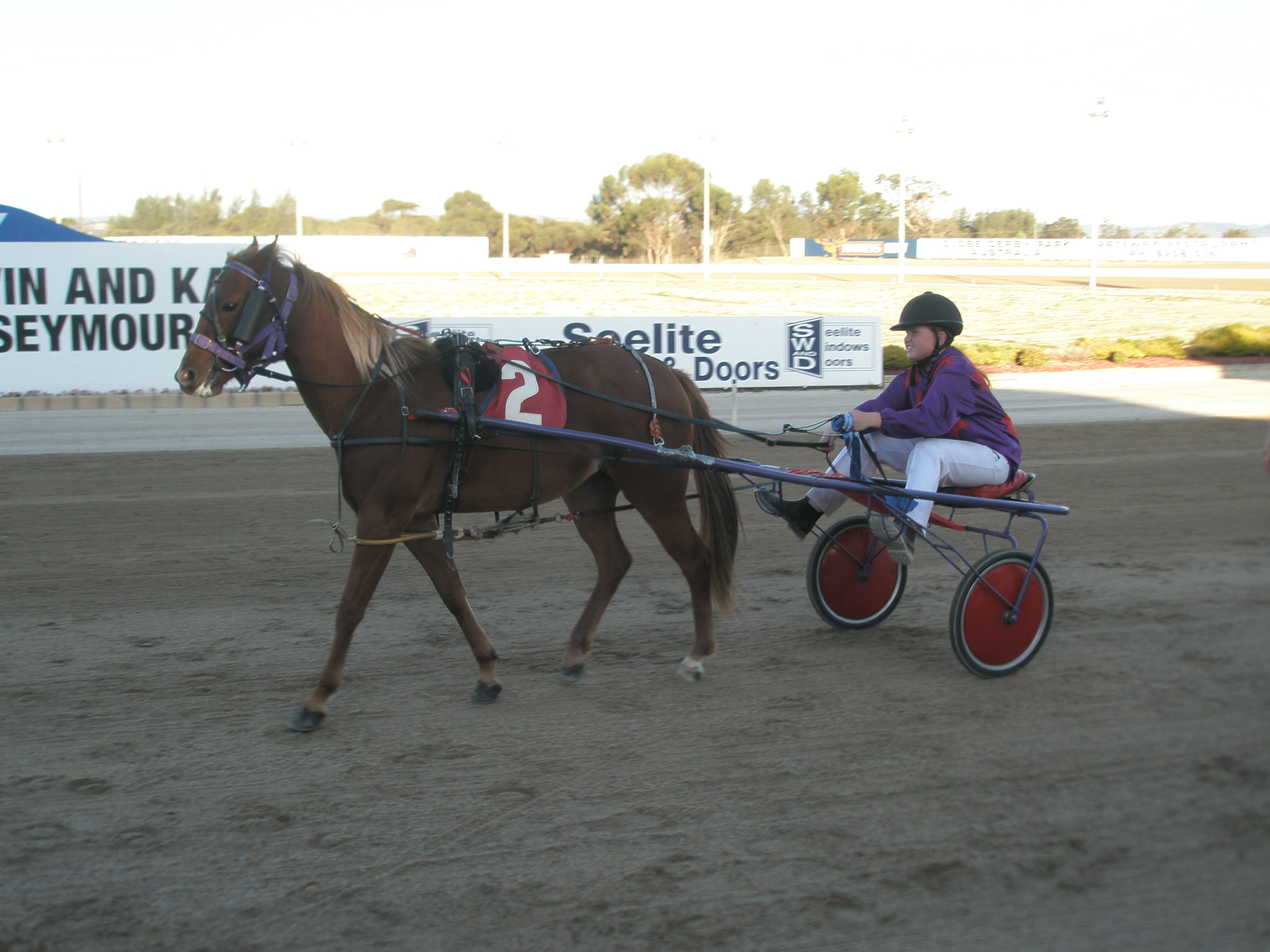 Aadelaidee Lady after receiving Ribbon
Madison Smith took the final night of the regular racing season by the scruff of the neck on Friday night at Globe Derby to record a long awaited victory with Adelaidee Lady.
Coming from the front mark, Madison jumped Adelaidee Lady straight to the front and kept at her charge throughout the race, running away with a strong win.
Lord Monty chased hard up the home stretch for Jacob Starick and made plenty of ground up late but had to settle for second place while Mr Murphy stuck to his guns in the run to the wire to finish third.
Written by John Crawford
RACE 2 - MEDIUM SLOW CLASS
1st – Chilli Knights – Brodie Webster
2nd – Mr Mischief – Matthew Williams
3rd – Way To Go – Kathryn Lehmann
4th – That's What Boys Do
5th – Dancing Demi – Jacob Starick
Scr – Mission Impossible – Samantha Pascoe
Scr – Wynkie Sweet Fairytales – Jodie Billinger
Scr – Little Kizz – Christie Gilbert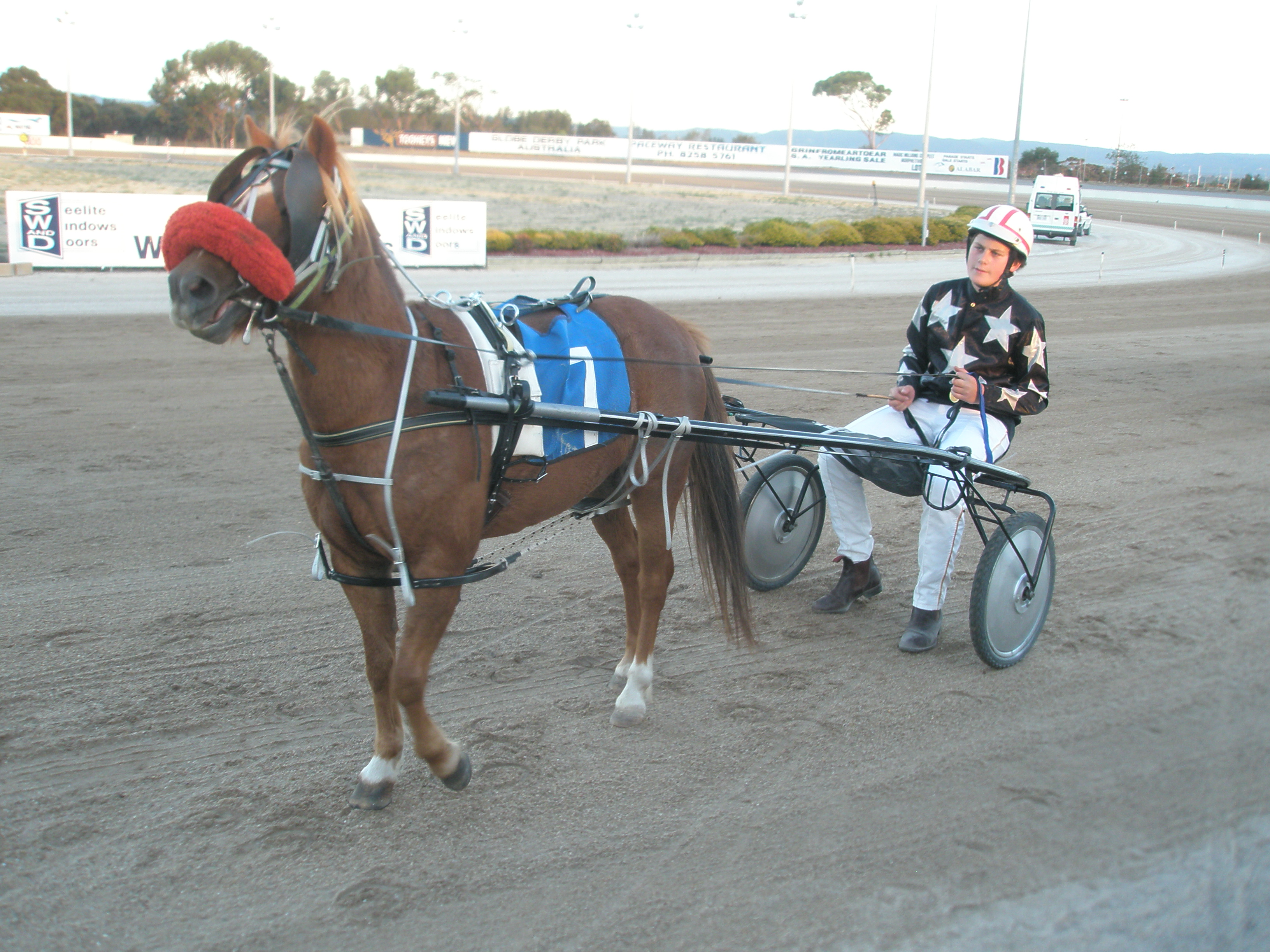 Chilli Knights after receiving Ribbon
Chilli Knights kept up her consistent form from this season, recording another victory with Brodie Webster aboard after a good beginning.
Jumping to the lead in the back straight after beginning from the 660m mark, Chilli Knights charged around the track to record a big victory and leave the competition in its wake.
Mister Mischief was once again well driven by Matthew Williams to fill second place, his fourth red ribbon from his last five starts.
Way To Go battled away strongly behind those and ran into third place for Kathryn Lehmann.
Written by John Crawford
1st - Chickabarquar
2nd – Midnight Star – Sharni Newman
3rd – My Little Pony – Jennifer Lehmann
4th – Oungachucka – Chantelle Rendall
5th – Wandarra Tess – Jacob Starick
6th – Till We Meet Again – Brodie Webster
Scr – PJ – Bryce Gilbert
Scr – Talking Donkey – Katelin Richter
Scr – Ben Bailey – Grayden Richter
Scr – Billy The Kid – Brett Lowe
First starter Chickbarquar had the advantage of the front mark but a good front-running drive saw the pony held back to the field before drawing away again in the home stretch and scoring a good win much to the delight of connections.
Midnight Star finished in the placings again, taking out second position for Sharni Newman with a good drive while My Little Pony backed up last weekend's victory with a credible third placing for Jennifer Lehmann.
Written by John Crawford
1st – Cheeky Charlie – Jacob Starick
2nd – Monkey Business – Chantelle Dodd
3rd – Little Paleface
4th – Aussie – Chantelle Rendall
Scr – Sundance – Brett Lowe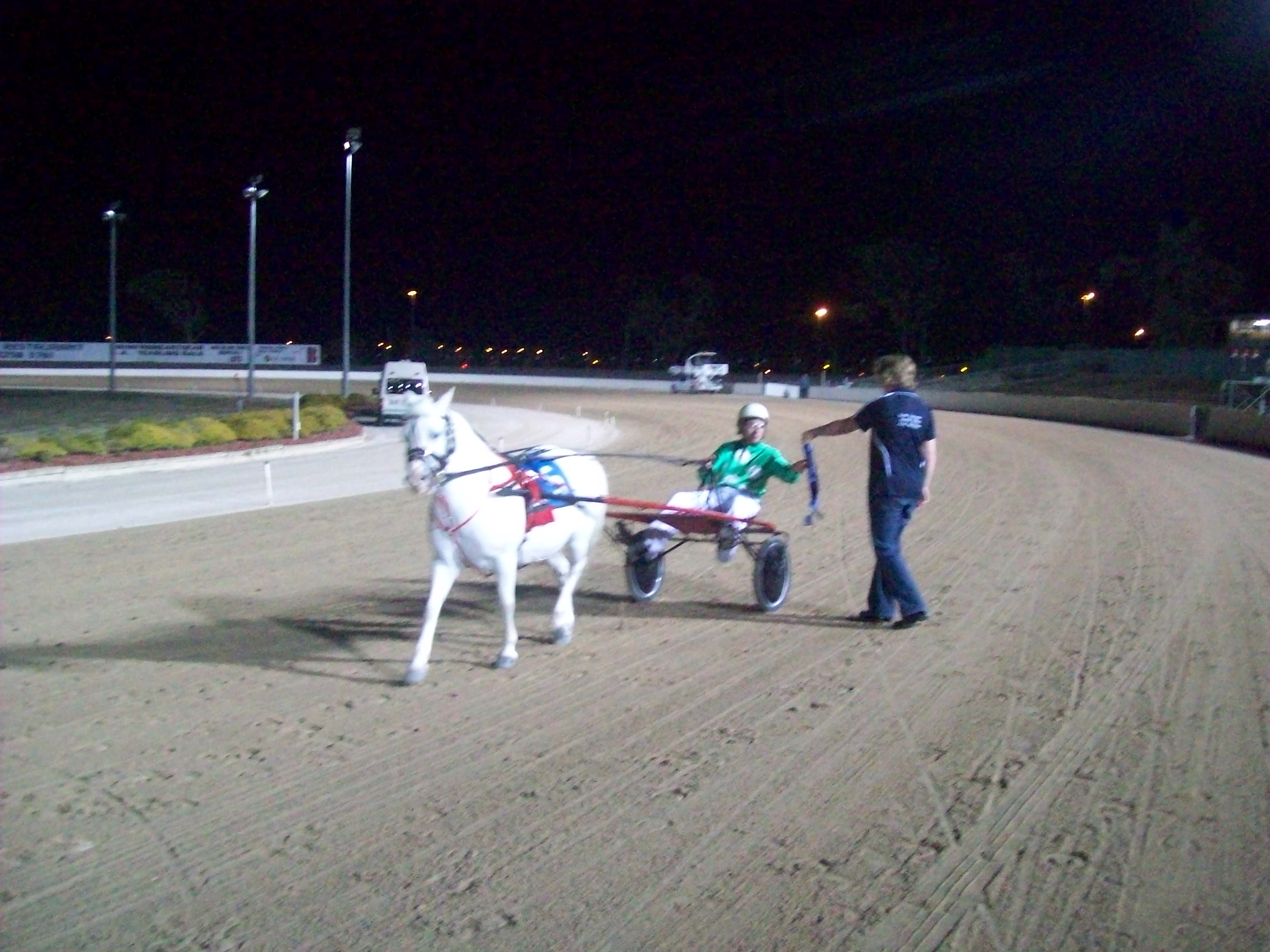 Cheeky Charlie being handed the Ribbon by tonights Sponsor Madeline Klose
In the final event for the night the back marker Cheeky Charlie driven by Jacob Starick proved too strong to cross the line ahead of the other grey in the field Monkey Business, Chantelle Dodd.
Little Paleface was a couple of lengths away in third position with Aussie tonight being driven by Chantelle Rendall finishing fourth.