RESULTS
Globe Derby Park - 14 February 2009
Proudly Sponsored by Ashlow Stud (The Richter Family)
Thanks to Jodie Billinger and Sharon Newman for taking the photos tonight
1st – Westbury Bogart – Jacinta Gilbert
2nd - Born To Be Wild – Hayley Lehmann
3rd - Mr Murphy
4th – Aadelaidee Lady – Madison Smith
5th – Magpie Mary – Kaycee Carey
6th – Spirit – Shannon Platts
Scr – Whataday – Jessica Pascoe
Scr – Mumbo Jumbo – Samantha Pascoe
Scr – Lord Monty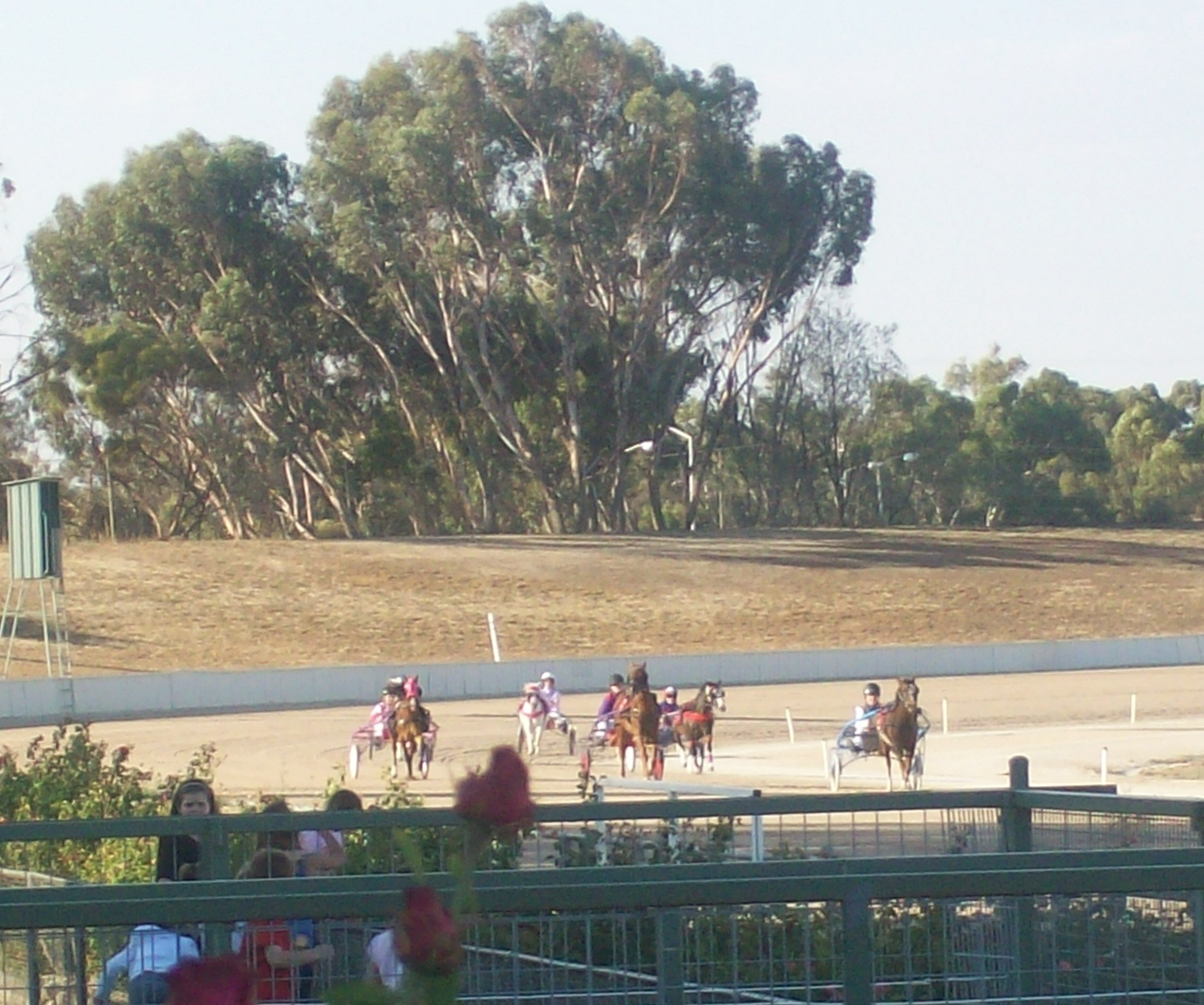 Coming around the top bend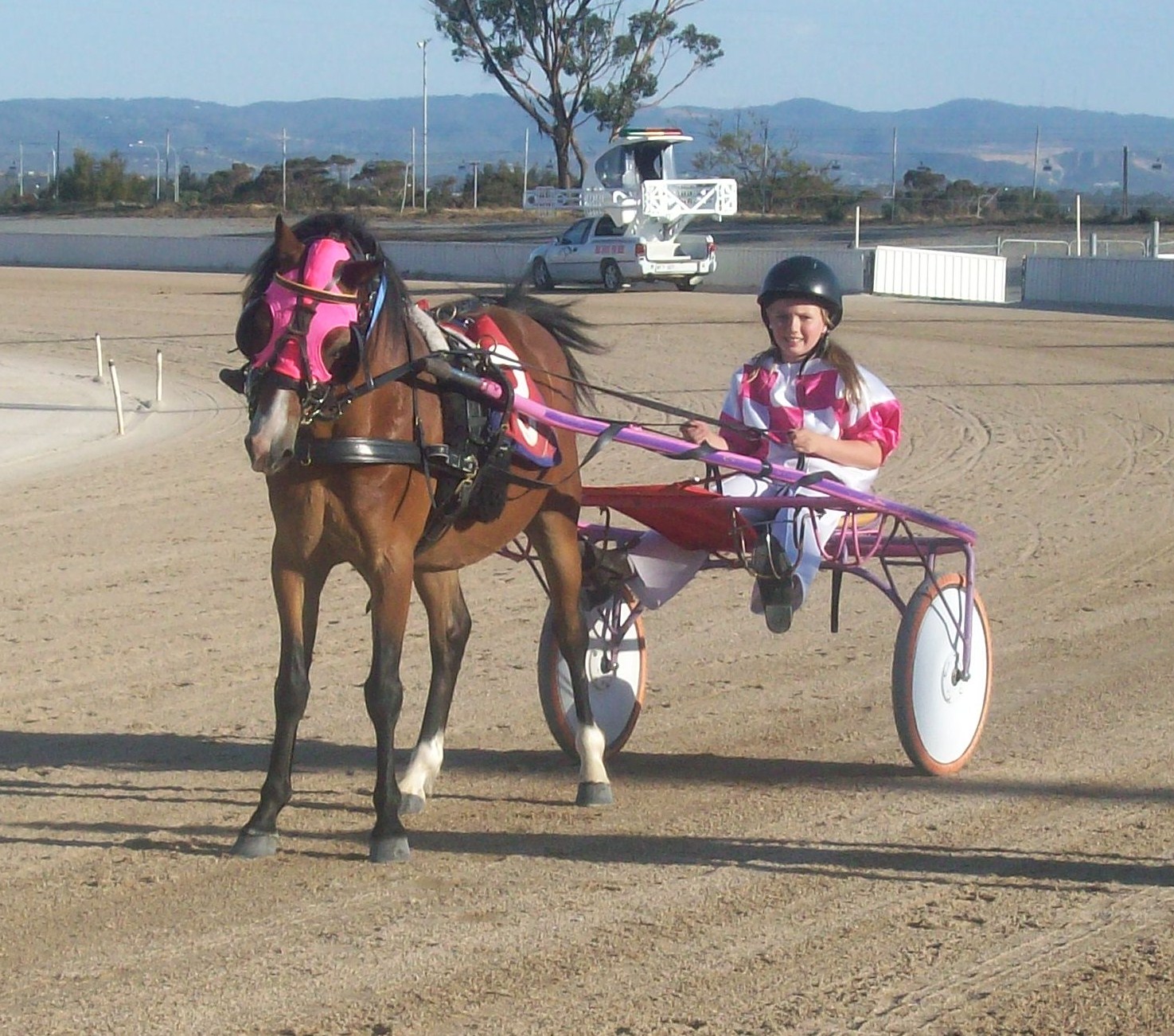 Westbury Bogart 1st with Jacinta
Coming down the straight in the first race it looked like Born To Be Wild or Aadelaidee Lady might get their first victory, but a very skilful drive by Jacinta Gilbert on Westbury Bogart saw her rail around the top bend and then pull out in the straight to flash down the outside and score by a length. Born To Be Wild was able to hold onto 2nd placing with another fast finisher Mr Murphy taking the inside run to grab third ahead of Aadelaidee Lady who seemed to stargaze a bit in the straight.
Westbury Bogart looked very flashy tonight in his new pink rogues hood.
RACE 2 - MEDIUM SLOW CLASS
1st – Way To Go – Kathryn Lehmann
2nd – Chilli Knights – Brodie Webster
3rd – Mr Mischief – Matthew Williams
4th – Little Kizz – Christie Gilbert
5th – Thats What Boys Do
6th – Wynkie Sweet Fairytales – Jodie Billinger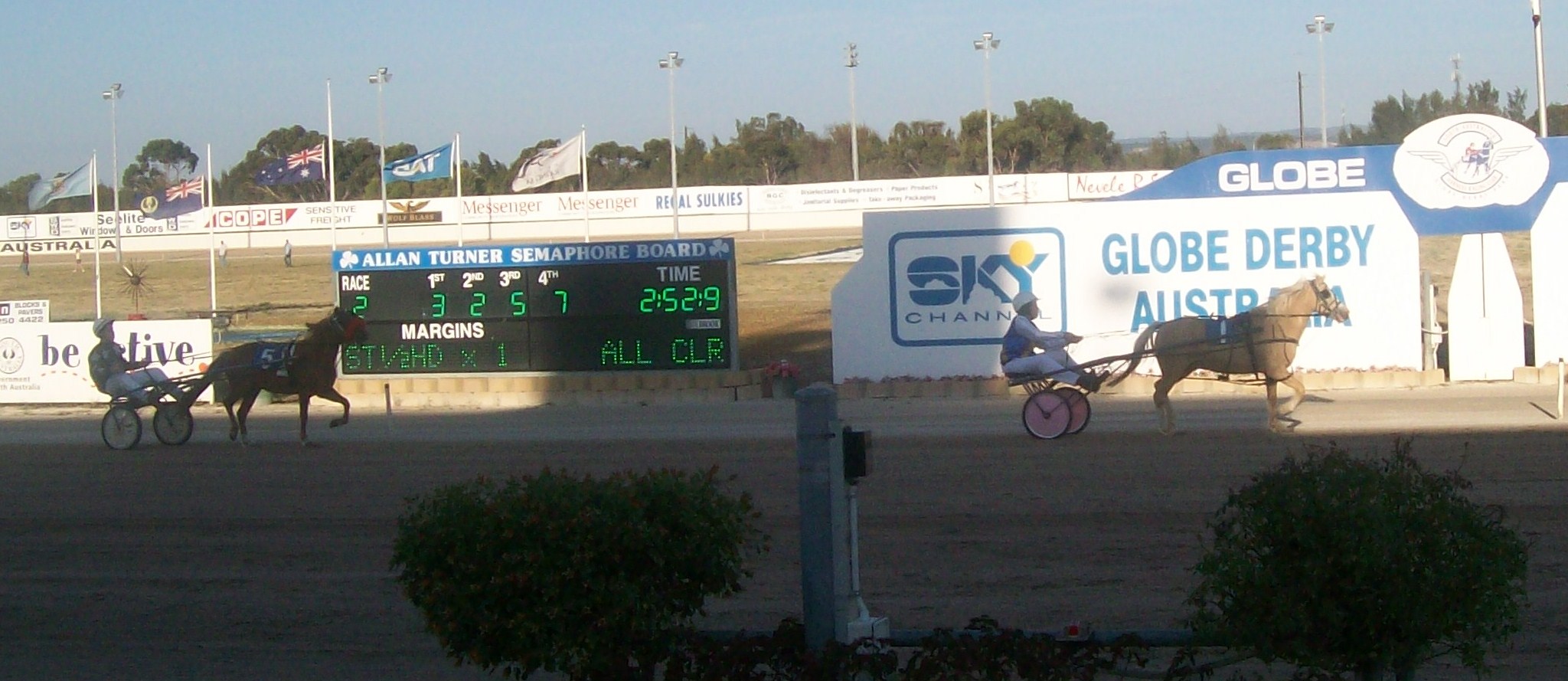 Way To Go 1st ahead of Chilli Knights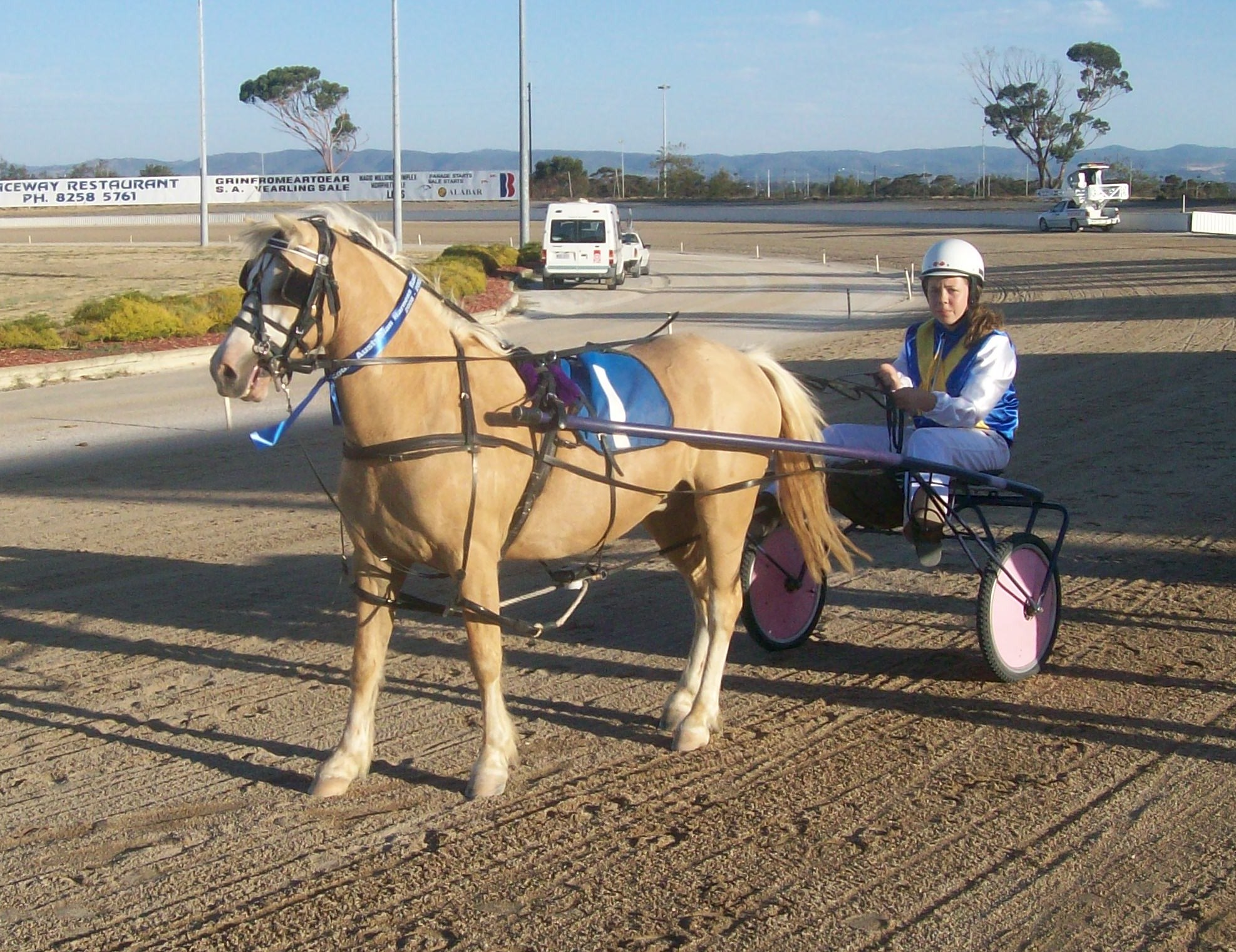 Way To Go with Kathryn after receiving Ribbon
Way To Go jumped to the front early and never looked like being caught and won easily over Chilli Knights and Mr Mischief finishing 3rd. Way To Go has been quite consistent and gave Kathryn her 2nd win for the season.
1st - My Little Pony – Jennifer Lehmann
2nd – Wandarra Tess – Jacob Starick
3rd – PJ – Bryce Gilbert
4th – Till We Meet Again – Brodie Webster
5th - Midnight Star – Sharni Newman
6th – Oungachucka – Chantelle Rendall
7th – Billy The Kid – Brett Lowe
Scr – Talking Donkey – Katelin Richter
Scr – Ben Bailey – Grayden Richter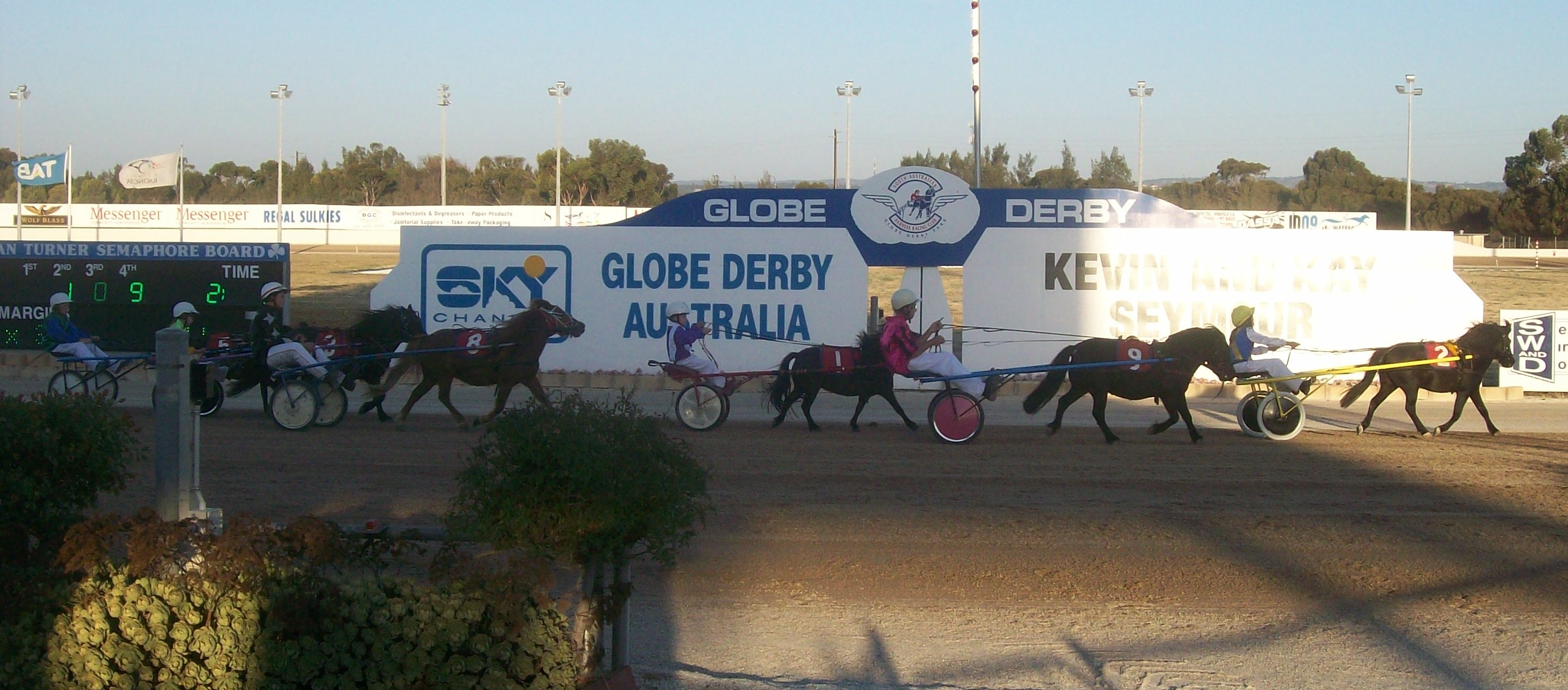 The field crosses the line all very close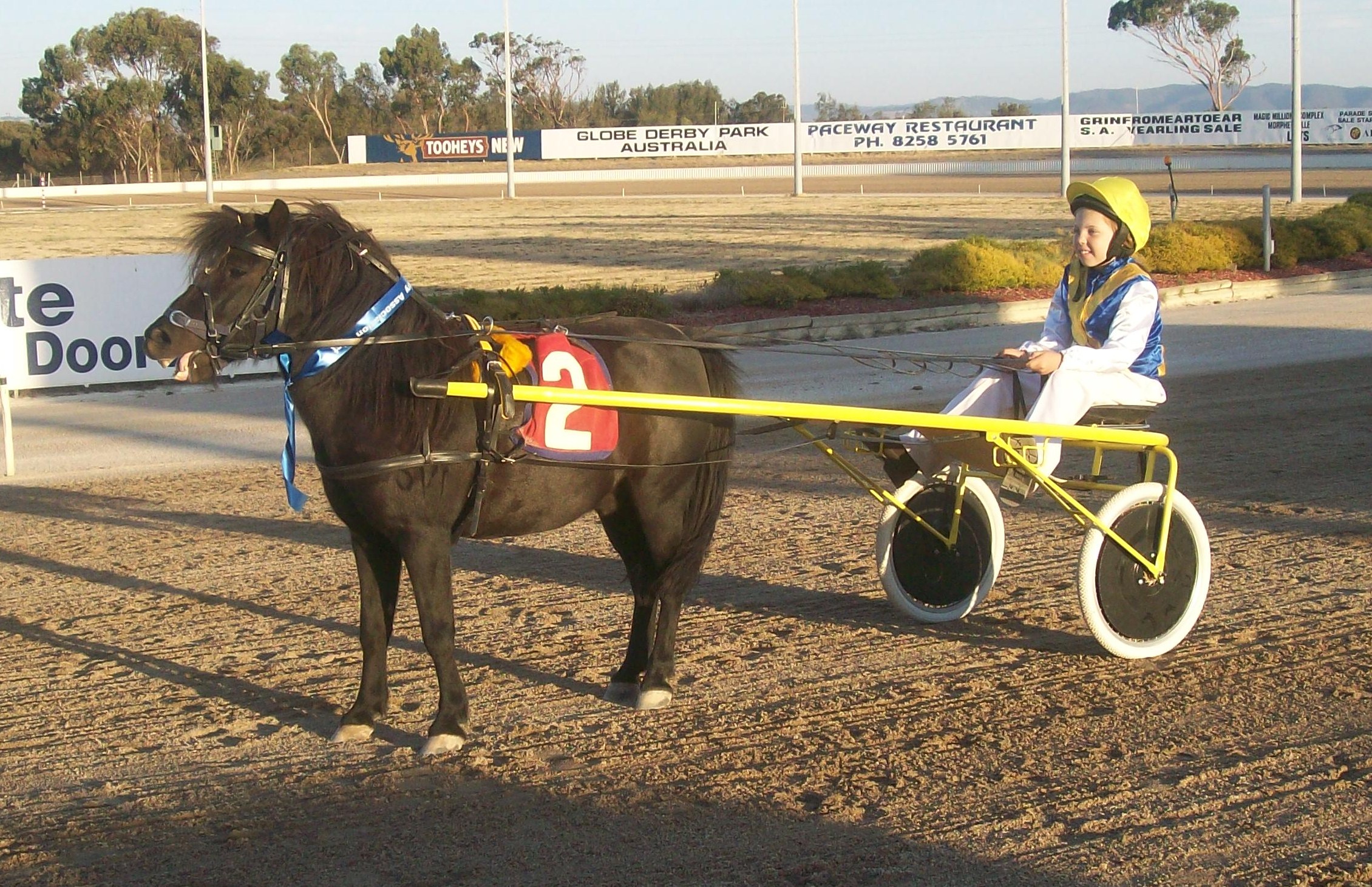 My Little Pony with a very happy Jennifer Lehmann
The Shetlands might be a racecallers nightmare with them all very small and black but they are always a great spectacle. It was very exciting to see young Jennifer Lehmann get her very 1st win tonight on My Little Pony and the smile after the race was priceless.
Coming down the straight it looked like little PJ might get his chance to win tonight but with 10 metres to go My Little Pony grabbed the lead and a few metres later Wandarra Tess took 2nd placing, PJ hung on for 3rd.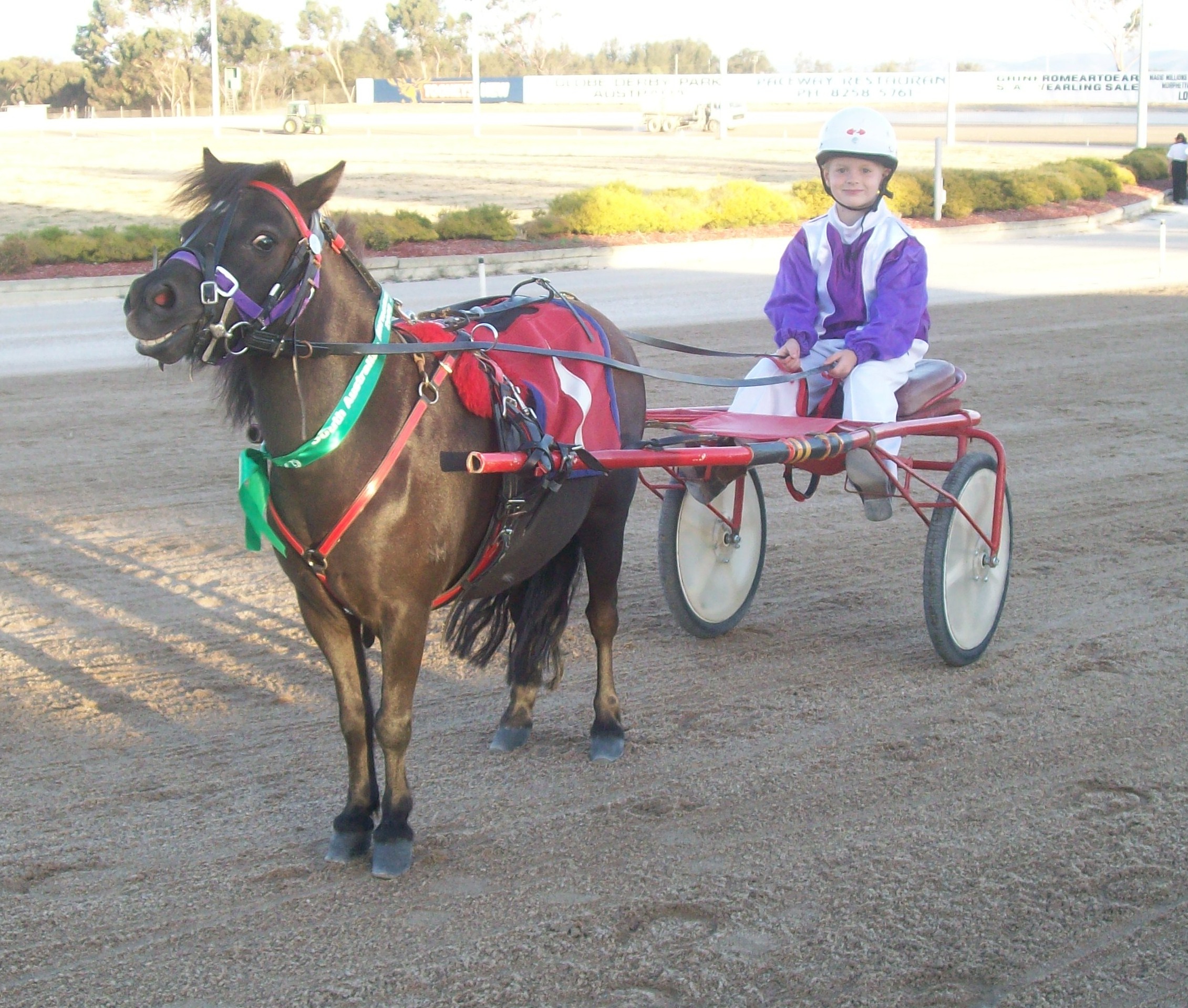 PJ and Bryce with 3rd Ribbon
1st – Little Paleface
2nd – Cheeky Charlie – Jacob Starick
3rd – Sundance – Brett Lowe
4th – Aussie – Jodie Billinger
Scr – Monkey Business – Chantelle Dodd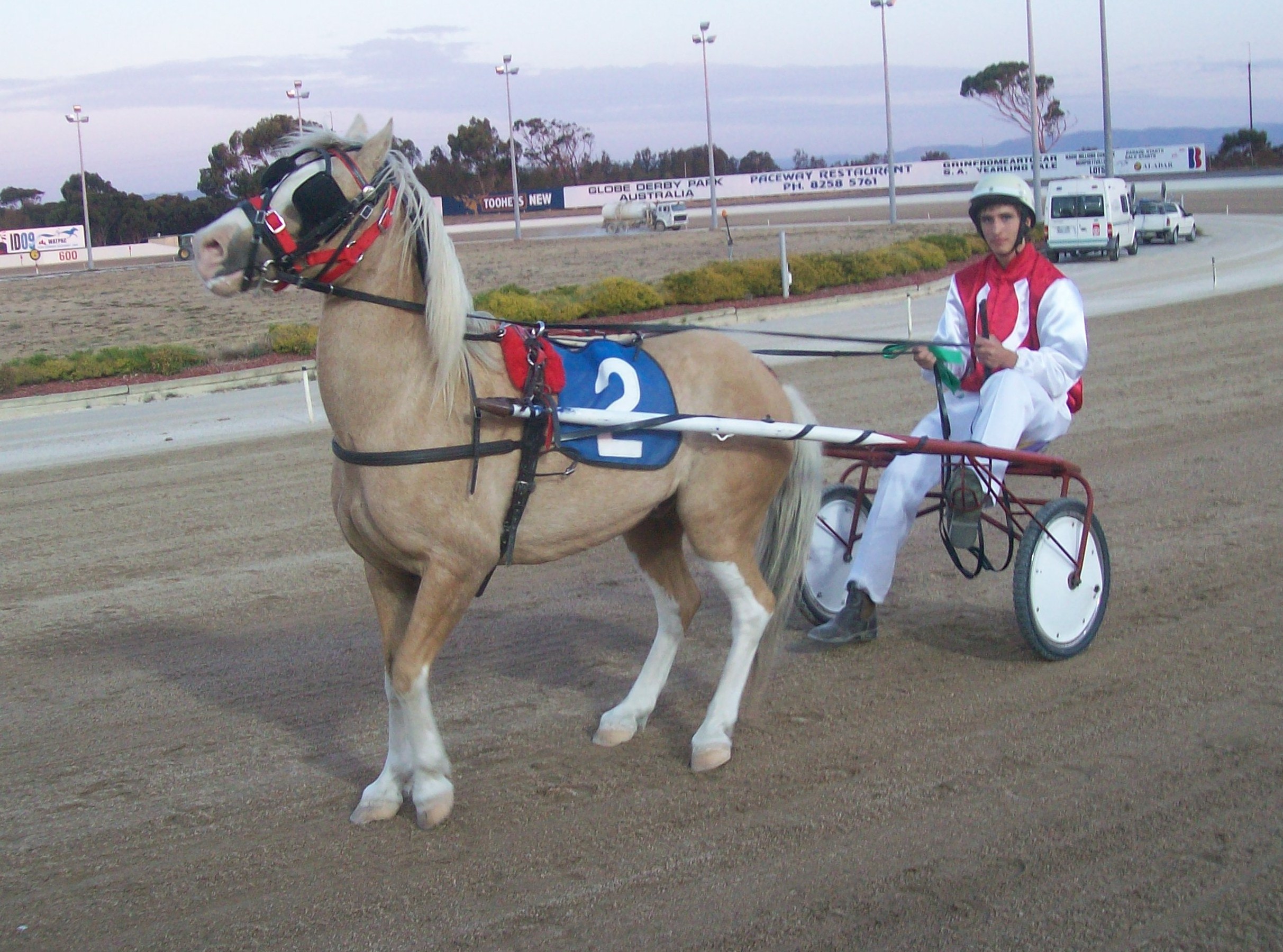 Little Paleface took advantage of a walk up start tonight and said catch me if you can, he bounded away to a very clear lead and never looked like being beaten. Another good run by Cheeky Charlie to take 2nd placing ahead of Sundance.