RESULTS
Gawler at Globe Derby Park - 14 March 2009
Proudly Sponsored by Gawler Harness Racing Club and Sanders Bros Grain and Fodder
Many thanks to John Crawford for taking photos tonight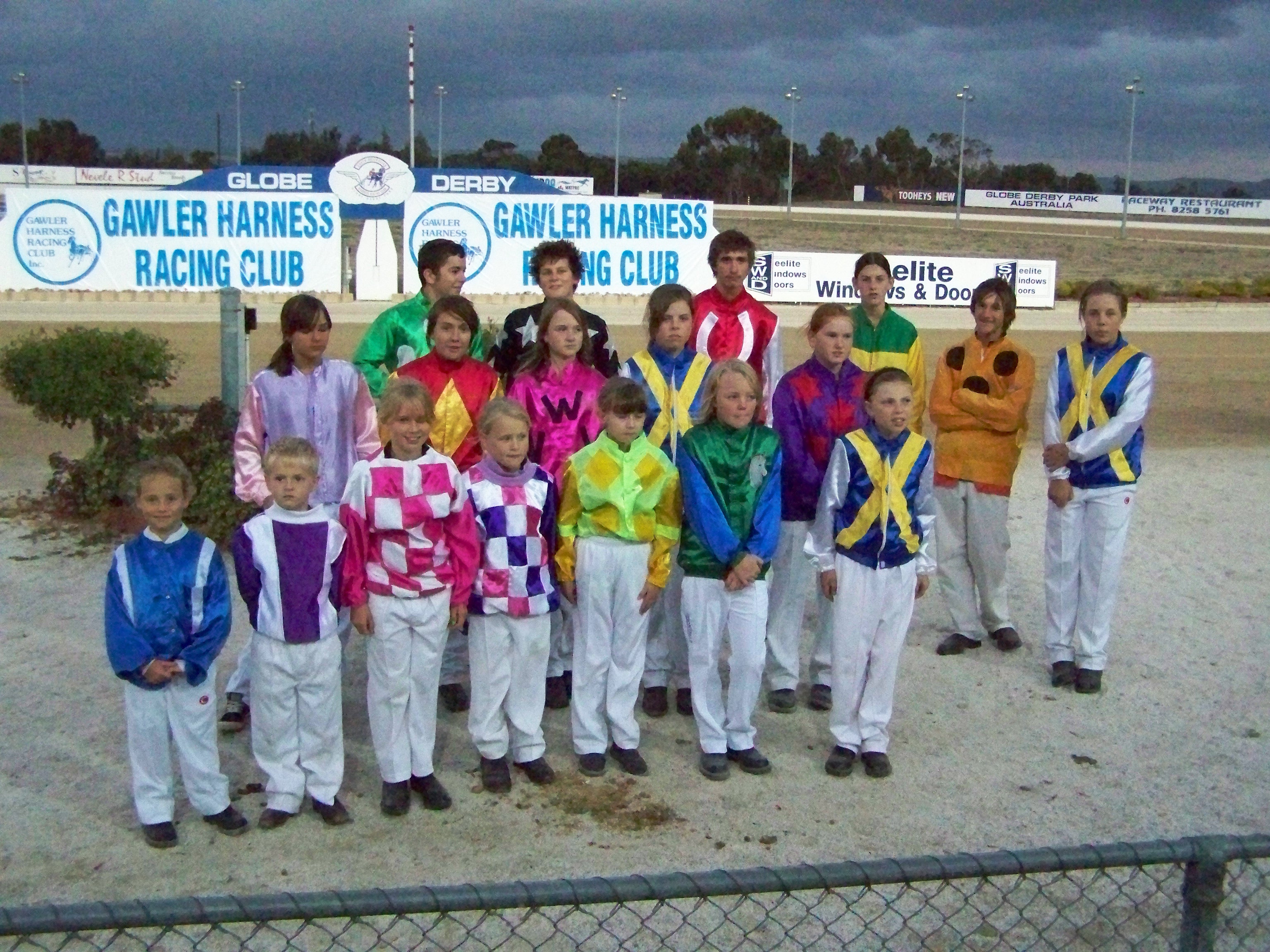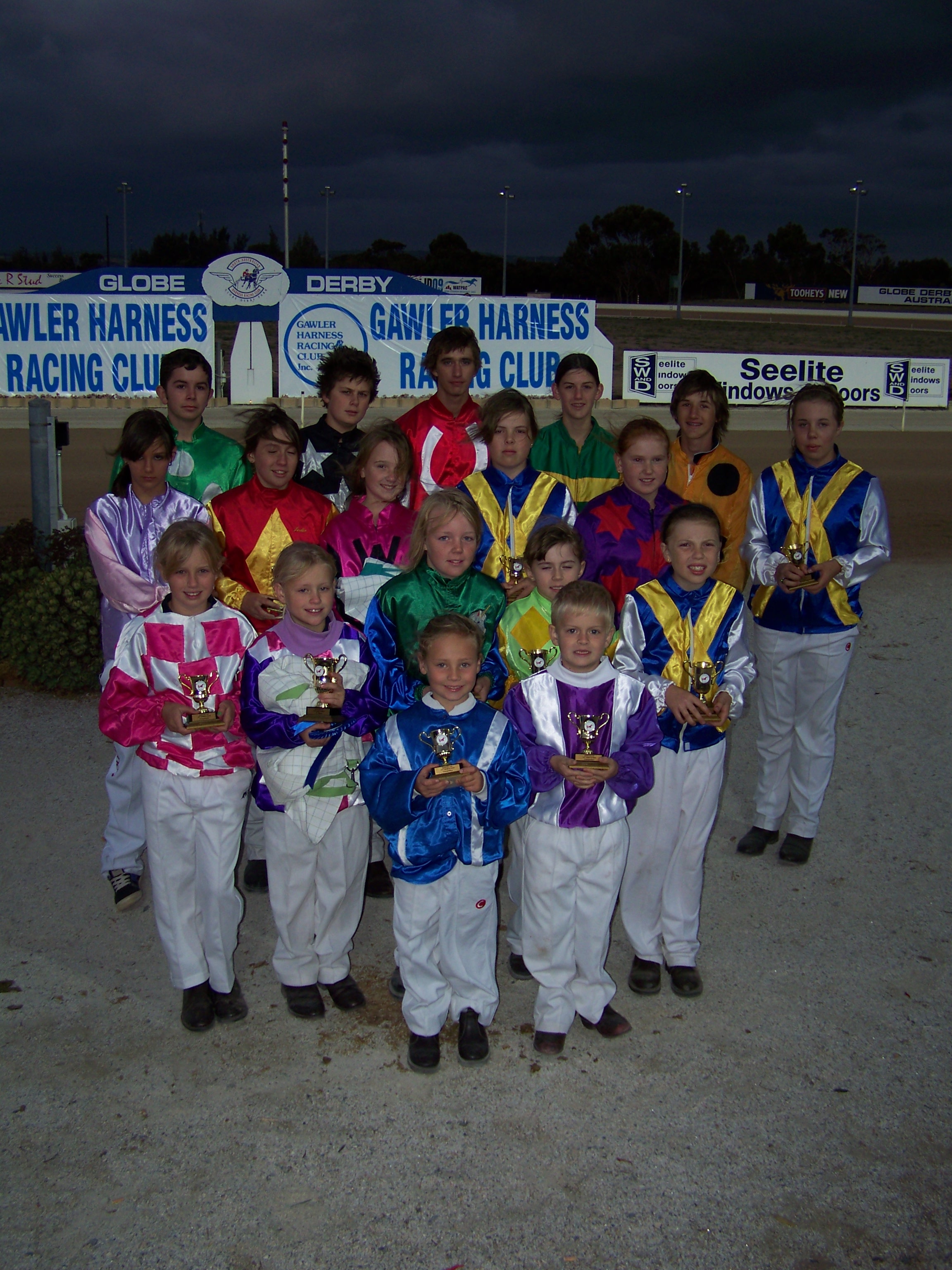 All drivers were presented with a trophy kindly donated by tonights Sponsors
1st – Little Kizz – Christie Gilbert
2nd – Spirit – Shannon Platts
3rd – My Little Pony – Jennifer Lehmann
4th – Aadelaidee Lady – Madison Smith
5th – Born To Be Wild – Hayley Lehmann
6th – Midnight Star – Sharni Newman
7th – PJ – Bryce Gilbert
8th – Oungachucka – Chantelle Rendall
9th – Magpie Mary – Kaycee Carey
Scr – Talking Donkey – Katelin Richter
Scr – Ben Bailey – Grayden Richter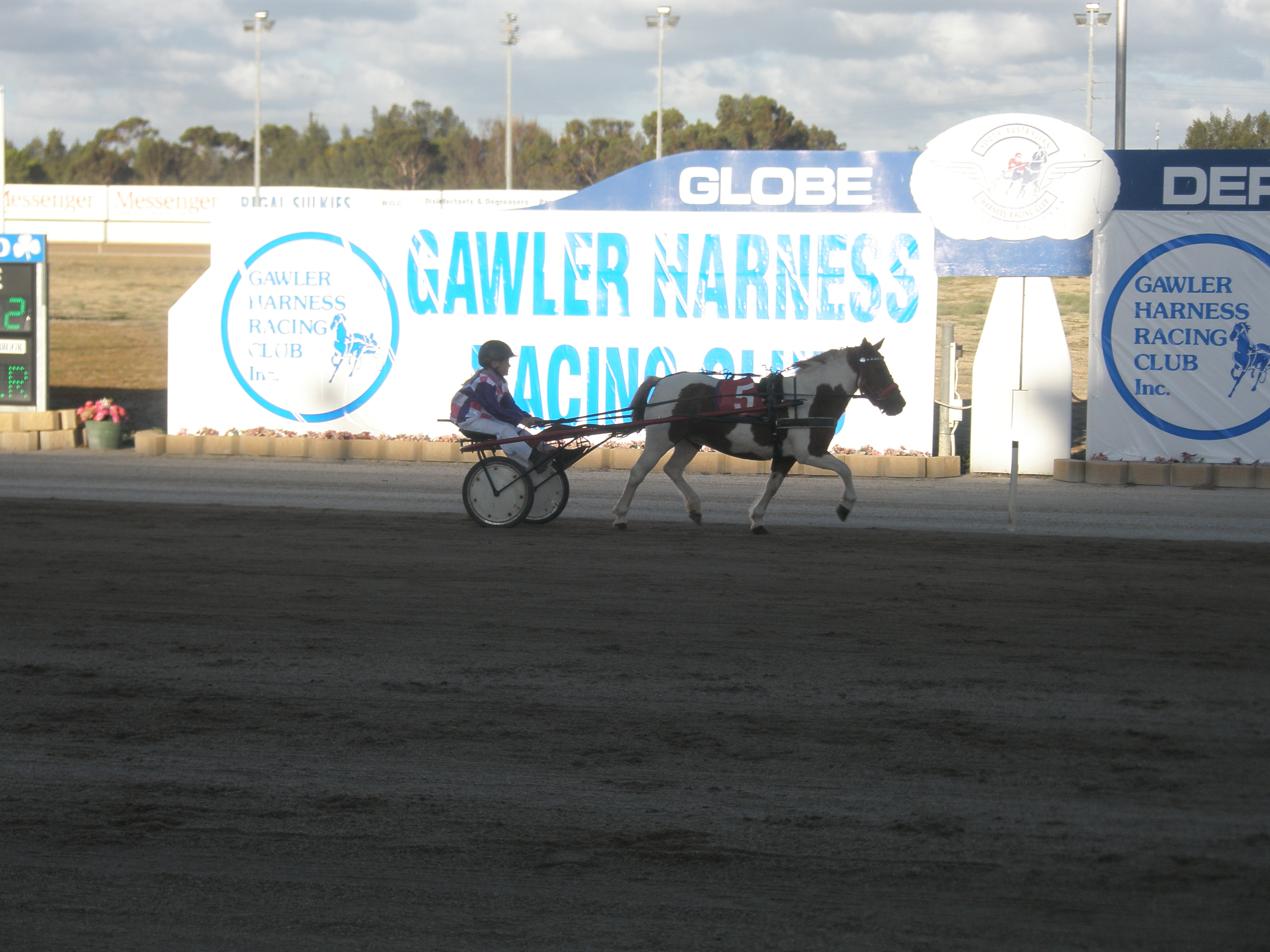 Little Kizz crossing the line first
Little Kizz made Gawler Cup night an evening to remember for Christie Gilbert, taking out the Gawler Slow Class Cup in stunning fashion.
After beginning from the rear of the field, Christie kept her charge under control before letting it loose around the bend with a strong three-wide move and dashing to the lead entering the home stretch.
Spirit followed Little Kizz for most of the journey and tried to make ground in the run to the line but Little Kizz had too much in reserve, running away with a strong win over Spirit for Shannon Platts with My Little Pony once again performing well to fill third place for Jennifer Lehmann.
Written by John Crawford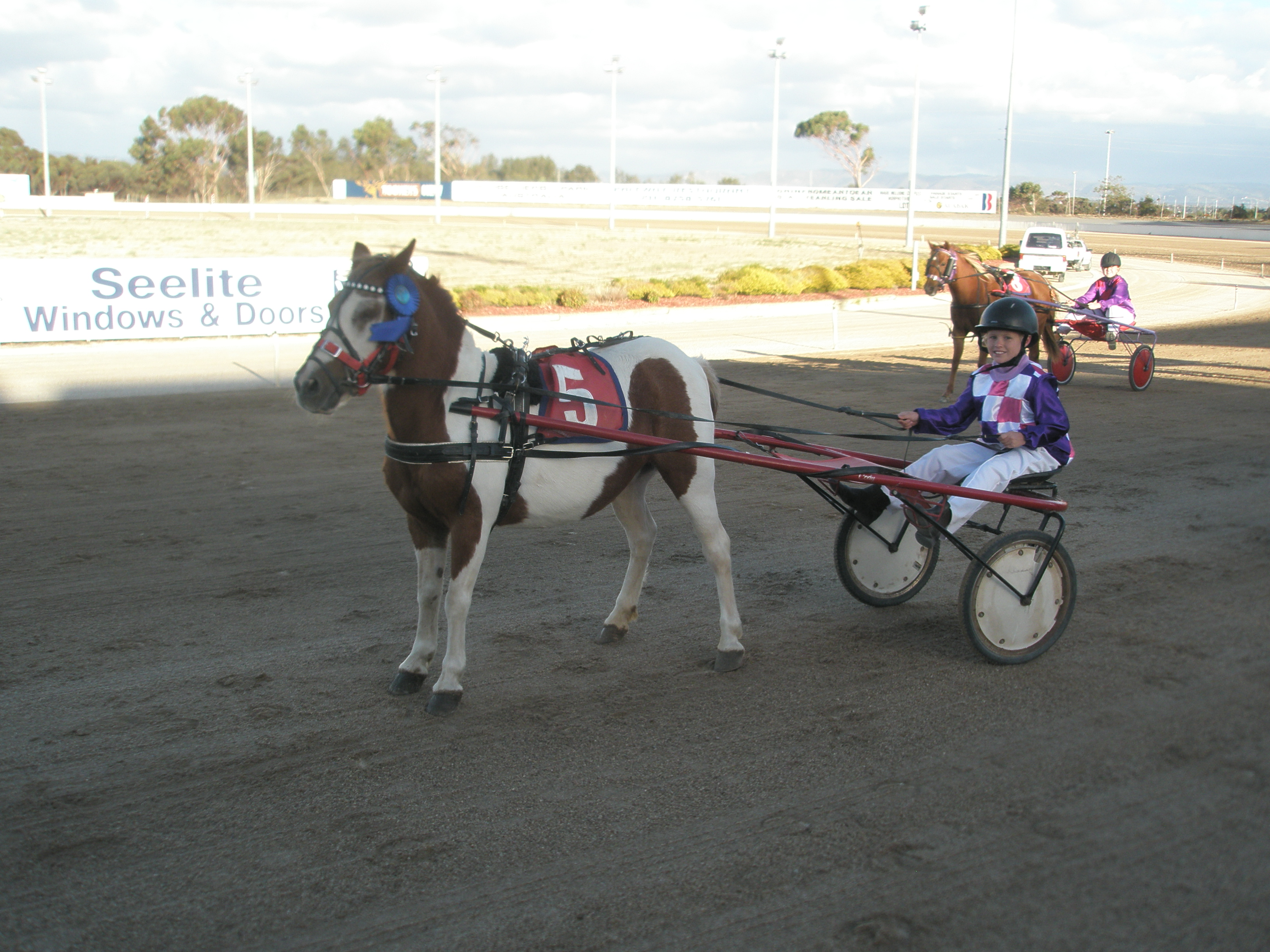 Little Kizz (Christie Gilbert) after receiving Rosette
RACE 2 - GAWLER OPEN CLASS CUP
1st – Wandarra Tess – Samantha Pascoe
2nd – Chilli Knights – Brodie Webster
3rd – Little Paleface
4th – Sundance – Brett Lowe
5th – Cheeky Charlie – Jacob Starick
6th – Way To Go – Kathryn Lehmann
7th – Monkey Business – Chantelle Dodd
8th – Aussie – Jodie Billinger
9th – Westbury Bogart – Jacinta Gilbert
10th – Miss Vee – Matthew Williams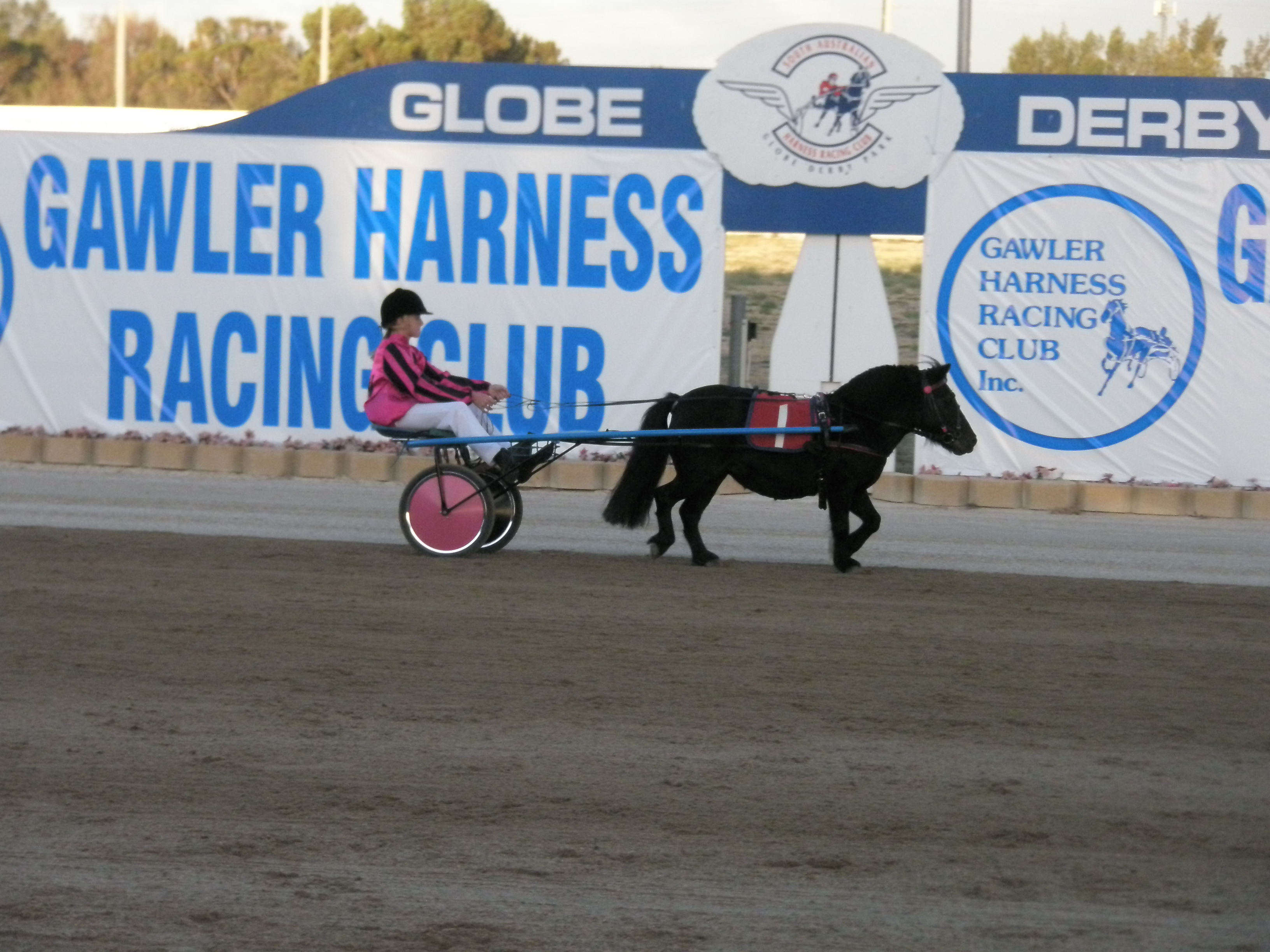 Wandarra Tess crossing the line first
Samantha Pascoe jumped to the lead with Wandarra Tess from the front mark and was not waiting for anyone to take it away from her, charging home to take out the Open Class Cup with a great lead-all-the-way victory.
Chilli Knights backed up from the previous night's victory with a well performed second placing for Brodie Webster. After battling through traffic early on, Chilli Knights fought on strongly and ran into a clear second placing.
Little Paleface came from a long way back in the field and filled third place, rounding out the top three in the open class.
Written by John Crawford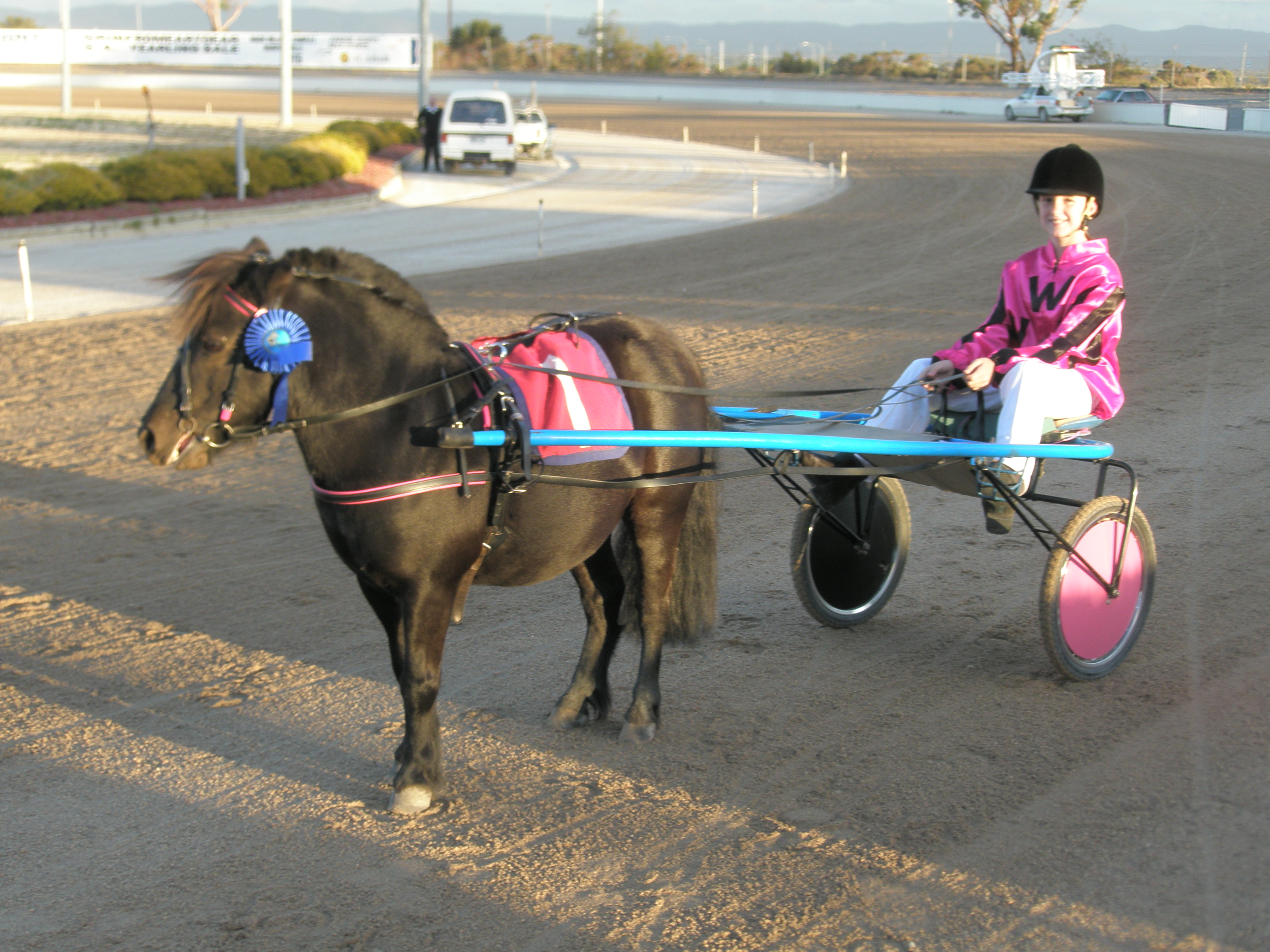 Wandarra Tess (Samantha Pascoe) after receiving Rosette