RESULTS
MOUNT GAMBIER
19 MARCH 2011
With the end of the season nearing the end ponies at the Greenwald Paceway are fighting fiercely for points towards Pony of the Year Award. Just one point separates the top 2 ponies.
The running of the Barker Racing Stables Hcp saw nine ponies greet the starter. Front marker Snoopy (Kylie Shepherd) trotted faultlessly in a much improved performance. Snoopy forge forward to an early lead followed down the straight by a wall of ponies. Slim Dusty (Stacey Barker) made steady ground down the outside of the straight to draw alongside Pamela (Grady Hutchesson), Frankie under Fire (Matthew Shepherd), Willow (Abbey Gull) and White Lightning (Tom Rundle). The backmarkers where unable to gain a clear run in time and with much delight Kylie Shepherd (Snoopy) crossed the line in a photo finish from Slim Dusty and Pamela Grady Hutchesson. They were followed in by White Lightening making ground, Marmalade, Minty,Frankie under Fire, Pumpkin and Willow. Having been out of the winners circle for a good while, Kylie was left somewhat speechless when presented with her trophy. Unlike Kylie.
The second race sponsored by the Hutchesson Family had a delayed start with a high degree of pre-race jitters. White lightning proved troublesome at the start with Snoopy going off stride. The ever reliable Willow driven by Abbey Gull went to an early lead to hold his position. Minty gathered speed for (Emma Rundle) down the straight to finish ahead of a very consistent Pamela and Grady Hutchesson. It was however Abbey Gull and her pony (Willow) that gained the top honours to finish best. Well done Abbey.
Next week will see the running of the Glencoe Cup and the final race meeting for the ponies. Local celebrities and identities will be taking to the track to display their skills behind a pony in a Celebrity race. Who knows we may have a budding driver or two in the future?
Photo's courtesy of Catherine Harris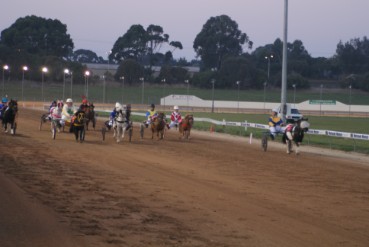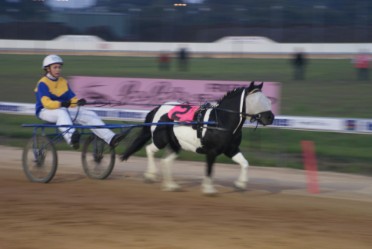 Snoopy and Kylie Shepherd winning
Kylie Shepherd receiving trophy
Abbey Gull receiving trophy