RESULTS
Globe Derby Park - 21 February 2009
Proudly Sponsored by John Kohnke Products
Thanks to Jodie Billinger and Sharon Newman for taking photos tonight
Tonights pony trots were kindly sponsored by Kohnke's Own and Richard Marsden was on course to hand out some goodies. It was decided to be fair that the prizes would be raffled and the winners were: Samantha Pascoe, The Gilbert Family, Helen Wenham (Wandarra Tess) and Jodie Billinger.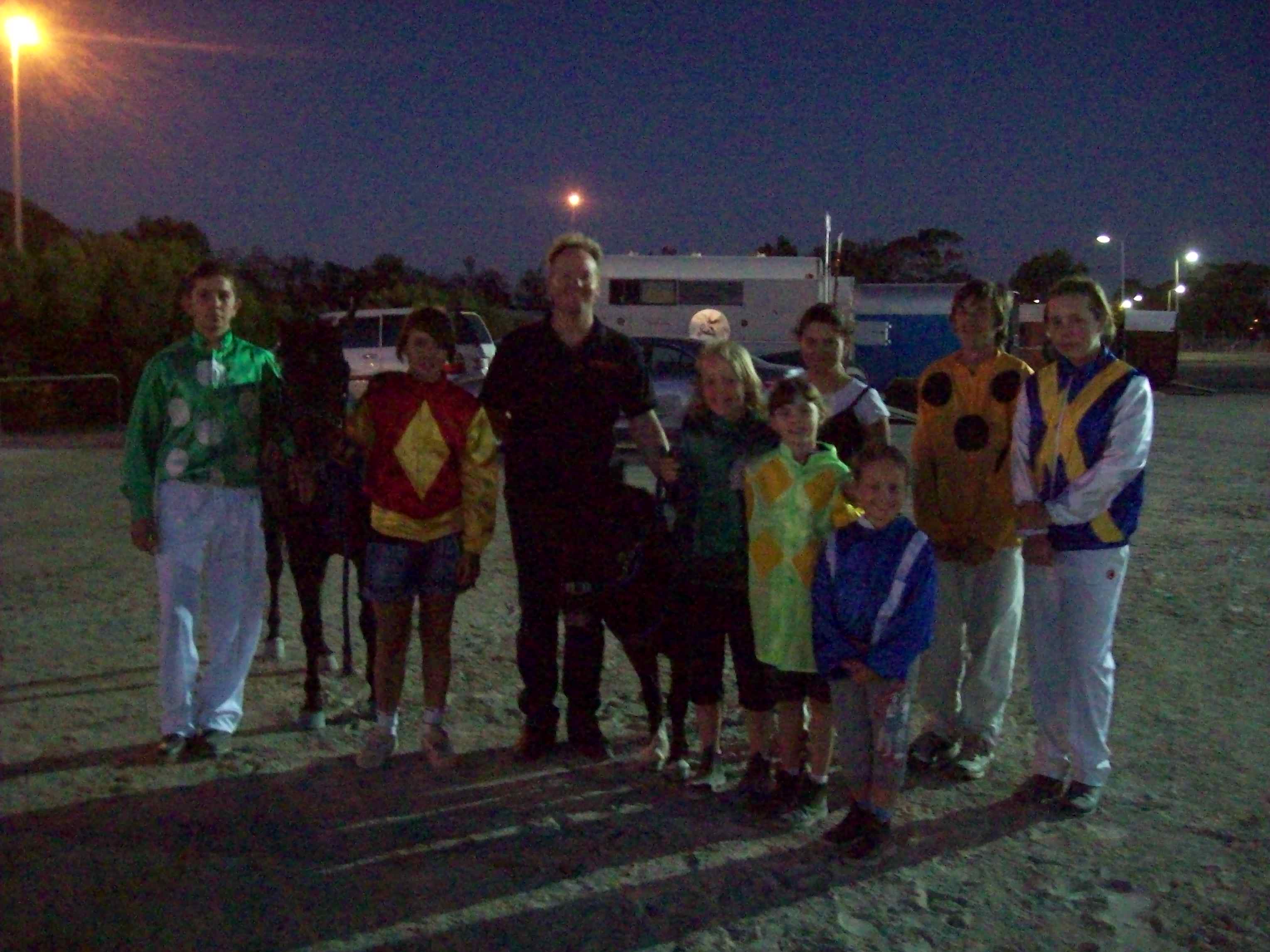 The President of the South Australian Harness Racing Club, Peter Marshall also handed out the ribbons to the placegetters of the Slow Medium Class and praised the children on the presentation of their ponies.
1st – Lord Monty – Jacob Starick
2nd – Born To Be Wild – Hayley Lehmann
3rd – Magpie Mary – Kaycee Carey
4th – Whataday – Jessica Pascoe
5th – Aadelaidee Lady – Madison Smith
6th – Mr Murphy
7th – Westbury Bogart – Jacinta Gilbert
8th – Mumbo Jumbo – Samantha Pascoe
Scr – Spirit – Shannon Platts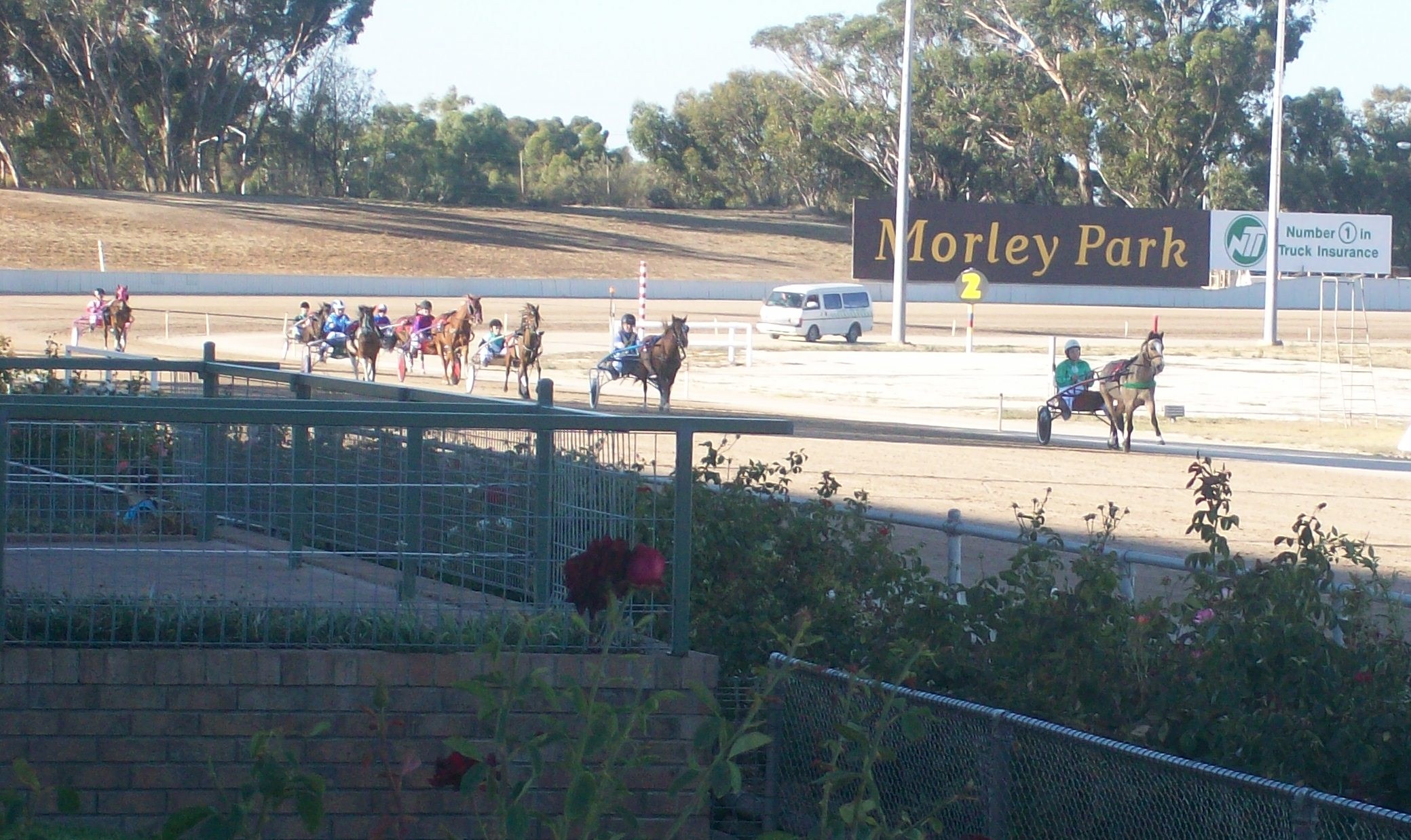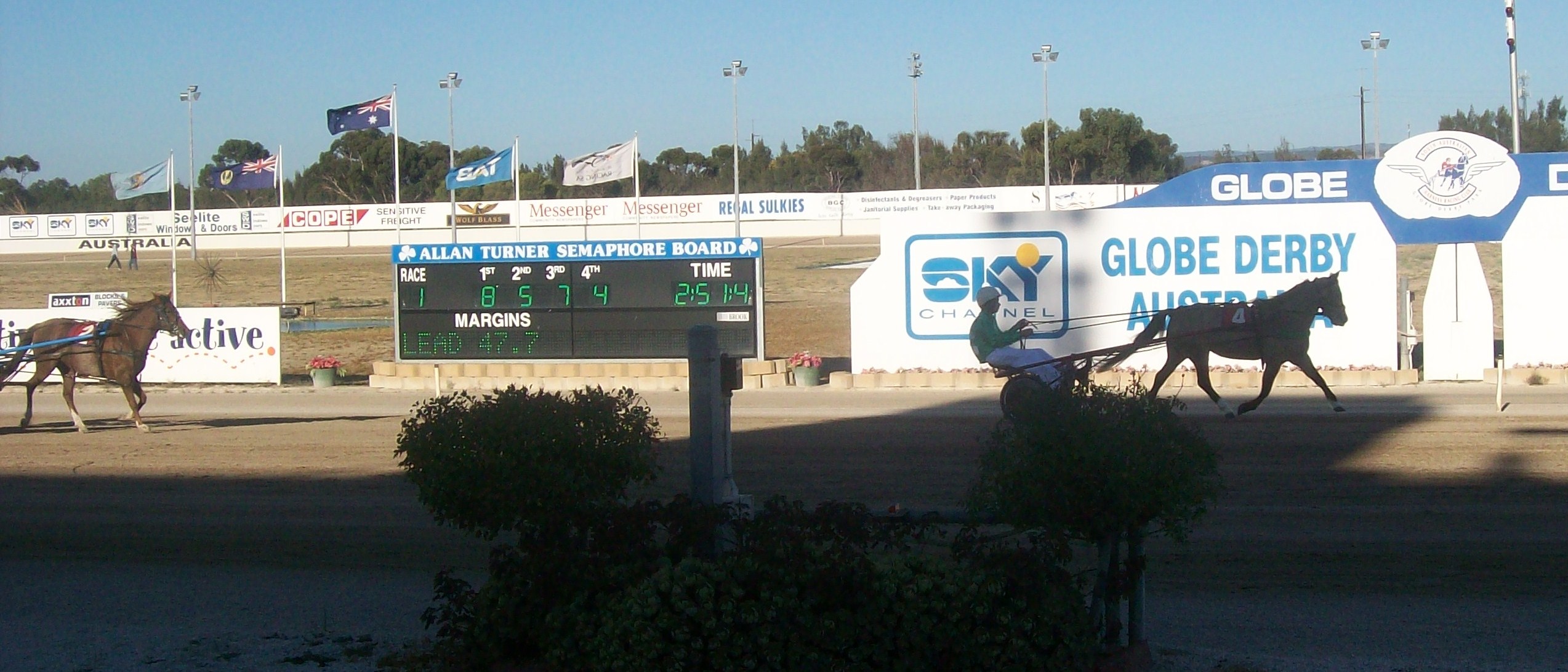 Lord Monty crossing the line first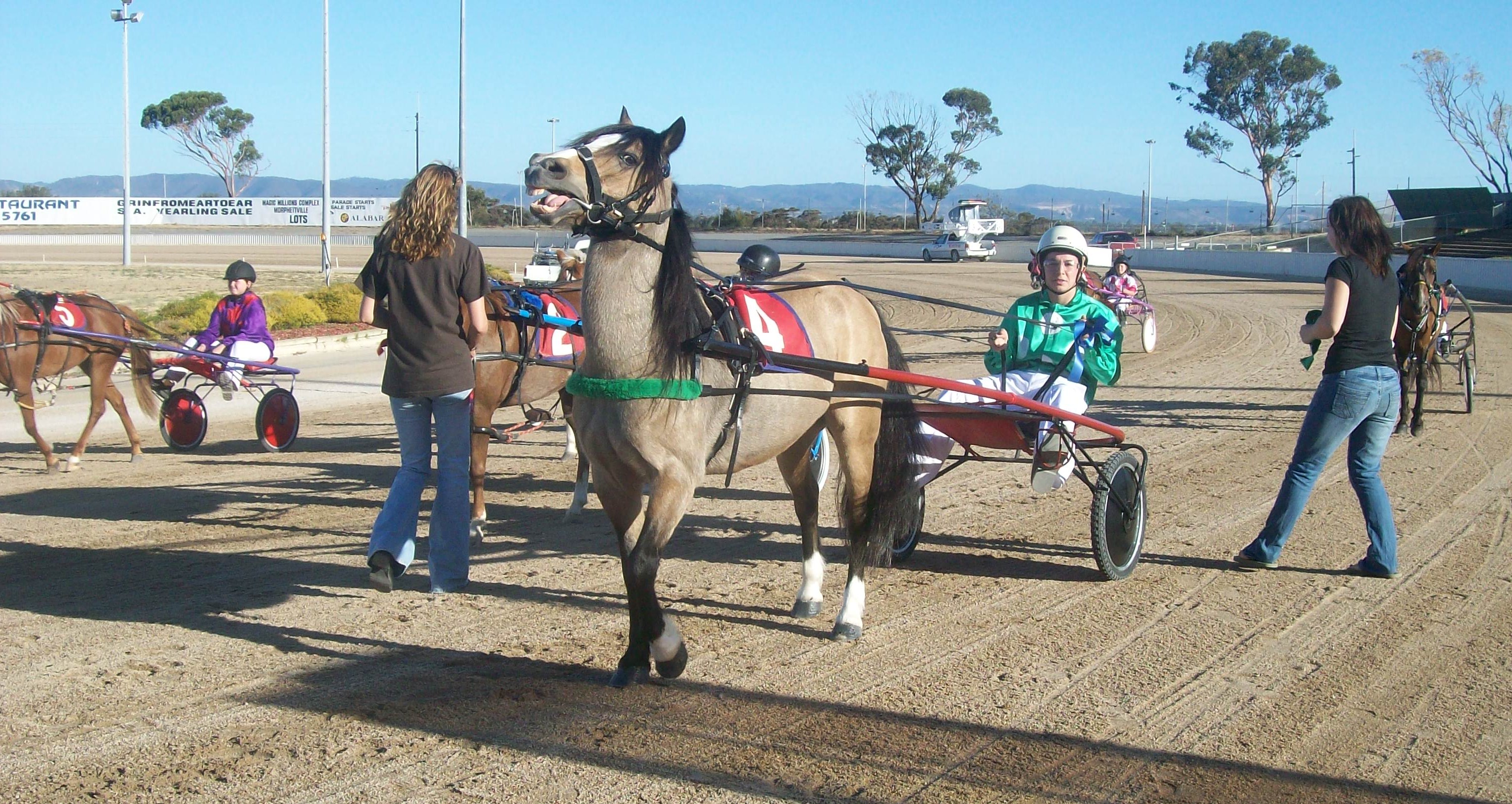 Lord Monty after receiving ribbon
The first race of the night the Slow Class was an even affair as Lord Monty driven by Jacob Starick sprinted down the straight to win easily. Born To Be Wild scored himself a third Saturday night second in a row and a length away in third position went to Magpie Mary who raced quite wide throughout most of the race.
Written by Braden Jarman
RACE 2 - MEDIUM SLOW CLASS
1st – Wynkie Sweet Fairytales – Jodie Billinger
2nd – Mr Mischief – Matthew Williams
3rd – Little Kizz – Christie Gilbert
4th – Chilli Knights – Brodie Webster
5th – Misson Impossible – Samantha Pascoe
6th – Way To Go – Kathryn Lehmann
7th – Thats What Boys Do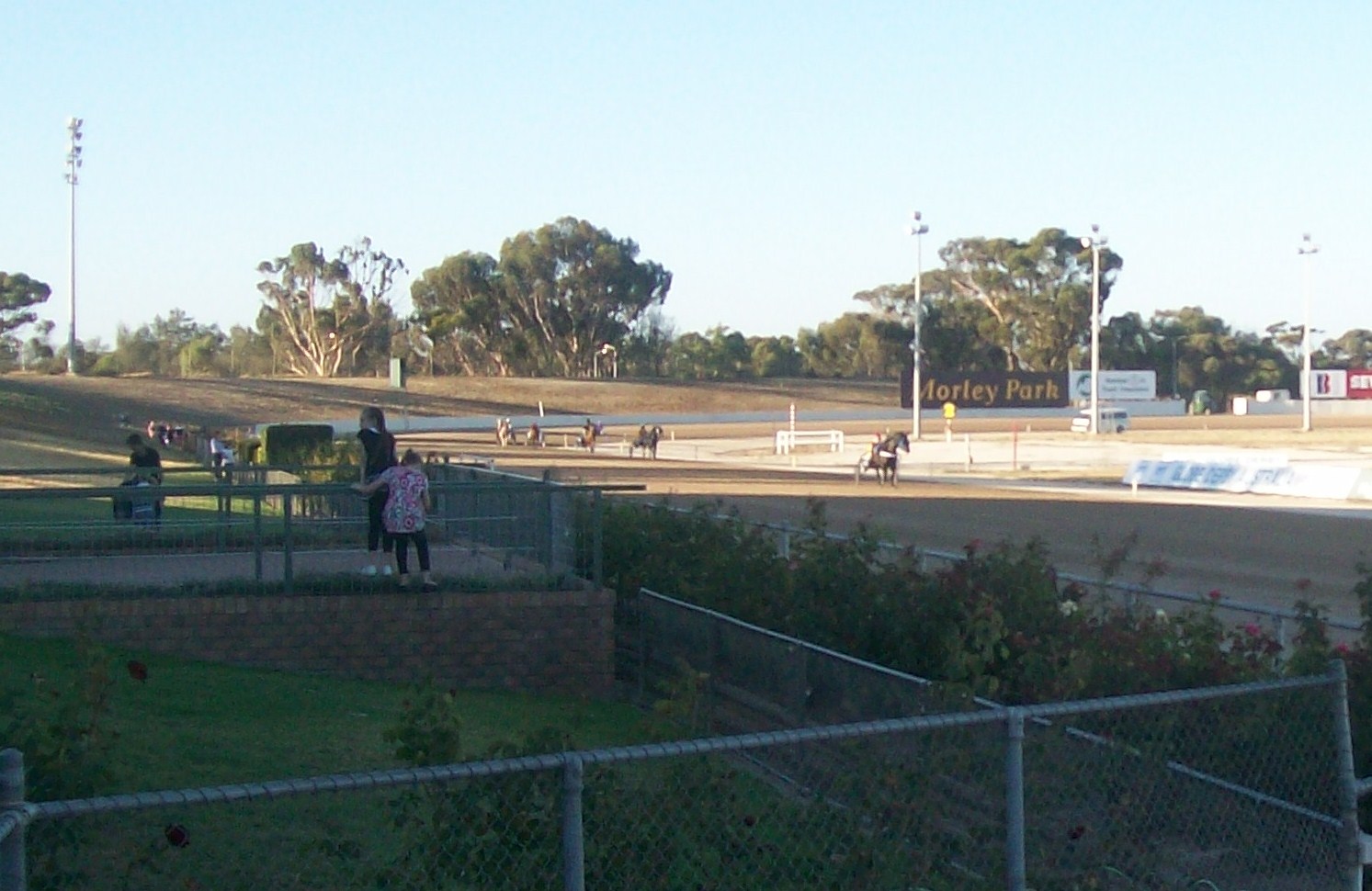 Wynkie Sweet Fairytales crossing the line first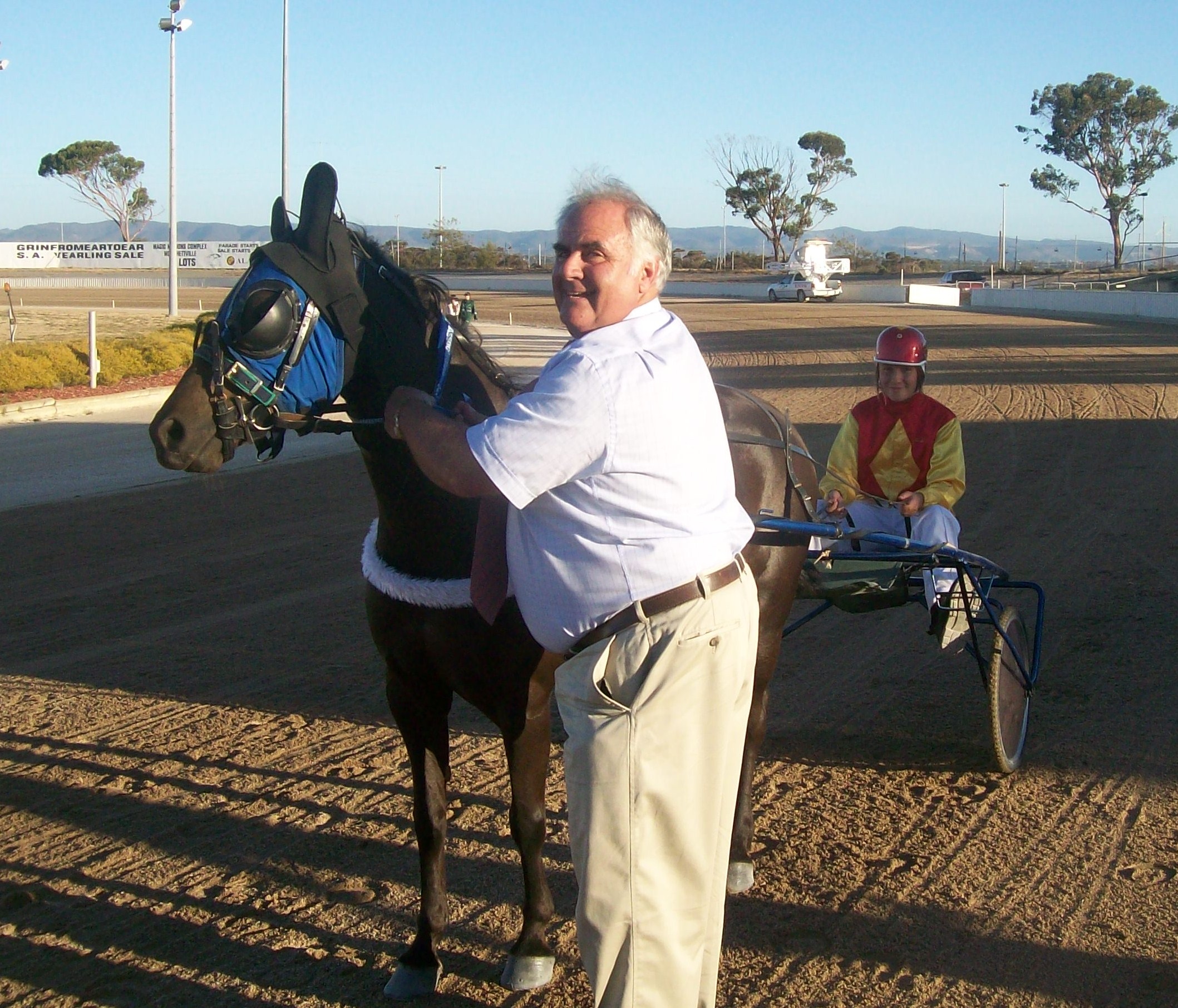 Wynkie Sweet Fairytales receiving ribbon from the President Peter Marshall
The Medium Slow Class was arguably the race of the night as troubled pony Wynkie Sweet Fairytales shocked the crowd as she behaved herself and won quite comfortably leading from start to finish. The winner won by more than 50 metres as Mr Mischief and Little Kizz rounded out the placings.
Written by Braden Jarman
1st – Oungachucka – Chantelle Rendall
2nd – Wandarra Tess – Jacob Starick
3rd – My Little Pony – Jennifer Lehmann
4th – PJ – Bryce Gilbert
5th – Midnight Star – Sharni Newman
6th – Till We Meet Again – Brodie Webster
Scr – Talking Donkey – Katelin Richter
Scr – Ben Bailey – Grayden Richter'
Scr – Billy The Kid – Brett Lowe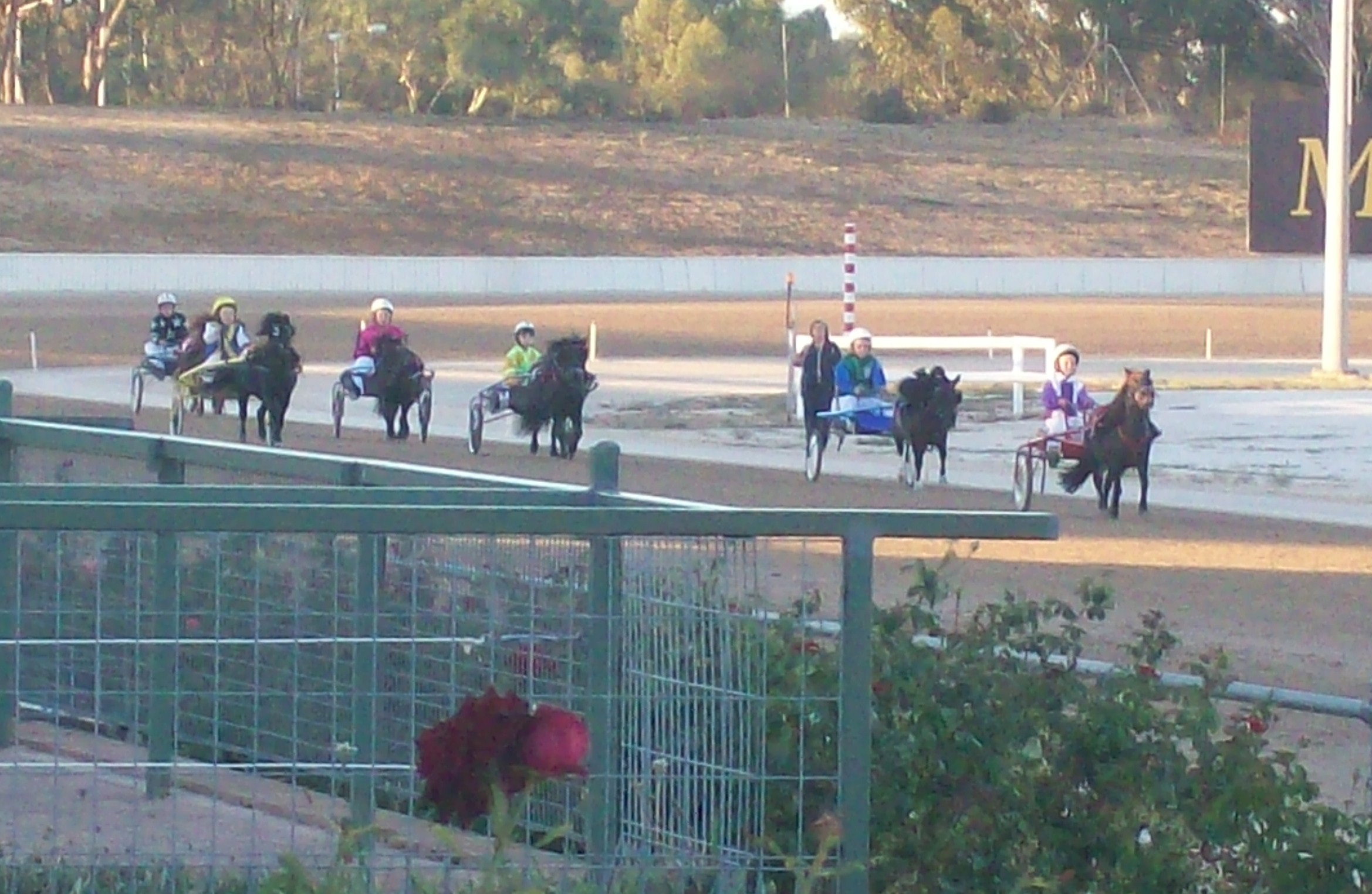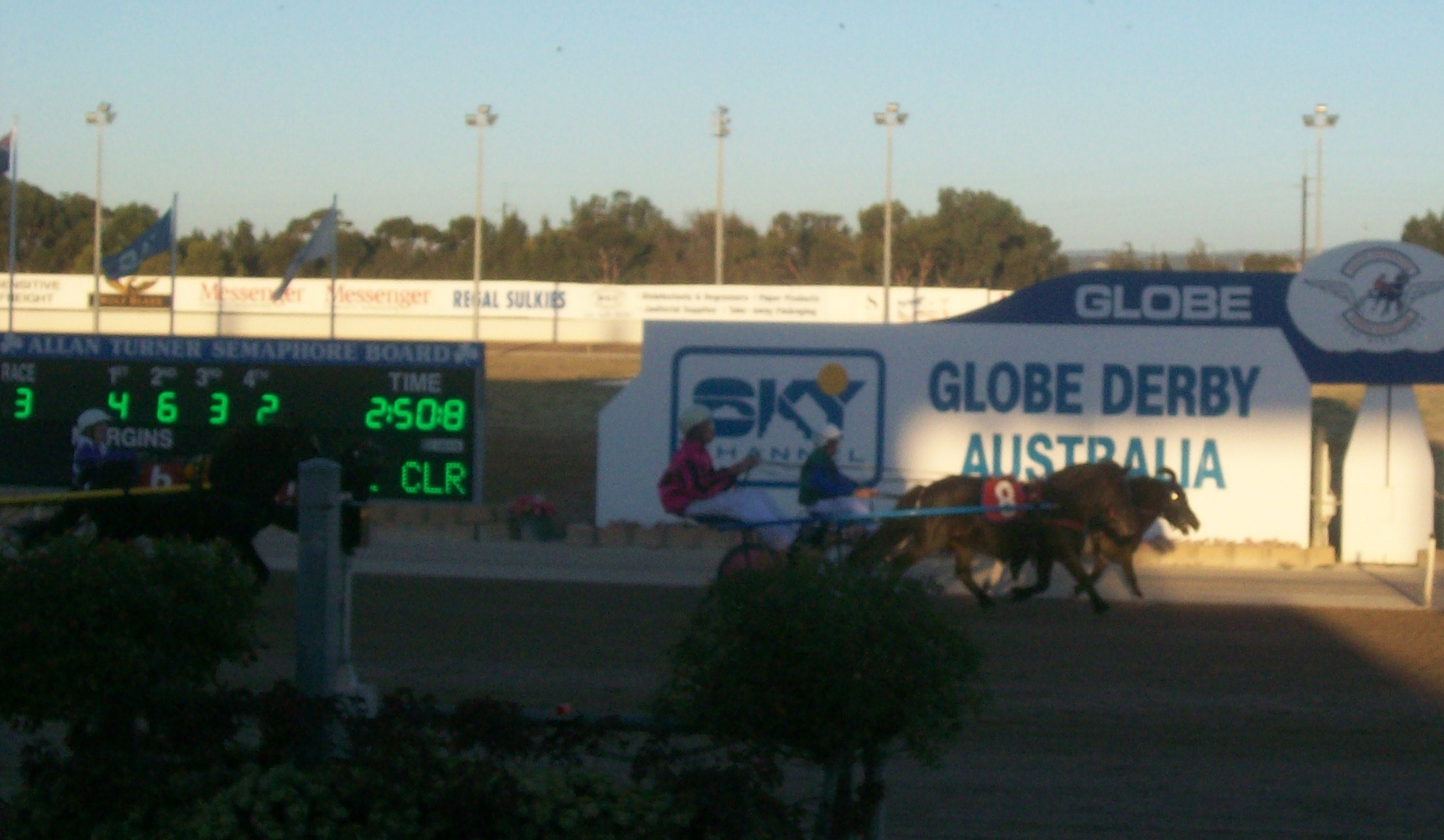 Almost a deadheat Oungachucka 1st and Wandarra Tess 2nd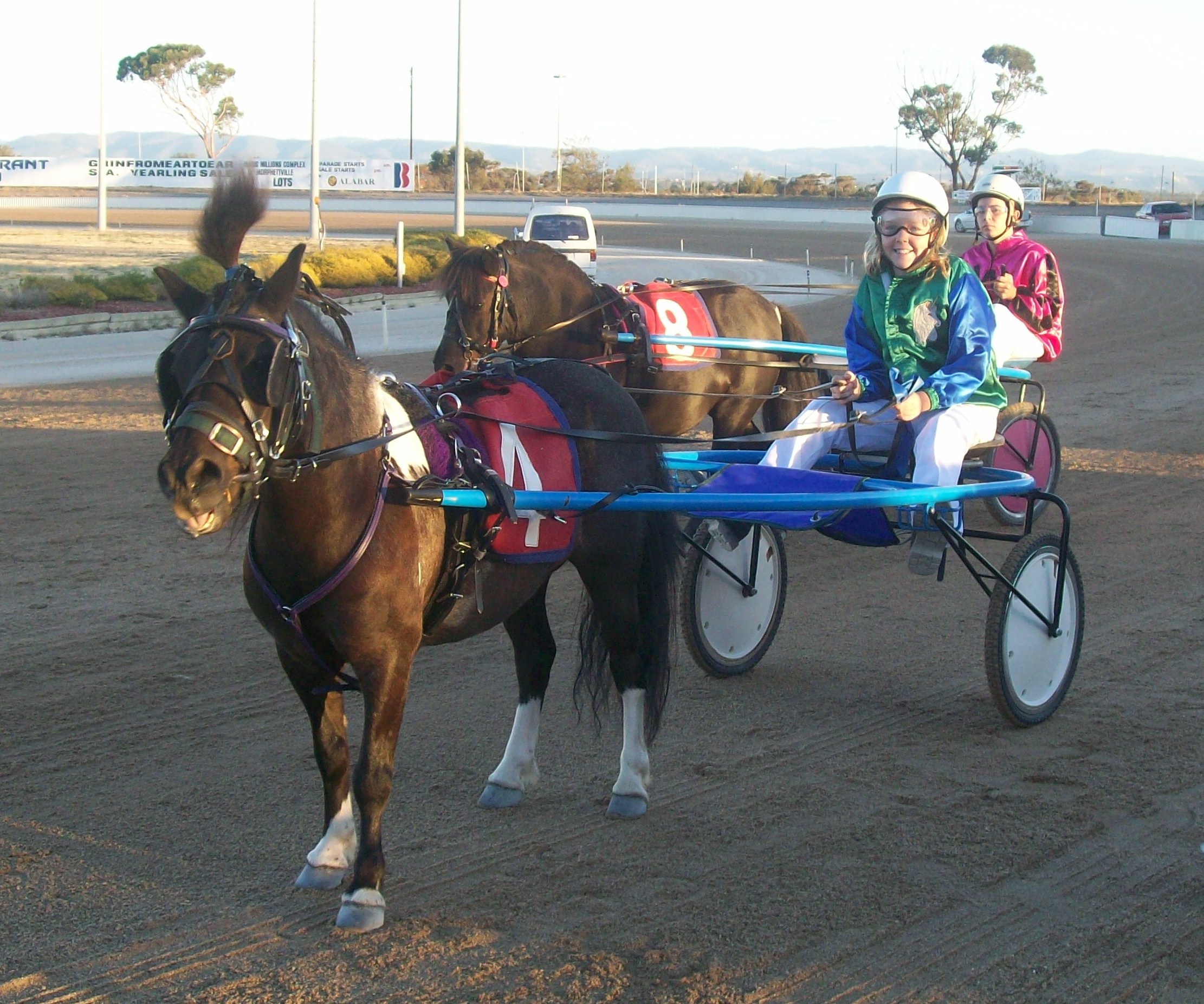 A very happy Chantelle with her first winner Oungachucka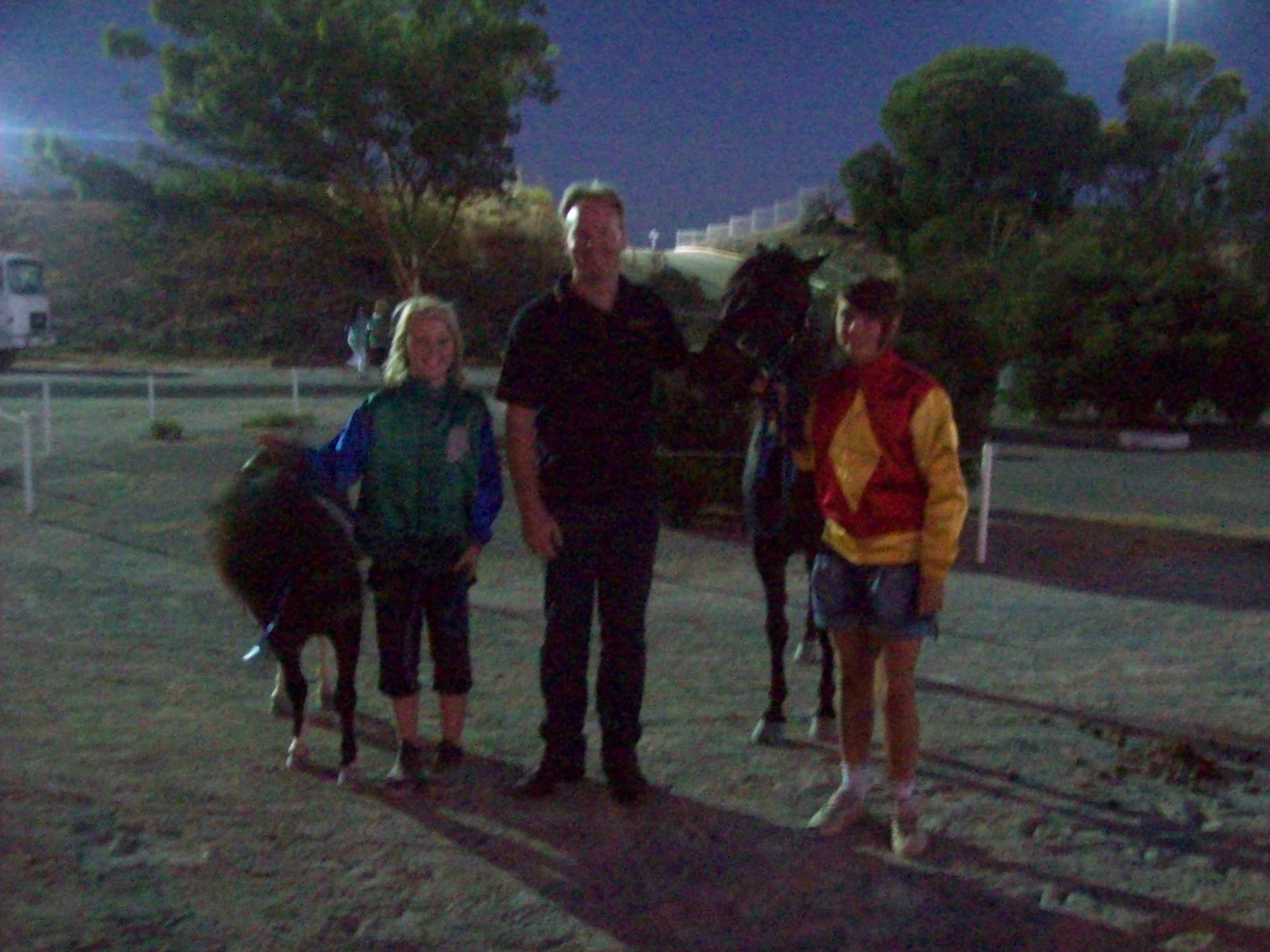 A special night for the combination of Chantelle and her mum Jane. Their friend Richard Marsden was over from Perth where they previously had lived and Chantelle was out to impress. Her wish came true with Jodie winning on Wynkie Sweet Fairytales and herself winning on Oungachucka. Congratulations.
The Shetlands always produce a close finish but that would be an understatement as tonights race was very close to a dead heat. Oungachucka got up for his first win of the season when he raced down the inside to beat the fast finishing Wandarra Tess on the line. Chantelle Rendall was ecstatic with her first win as her fans cheered extremely loudly down the home straight. My Little Pony made amends from his race at Kapunda where he was very naughty but tonight raced very pleasingly and finished a well deserved third.
Written by Braden Jarman
1st - Monkey Business – Chantelle Dodd
2nd – Little Paleface
3rd – Cheeky Charlie – Jacob Starick
4th – Aussie – Jodie Billinger
5th – Miss Vee – Matthew Williams
Scr – Sundance – Brett Lowe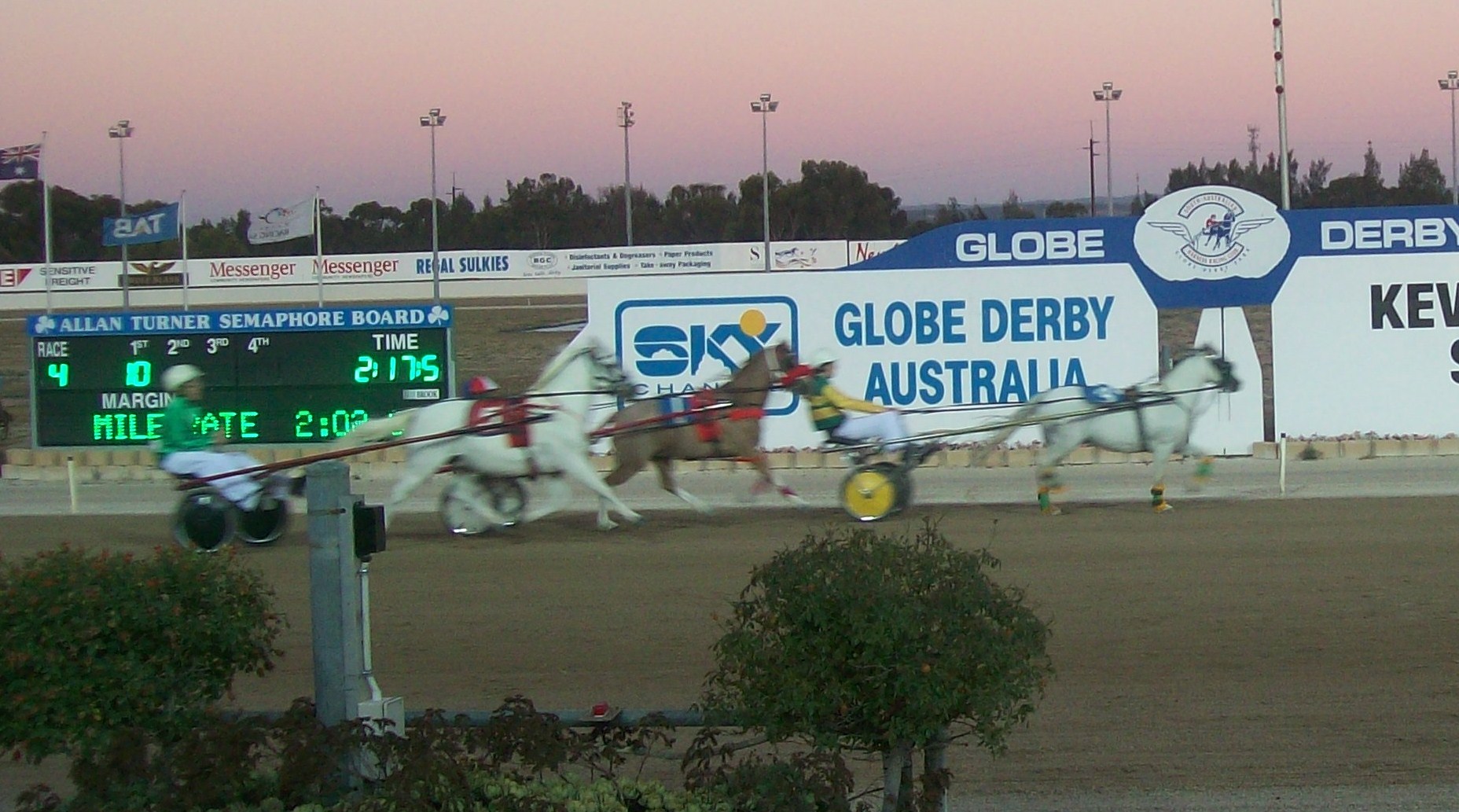 Monkey Business crossing the line in front of Little Paleface and Cheeky Charlie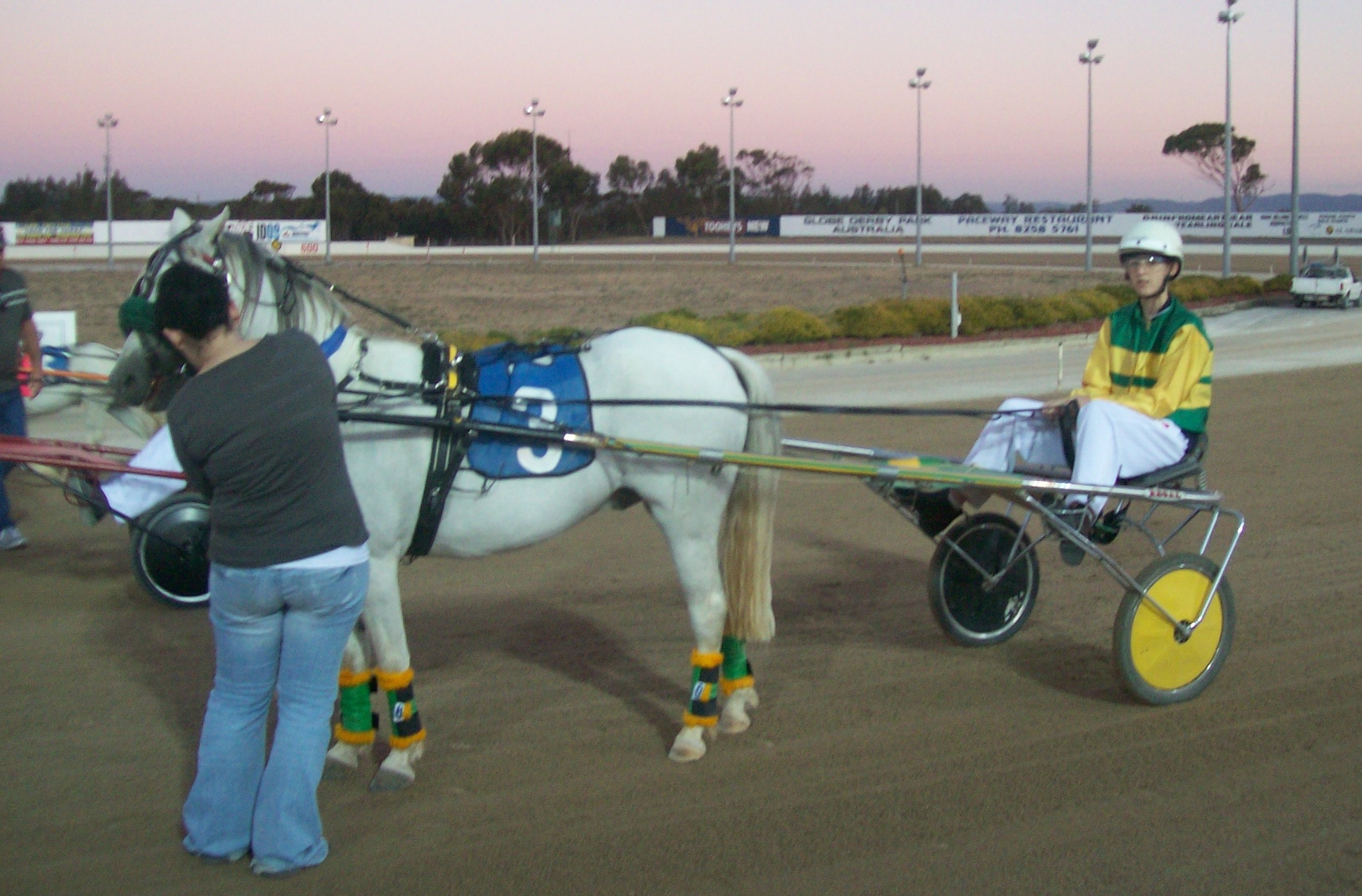 Monkey Business receiving Ribbon
The Medium Class was anyone's race with 100m to go but Monkey Business driven by Chantelle Dodd found something in the dying stages to beat Little Paleface to the line. Cheeky Charlie had to settle for third but is steadily improving and will be a chance next week.
Written by Braden Jarman