RESULTS
Globe Derby Park - 21 March 2009
Proudly Sponsored by SABOTRA
Many thanks to John and Kate Crawford for taking photos tonight
1st – Little Kizz – Christie Gilbert
2nd – Mr Murphy
3rd – Oungachucka – Chantelle Rendall
4th - Magpie Mary – Kaycee Carey
5th – Chickabarquar
Scr  - Dancing Demi – Jacob Starick
Scr - Chilli Knights – Brodie Webster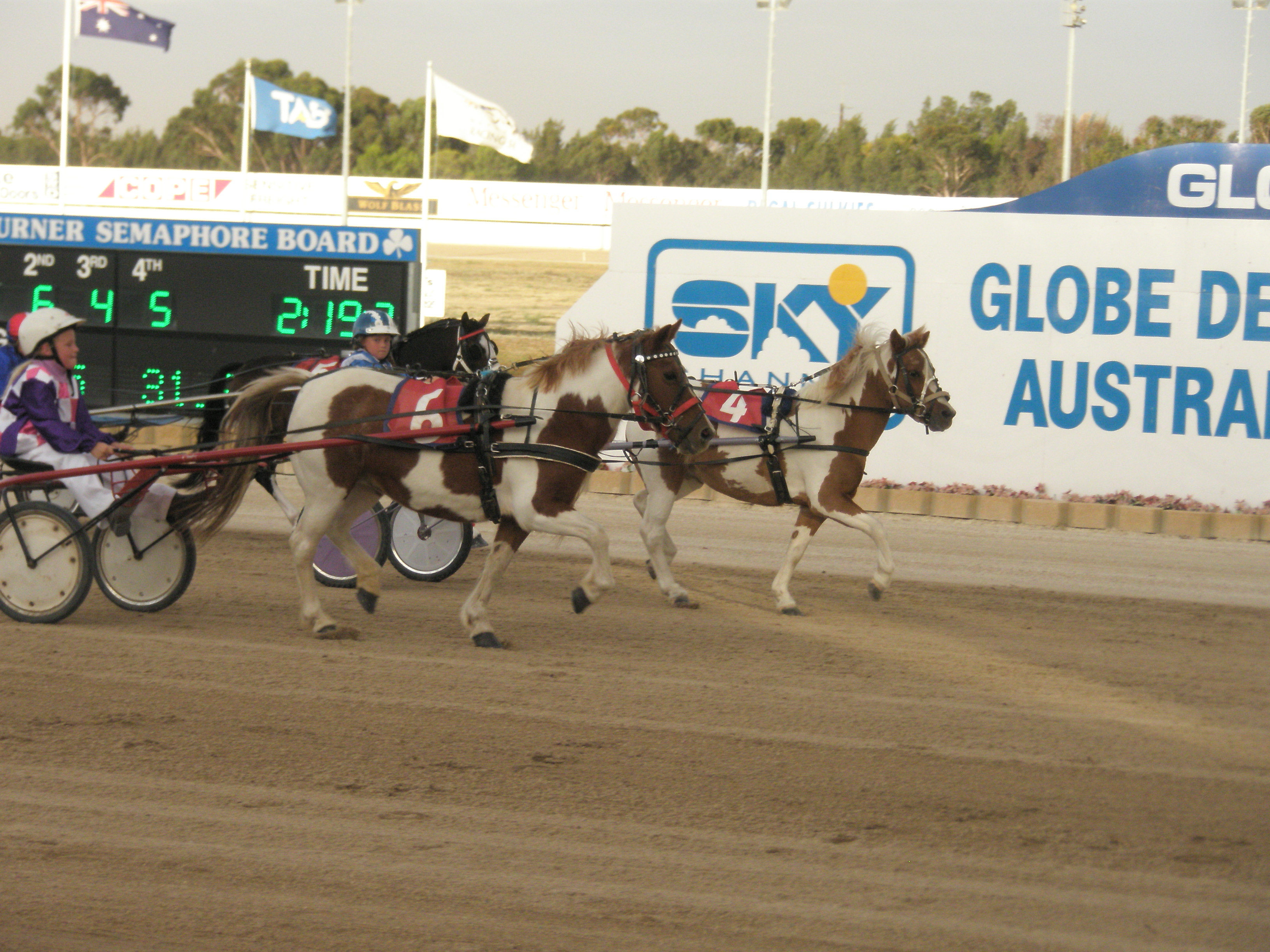 Little Kizz driven by Christie Gilbert on outside about to cross the line first
Tonights racing was sponsored by SABOTRA and with only two weeks to the end of the season and no points allocated the theme for the night was to race ponies in their selected colours.
The first race was for Coloured Ponies and last weeks winner, Chickabarquar was off the front mark, he was trotting along really nicely out in front until nature called and he stopped flat footed on the track, by the time he had finished his business the whole field had raced past him, very good work by all the young drivers to navigate around him safely.
Little Kizz the winner of the Gawler Slow Class Cup last week came off the back mark tonight but after trotting well all the way put her nose in front on the line to win by a short half head in front of Magpie Mary and Mr Murphy a length away in 3rd position. However, as Magpie Mary had made up a lot of ground by galloping in the early stages of the event she was relegated to 4th position therefore the new placings were Little Kizz 1st, Mr Murphy 2nd and Oungachucka 3rd.
1st – That's What Boys Do
2nd – My Little Pony – Jennifer Lehmann
3rd – Wandarra Tess – Matthew Basto
4th – Midnight Star – Sharni Newman
5th – Billy The Kid – Brett Lowe
6th – PJ – Bryce Gilbert
PU – Dancing Demi – Jacob Starick
Scr – Talking Donkey – Katelin Richter
Scr – Ben Bailey – Grayden Richter
Scr – Wynkie Sweet Fairytales – Jodie Billinger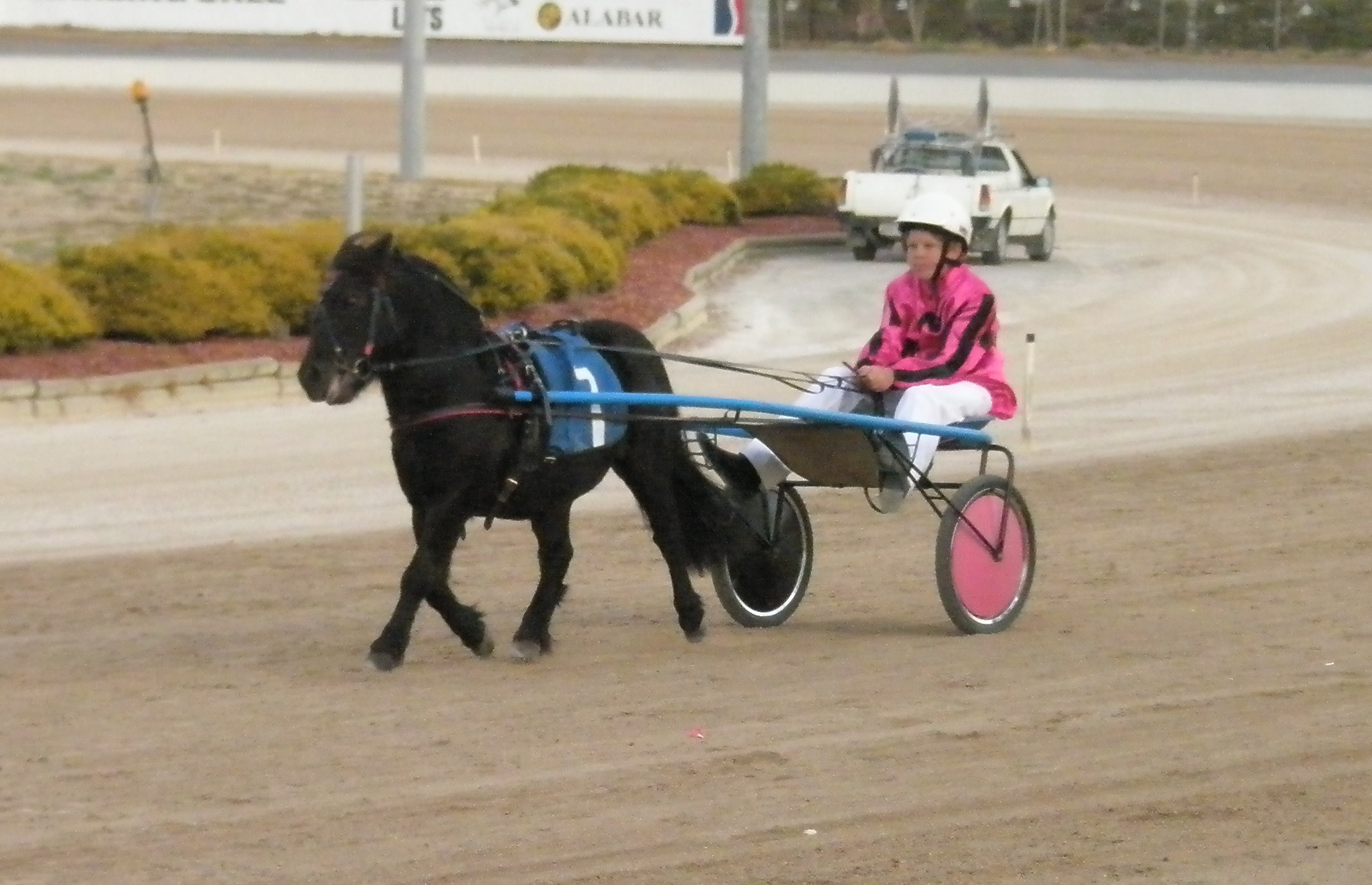 Matthew Basto after having his first race drive on Wandarra Tess
Race 2 was for the Black Ponies and it was thought it might be a hard race to call but all the ponies ranged in height from the smallest PJ to possibly the tallest in That's What Boys Do.
This year we definitely have had ponies with a little bit of attitude and tonight it was Dancing Demi's turn. She started of the second row but wouldn't move off the start until every pony went past her, then she decided to move.
Most of the field caught PJ at the 50 metre mark with That's What Boys Do being well driven along the rails to get up and win from one of the most improved ponies over the season My Little Pony driven by Jennifer Lehmann and Wandarra Tess dashing home late through the middle with Matthew Basto who was having his first race drive.
RACE 3 - BAY/BROWN/CHESTNUT PONIES
1st – Whataday – Jessica Pascoe
2nd – Little Paleface
3rd – Lord Monty – Jacob Starick
4th – Mr Mischief – Matthew Williams
5th – Aussie – Jodie Billinger
6th – Born To Be Wild – Hayley Lehmann
7th – Westbury Bogart – Jacinta Gilbert
8th – Mission Impossible – Samantha Pascoe
9th – Aadelaidee Lady – Madison Smith
Scr – Till We Meet Again – Brodie Webster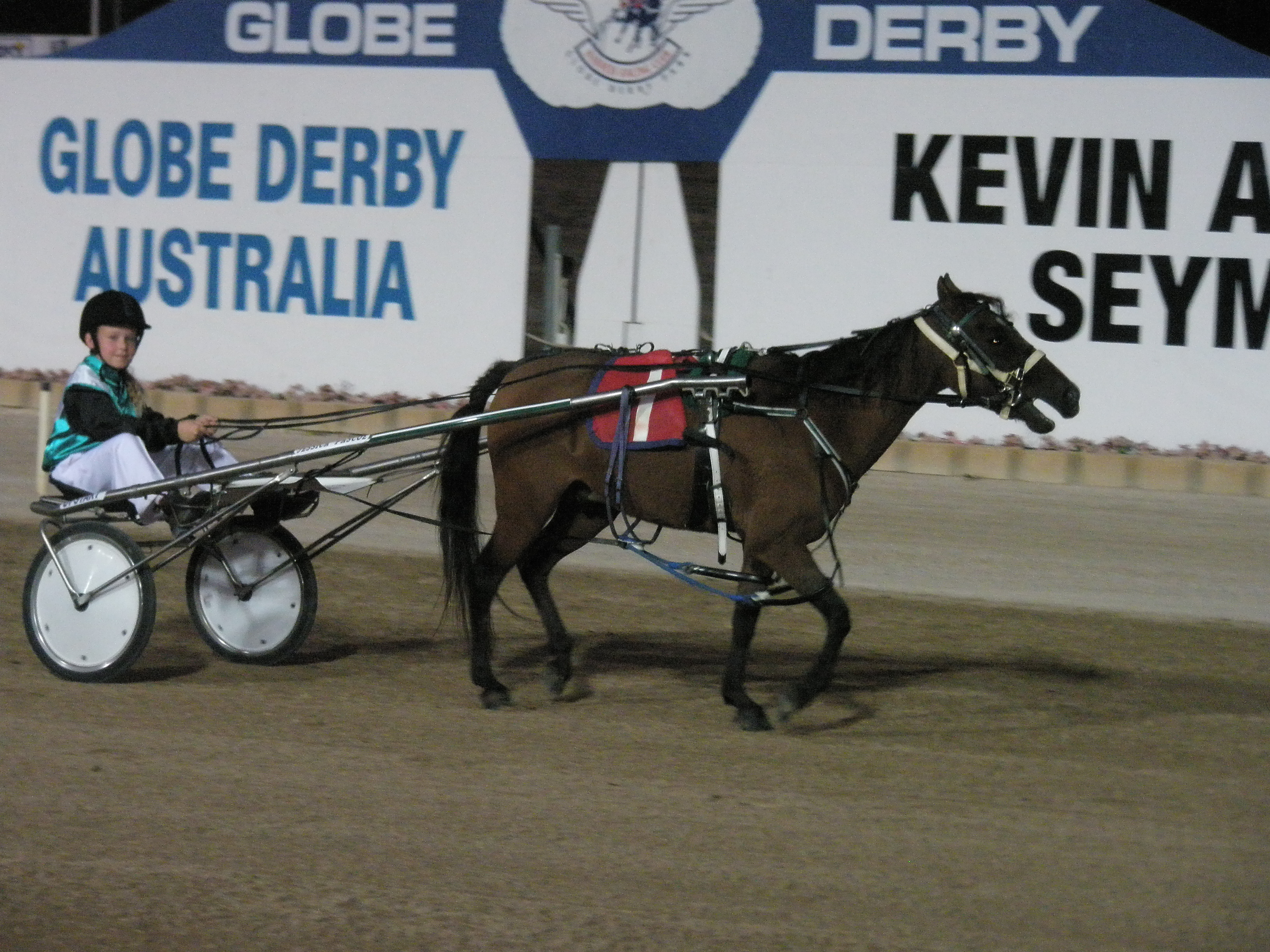 Jessica Pascoe winning her first race on Whataday
The third race was for Bay/Brown/Chestnut Ponies. Whataday started on the front mark and led all the way for a very impressive win giving young Jessica Pascoe her first winning drive. Jessica gave most a brief heart palpitation when she pulled Whataday up just before the line but with a lot of encouragement from the crowd Whataday stepped over the line to win. The ultra consistent Little Paleface finished 2nd ahead of Lord Monty driven by Jacob Starick.
RACE 4 - GREY/LIGHT PONIES
1st – Way To Go – Kathryn Lehmann
2nd – Sundance – Brett Lowe
3rd – Cheeky Charlie – Jacob Starick
4th – Wynkie Sweet Fairytales – Chantelle Rendall
Scr – Spirit – Shannon Platts
Scr – Miss Vee – Matthew Williams
Scr – Monkey Business – Chantelle Dodd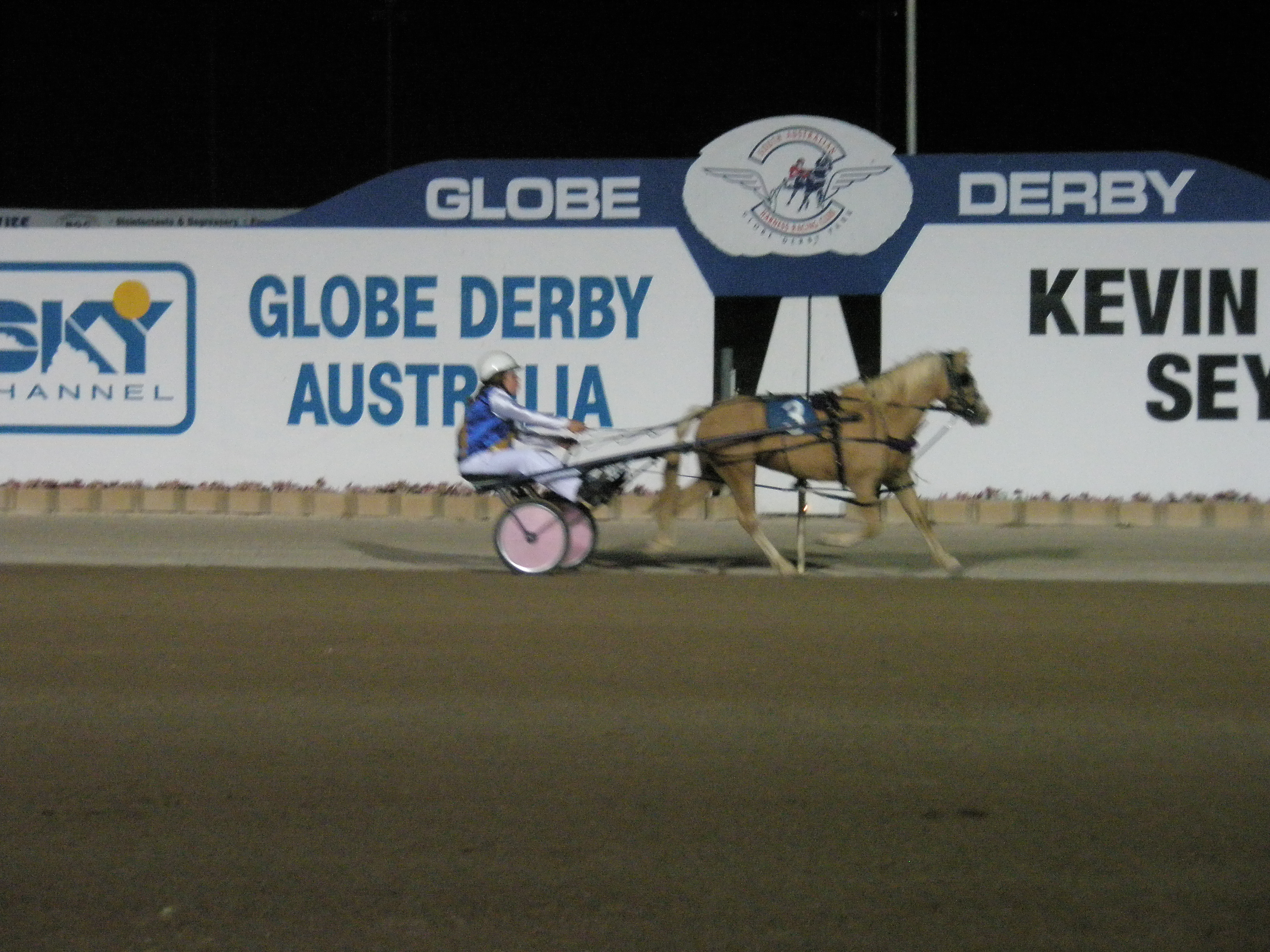 Way To Go and Kathryn Lehmann crossing the line first
The final race tonight was for Grey/Light Coloured Ponies where another front marker who has been racing well, Way To Go driven by Kathryn Lehmann stuck to the rails and led all the way for an easy win. Sundance and Cheeky Charlie completed the placings.
After a few scratchings and leaving only three in the final event it was a good opportunity for Chantelle Rendall to have her first race drive on the mischievious Wynkie Sweet Fairytales, Chantelle handled her very well and finished 4th.