RESULTS
GLOBE DERBY PARK - 23 APRIL 2011
Proudly Sponsored by
South Australian Reinswomen's Association
and
Peter Blackwell (Balaklava)
Season Sponsors Harness Racing SA, SA Harness Racing Club and John Rothe Video
| | | |
| --- | --- | --- |
| | RACE 1 – SA REINSWOMEN'S ASSOCIATION SHETLAND TROT | |
| | | |
| 1st | Swamp Fire | Nicholas Brown |
| 2nd | Pee Wee 50 | Shaniah Ogilvy |
| 3rd | Midnight Star | Sharni Newman |
| 4th | Eddy's A Fake | Jodie Billinger |
| 5th | Ben Ten | Jason Kittel |
| 6th | Crackerjack | Kaycee Carey |
| 7th | It's All About Me | Chantelle Rendall |
| | | |
| | | |
| | RACE 2– SA REINSWOMEN'S ASSOCIATION TROT | |
| | | |
| 1st | Aadelaidee Lady | Madison Smith |
| 2nd | Chilli Knights | Chantelle Rendall |
| 3rd | Cowboy Road | Jodie Billinger |
| 4th | Born To Be Wild | Cameron Jacques |
| Scr | Magpie Mary | Kaycee Carey |
| Scr | Westbury Bogart | Shannon Platts |
| | | |
| | | |
| | RACE 3– SA REINSWOMEN'S ASSOCIATION TROT | |
| | | |
| 1st | Mr Mischief | Bailey Hoare |
| 2nd | Petti Cheval | Jennifer Lehmann |
| 3rd | Wynkie Sweet Fairytales | Chantelle Rendall |
| 4th | Way To Go | Kathryn Lehmann |
| 5th | Reggie Ledgie | Cameron Jacques |
| 6th | Lapanacaton | Nicholas Brown |
| 7th | Aussie | Jason Kittel |
Race: 1 – SA Reinswomen's Association Shetland Trot
First race of the night had a field of seven taking to track. With all ponies trotting nicely when the starter said go, out in front was Swamp Fire followed from Pee Wee 50, Eddy's A Fake, Midnight Star, Ben Ten, Crackerjack and It's All About Me.
Rounding the bend into the home straight Swamp Fire was still in front but Eddy's A Fake and Midnight Star were closing quickly on him, halfway down the straight Midnight Star hit the lead but jumped side-ways at something and lost all winning chance, Swamp Fire kicked back on the inside and went on to win by 5 metres from the fast finishing Pee Wee 50 and back in third placing was Midnight Star.
Race: 2 – SA Reinswomen's Association Trot
The next race only had four ponies going around. When the flag went down all ponies trotted off nicely with Born To Be Wild the early leader off the front mark from Aadelaidee Lady, Cowboy Road and the back marker Chilli Knights. This order didn't change until heading into the straight when Born To Be Wild let a few bucks rip and Aadelaidee Lady took over the lead and went on to win by 10 metres from Chilli Knights and not far away in third was Cowboy Road.
Race: 3 – SA Reinswomen's Association Trot
Last race of the night was the medium-fast class with seven ponies facing the barrier. When the starter said go Reggie Ledgie stepped away nicely out in front followed by Petti Cheval, Aussie, Mr Mischief, Way To Go, Wynkie Sweet Fairytales and the oldest pony to race this season Lapanacaton bring up the tail end.
Reggie Ledgie lead all the way till the home straight where Mr Mischief took over and went on the be a comfortable winner for young Bailey Hoare from Petti Cheval and not far for third was Wynkie Sweet Fairytales.
Written by Rachel Maguire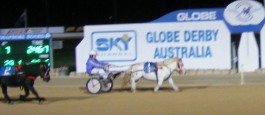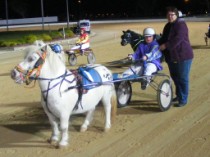 Swamp Fire and Nicholas Brown crossing the line first and at presentation with Kathy Pickering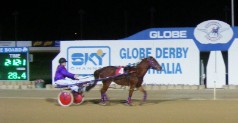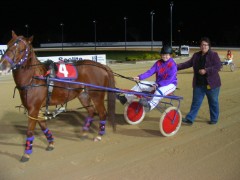 Aadelaidee Lady and Madison Smith crossing the line first and at presentation with Kathy Pickering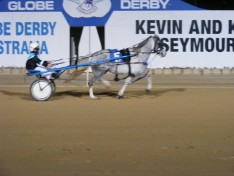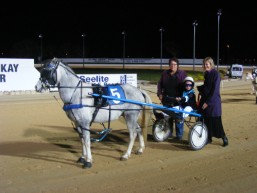 Mr Mischief and Bailey Hoare crossing the line first and at presentation with Kathy Pickering and Naomi Shelbourn