RESULTS
MOUNT GAMBIER
24 DECEMBER 2010
Christmas Eve saw five ponies and their junior drivers compete in two races . In perfect weather conditions, the ponies hit the track for the J.K Greenfield Memorial Handicap.
Run Jemma Run and Josh Micallef started off with a handy lead . Minty, trained by Hayley Greenfield and driven by Emma Rundle with patience made ground through the field to pull alongside White Lightning(Tom Rundle). Run Jemma Run with his little legs began to run out of puff in the straight with 20 metres to go. As the the roar of the crowd echoed down the straight Run Jemma Run lifted and on the line, crossed with White Lightning and Minty locked together in an exciting photo finish.
The honours were awarded to Minty and Emma Rundle by a short half head to Run Jemma Run and White Lightning who on the official photo dead heated for second place.
They were followed by Pumpkin (Emma Greenfield) and Willow (Abbey Gull).
Race 1
1st Minty Emma Rundle
2nd DH White Lightning Tom Rundle
DH Run Jemma Run Joshua Micallef
4th Pumpkin Emma Greenfield
5th Willow Abbey Gull
Race 2 The Sandra and Dennis Gray and was another crowd pleaser with White Lightning too eager to get the show started. After a short pre-race performance, Tom Rundle steadied his pony into a near perfect gait. Run Jemma Run (Joshua Micallef) who fought hard to maintain his lead in the straight. Minty came blistering into to view and it looked likely to be a repeat effort. White Lightning trotting faultlessly gradually ground down the leader to make it a Rundle family double for the night. Minty unable to overcome her extra handicap finished best next ahead of Willow and Pumpkin.
The ponies return to the track on Saturday night.
Race 2
1st White Lightning Tom Rundle
2nd Run Jemma Run Joshua Micallef
3rd Minty Emma Rundle
4th Willow Abbey Gull
5th Pumpkin Emma Greenfield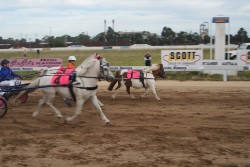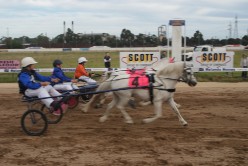 Minty, White Lightning and Run Jemma Run hit the line in a photo finish