RESULTS
Globe Derby Park - 24th January 2009
Proudly Sponsored by Globe Derby Poultry, Grain & Stockfeed
Thanks to Jodie Billinger and Steve Branson for taking photos tonight
1st - Westbury Bogart - Jacinta Gilbert
2nd - Born To Be Wild - Hayley Lehmann
3rd - Aadelaidee Lady - Madison Smith
4th - Mr Murphy
5th - Magpie Mary - Kaycee Carey
Scr - Lord Monty - Jordan Starick
Scr - Spirit - Shannon Platts
Westbury Bogart 1st, Born To Be Wild 2nd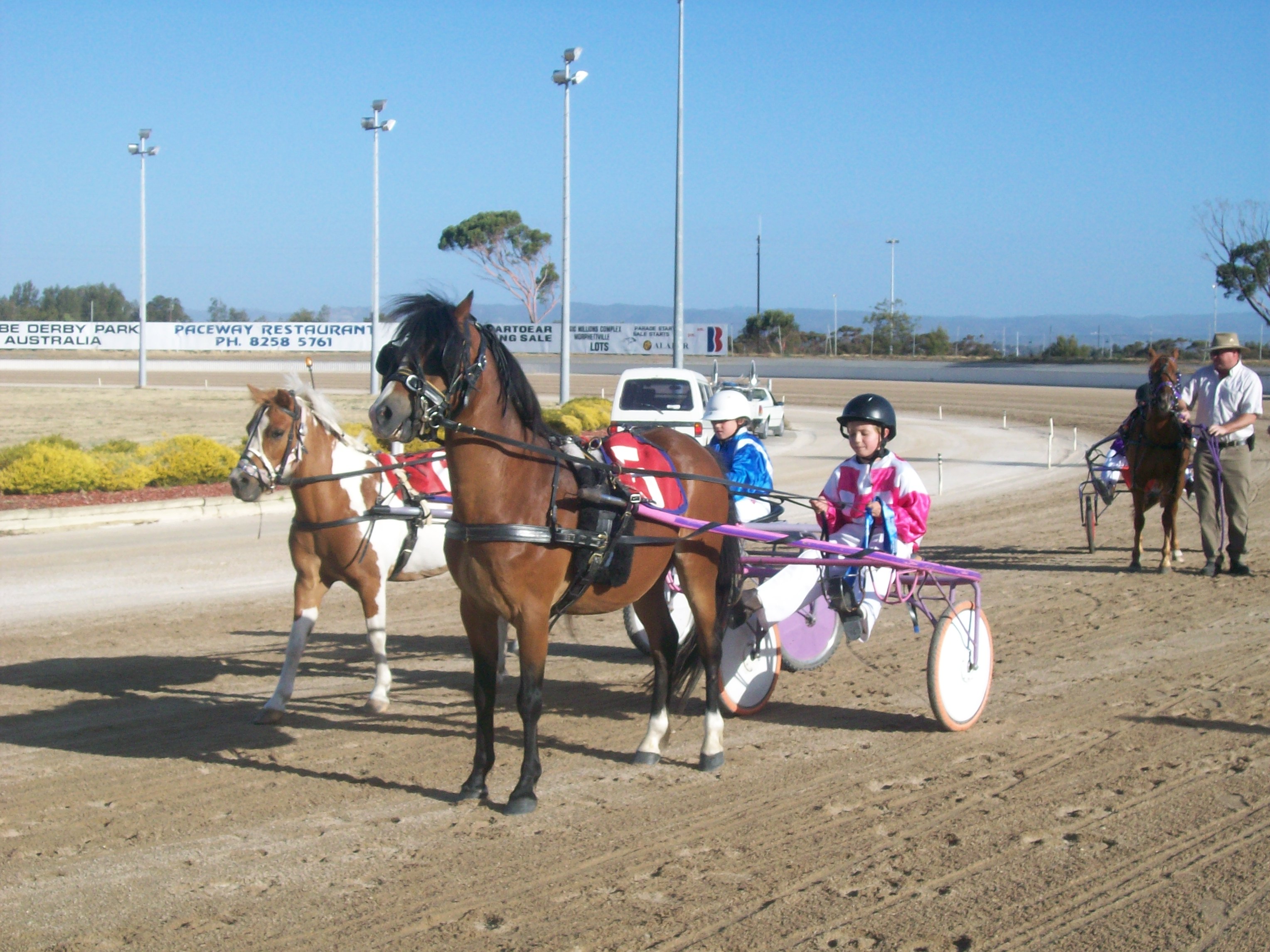 Westbury Bogart after receiving Ribbon
The Slow Class opened the meeting for the ponies tonight and it produced a tight encounter with Westbury Bogart driven by Jacinta Gilbert crossing the line first after charging late down the outside. It looked anyone's race with 100 metres to go but a late sprint from the winner proved the factor in the race as he beat Born To Be Wild (Hayley Lehmann) and Aadelaidee Lady (Madison Smith) to the line.
Written by Braden Jarman
RACE 2 - MEDIUM SLOW CLASS
1st - Thats What Boys Do
2nd - Way To Go - Kathryn Lehmann
3rd - Little Kizz - Christie Gilbert
4th - Chilli Knights - Brodie Webster
5th - Mr Mischief - Matthew Williams
6th - Wynkie Sweet Fairytales - Jodie Billinger
The Medium Slow pace was entertainment at its best as the new pony on the scene, Thats What Boys Do led from start to finish and was very impressive. Way To Go driven by Kathryn Lehmann raced very well and threatened to overtake Thats What Boys Do but had to settle for a well deserved second. Little Kizz and Chilli Knights battled it out for third as Little Kizz (Christie Gilbert) prevailed on the line.
Written by Braden Jarman
1st - Billy The Kid - Brett Lowe
2nd - Wandarra Tess - Jacob Starick
3rd - Till We Meet Again - Brodie Webster
4th - Oungachucka - Chantelle Rendall
5th - Midnight Star - Sharni Newmann
6th - Ben Bailey - Grayden Richter
7th - Talking Donkey - Katelin Richter
8th - My Little Pony - Jennifer Lehmann
9th - PJ - Bryce Gilbert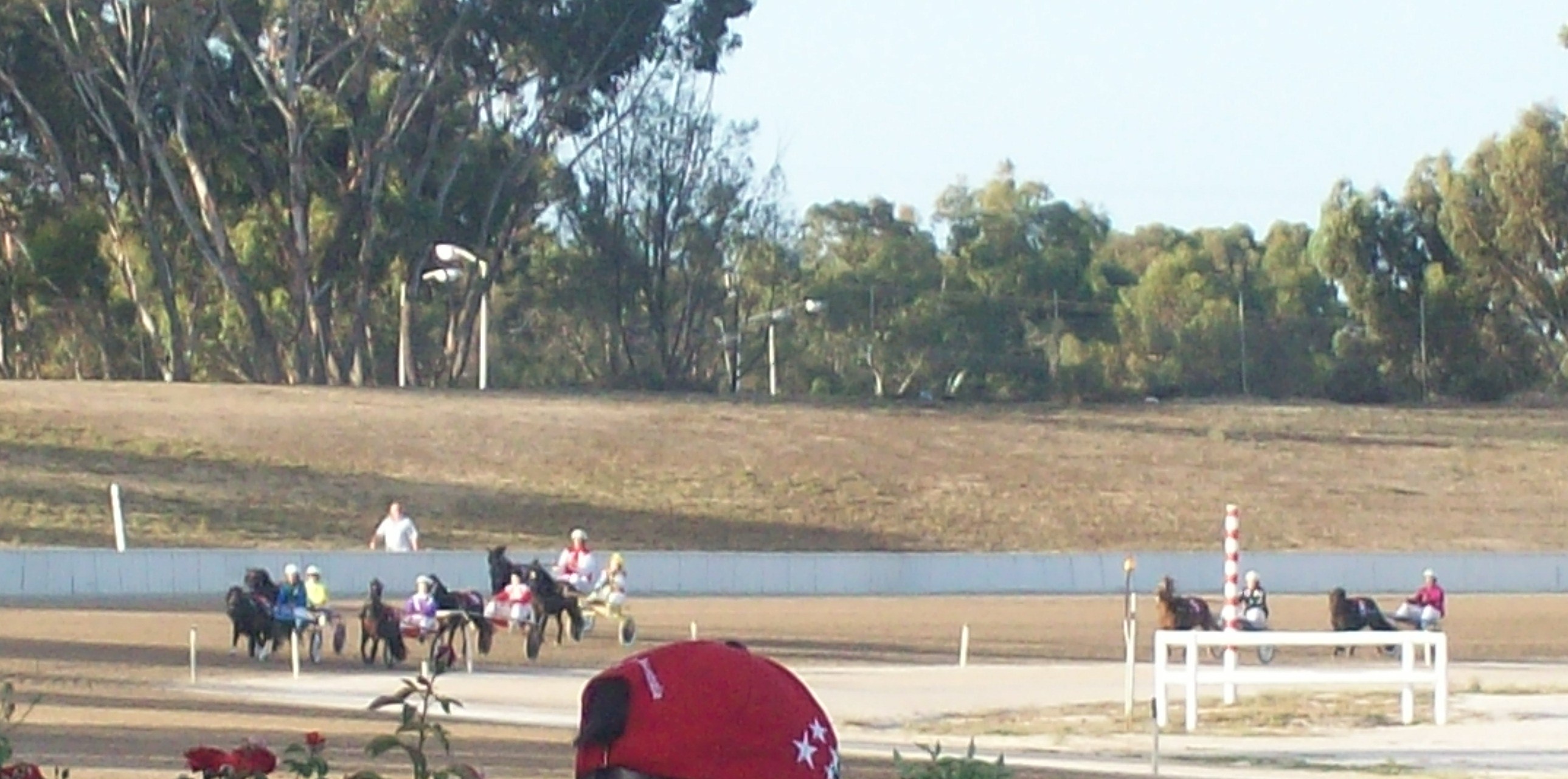 Top of the straight, ponies at the rear of the field finish 3rd and 2nd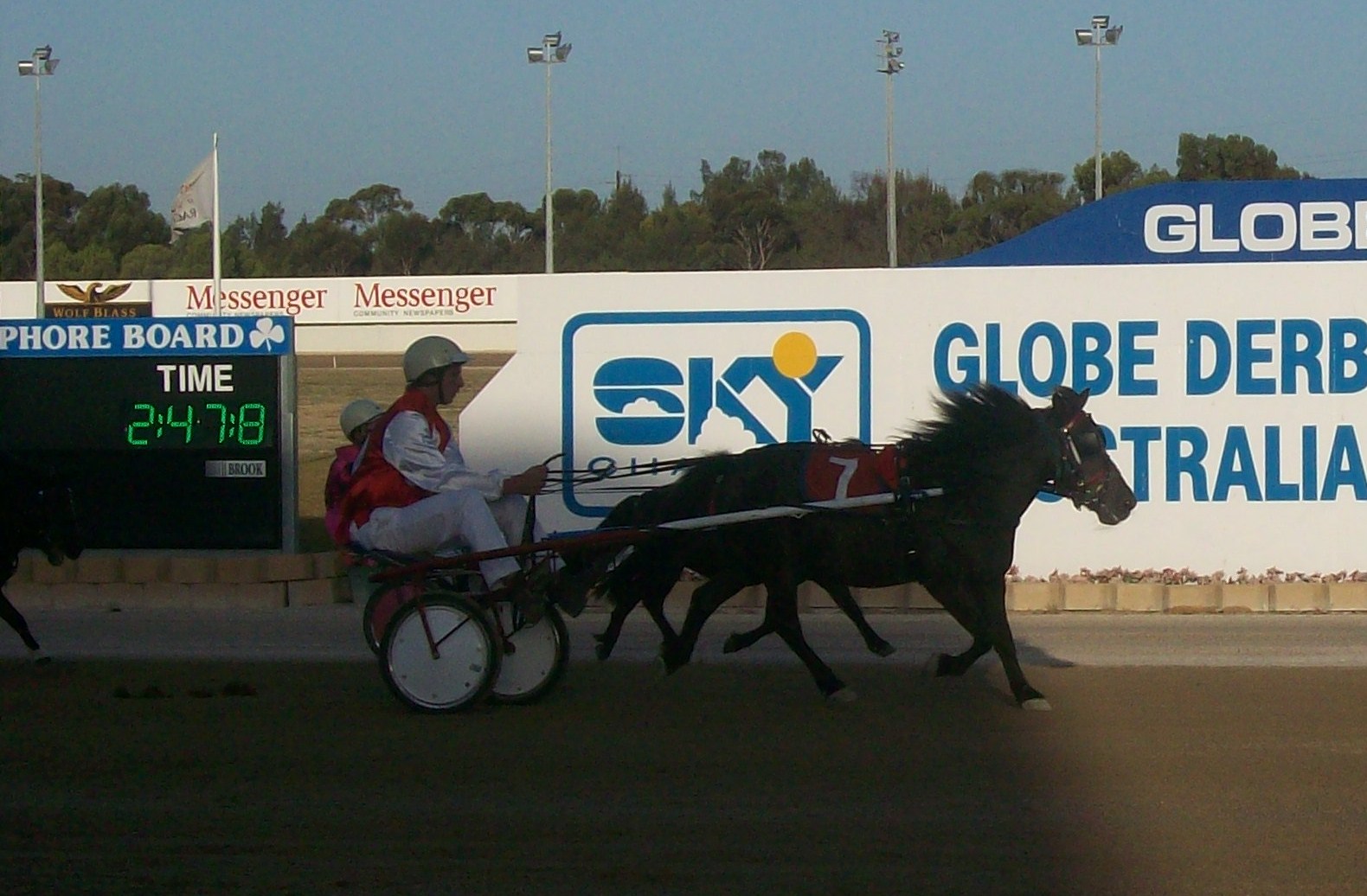 Billy The Kid 1st, Wandarra Tess 2nd
The Shetlands produced an even race as the three backmarkers filled the placings with Billy The Kid driven by Brett Lowe saluting with back to back victories, second placing went to the ultra consistent Wandarra Tess driven again tonight by Jacob Starick. Metres from the line Oungachucka (Chantelle Rendall) looked to have third place in the bag but was pipped on the line by Till We Meet Again (Brodie Webster). Chantelle was hoping to get a ribbon tonight as her dad was over from Western Australia to watch her, bad luck Chantelle maybe next week.
Written by Braden Jarman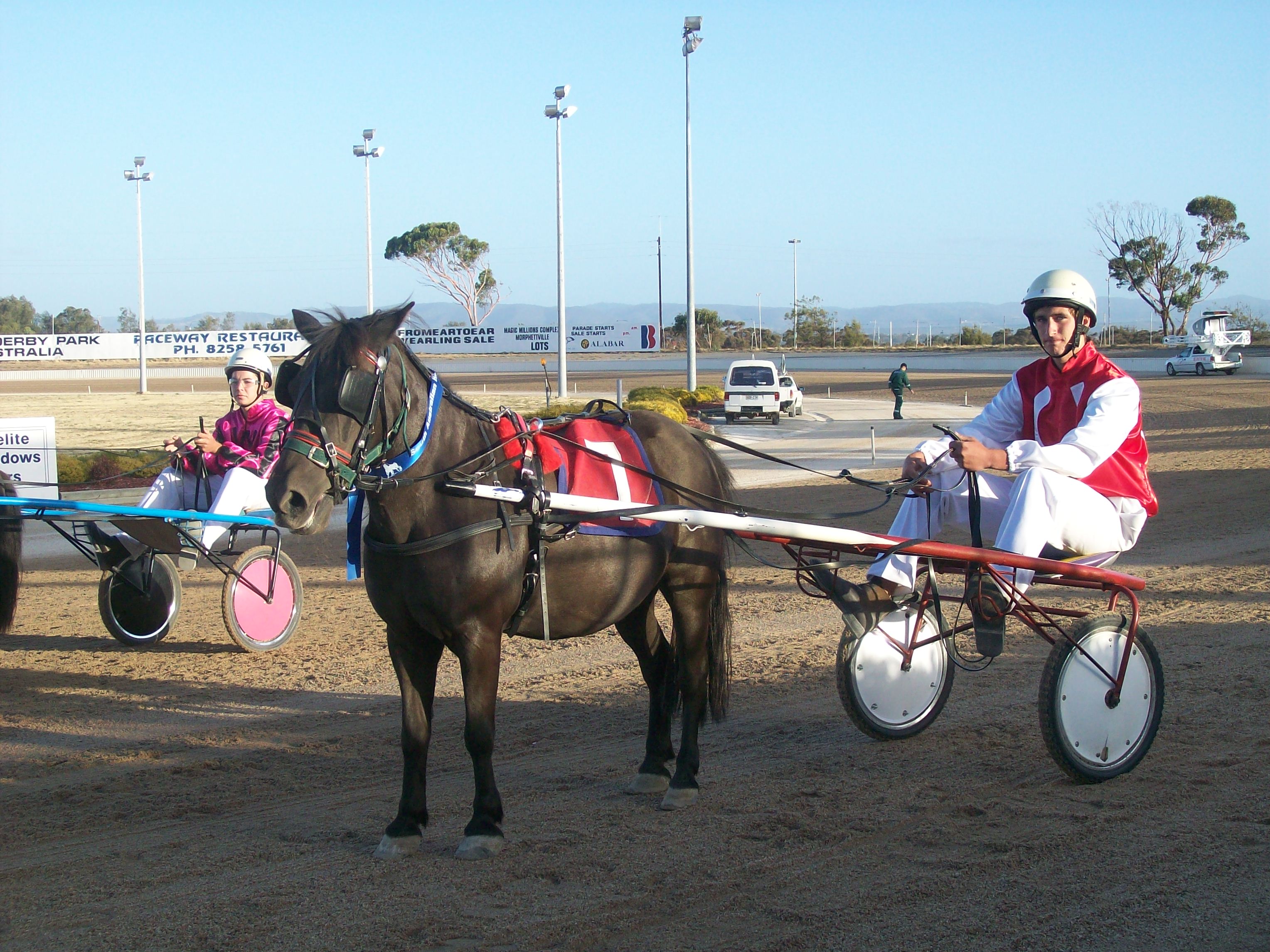 Billy The Kid after receiving Ribbon
1st - Sundance - Brett Lowe
2nd - Little Paleface
3rd - Aussie - Jodie Billinger
4th - Cheeky Charlie - Jacob Starick
5th - Monkey Business - Chantelle Dodd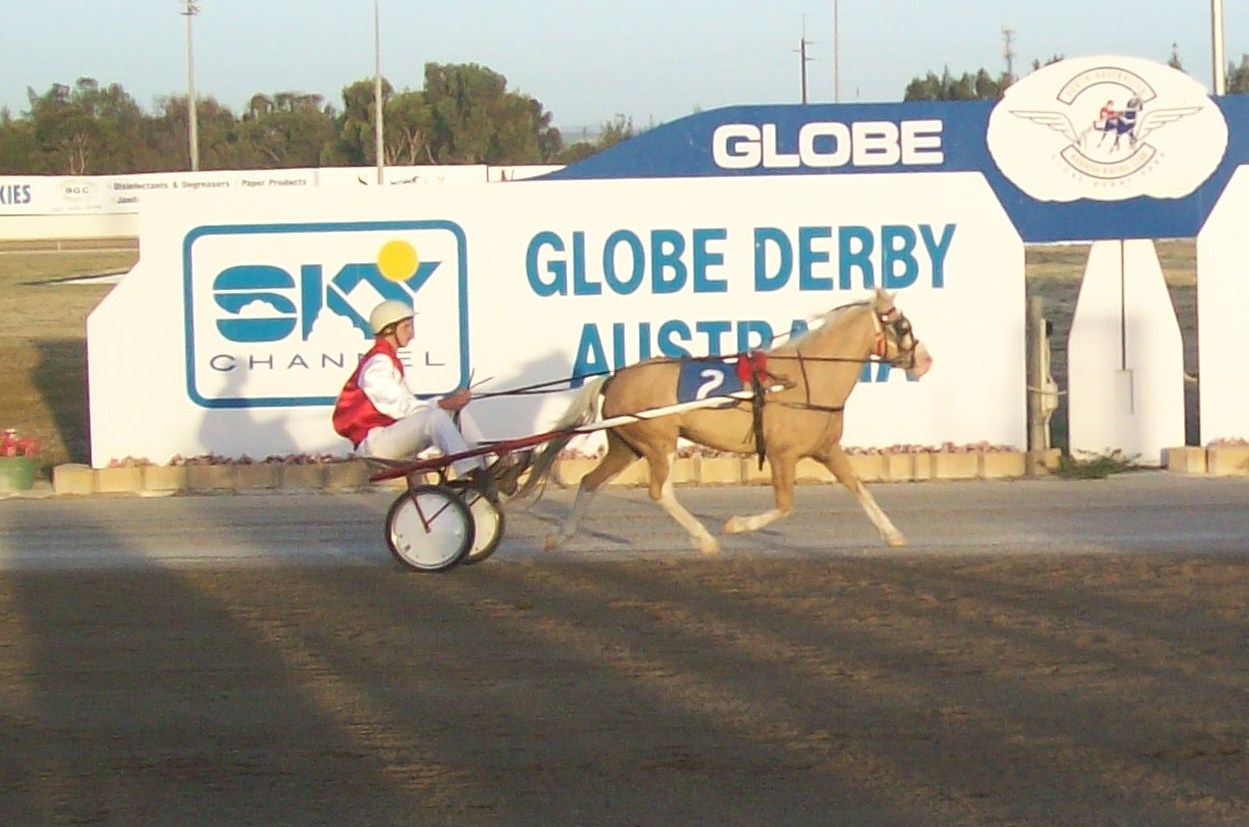 Sundance crossing the line first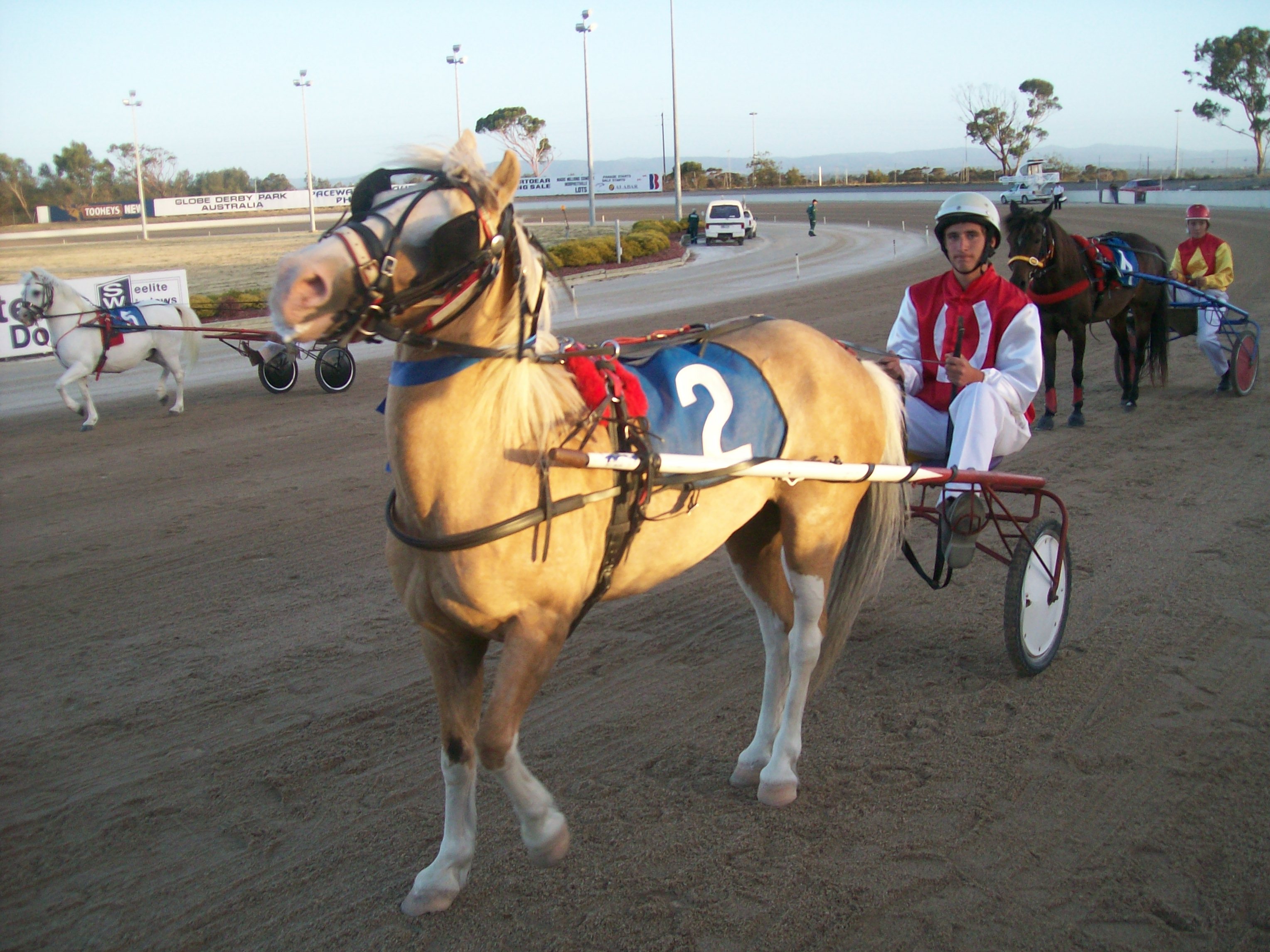 Sundance after receiving Ribbon
The Medium Class was over shadowed by two ponies as Sundance and Little Paleface charged down the straight. Sundance was too good on the night and gave his driver Brett Lowe a driving double. Little Paleface finished closely behind in second place with Aussie (Jodie Billinger) finishing quite a few lengths back in third placing.
Written by Braden Jarman