RESULTS
Globe Derby Park - 27 December 2008
Proudly Sponsored by COPE Sensitive Freight
Thanks to many helpers for taking photos tonight - Courtney, Shane and Jane
RACE 1 – SLOW CLASS
1st Spirit – Shannon Platts
2nd Westbury Bogart – Jacinta Gilbert
3rd Born To Be Wild – Hayley Lehmann
4th Magpie Mary – Jodie Billinger
PU Mr Murphy
Scr Whataday – Jessica Pascoe
Scr Lord Monty – Jordan Starick
Scr Mumbo Jumbo – Samantha Pascoe
Scr Little Kizz – Jacinta Gilbert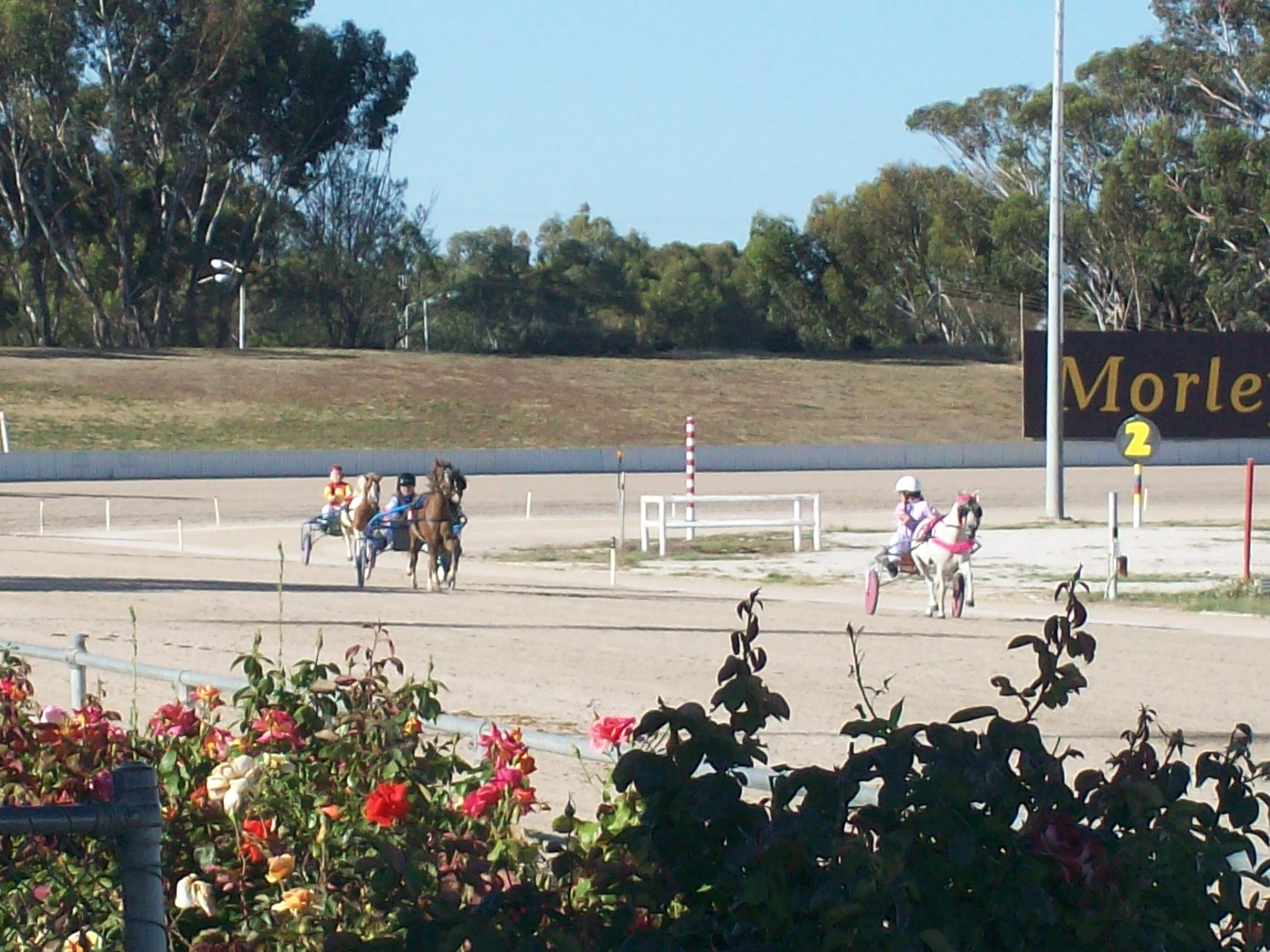 Coming down the straight Shannon checks out where her opposition are
The opening race of the night was the Slow Class which included 5 starters. Spirit lead most of the way to give Shannon Platts her first victory of the season as she beat her oponents comfortably to the line. Born To Be Wild was 2nd over the line ahead of Westbury Bogart but Born To Be Wild was relegated to 3rd place by the Stewards. Mr Murphy played up at the start and was retired from the race.
Written by Braden Jarman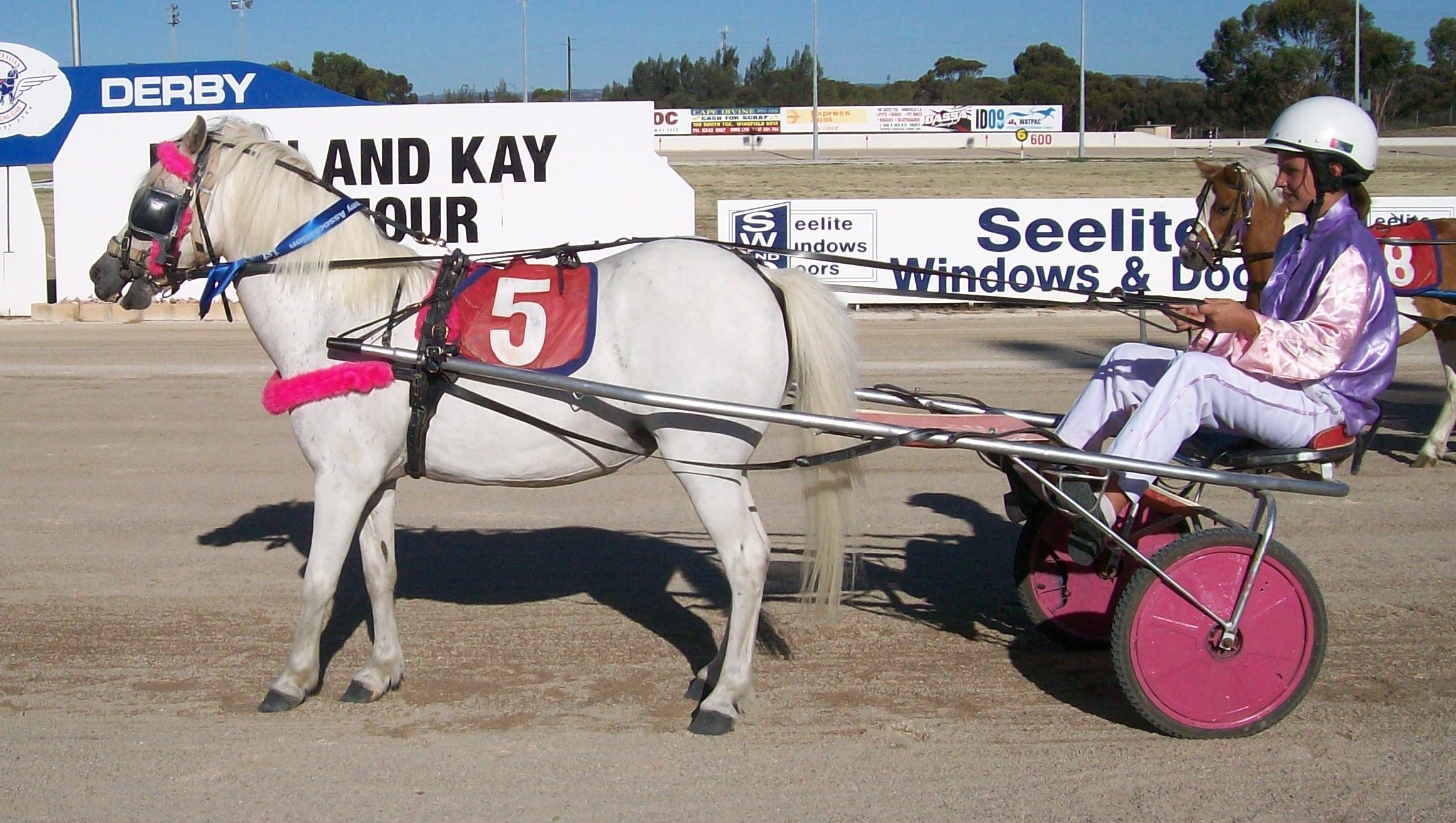 Spirit and Shannon with their Ribbon 
RACE 2 – MEDIUM SLOW CLASS
1st Chilli Knights – Brodie Webster
2nd Way To Go – Kathryn Lehmann
3rd Mr Mischief – Jennifer Lehmann
4th Little Kizz – Christie Gilbert
5th Wynkie Sweet Fairytales – Jodie Billinger
Scr Mission Impossible – Samantha Pascoe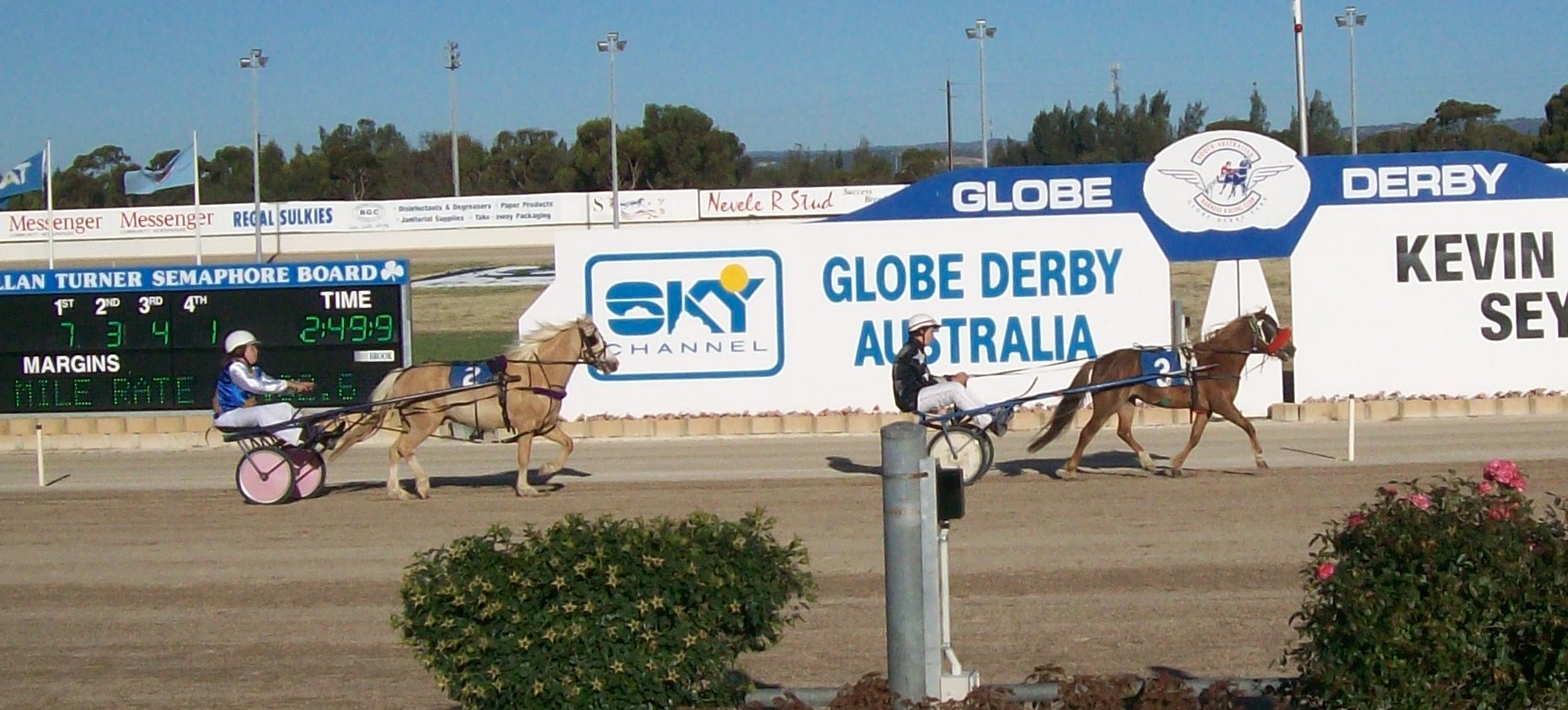 Crossing the line Chilli Knights ahead of Way To Go 
The Medium Slow Class saw Chilli Knights win her second race for the season as she trotted well to win ahead of Way To Go driven by Kathryn Lehmann and Mr Mischief driven by Jennifer Lehmann who stepped in the cart for Matthew Williams who was absent.
Written by Braden Jarman
Chilli Knights and Brodie receiving their Ribbon 
RACE 3 – SHETLAND CLASS
1st Till We Meet Again – Brodie Webster
2nd Wandarra Tess – Jacob Starick
3rd Ben Bailey – Grayden Richter
4th Billy The Kid – Brett Lowe
5th PJ – Bryce Gilbert
6th Oungachucka – Chantelle Rendall
7th Midnight Star – Jodie Billinger
8th My Little Pony – Kathryn Lehmann
Scr Talking Donkey – Katelin Richter
The Shetlands put on another entertaining encounter as Brodie Webster's Till We Meet Again got up to win and give Brodie a double for the night, while the in-form Wandarra Tess driven by Jacob Starick replacing Jack Wenham finished 2nd with a good run from Ben Bailey rounding out the placings. Grayden Richter looked the winner down the straight with Ben Bailey but the two speedsters of the Shetlands caught him metres from the line.
Written by Braden Jarman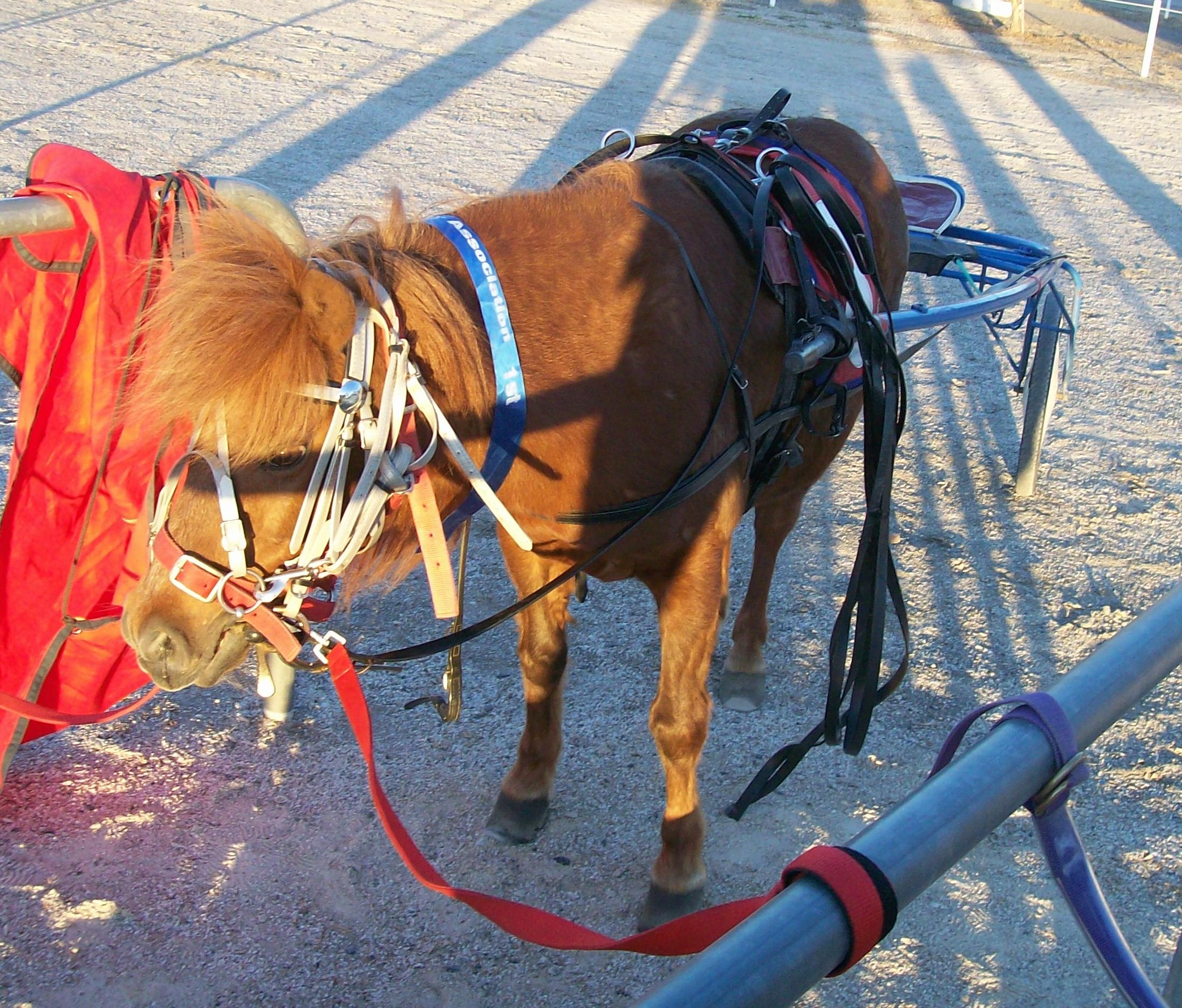 Till We Meet Again with his Ribbon
RACE 4 – MEDIUM CLASS
1st Aussie – Jodie Billinger
2nd Little Paleface
3rd Sundance – Brett Lowe
4th Cheeky Charlie – Jacob Starick
Scr Monkey Business – Chantelle Dodd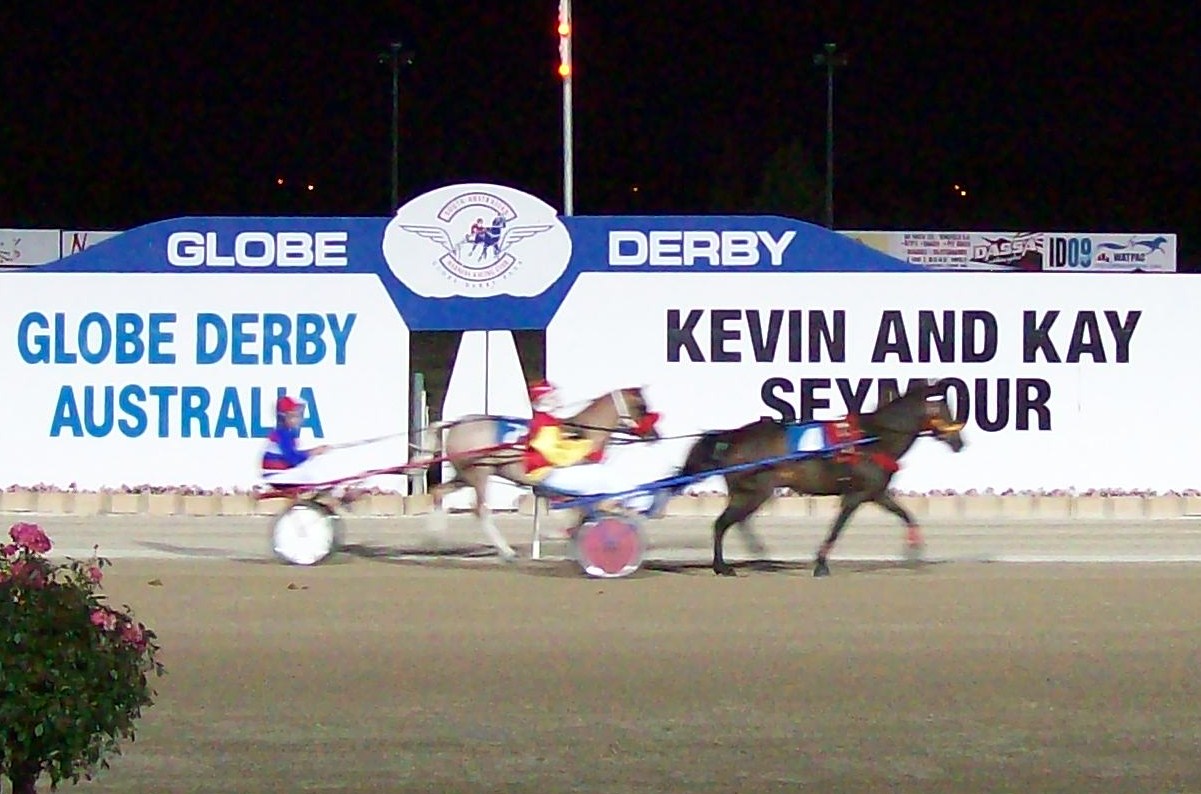 Aussie beating Little Paleface
The Medium Class was the only race that started from the 800m mark.  Tonights race was Aussie's night as Jodie Billinger drove her to her second win of the season with Little Paleface finishing a close 2nd ahead of Sundance who finished 3rd. 
It was another nice night out at the trots with quite a big crowd in attendance.  The pony's were spread out over the night due to feature races with trophy's being presented.
Written by Braden Jarman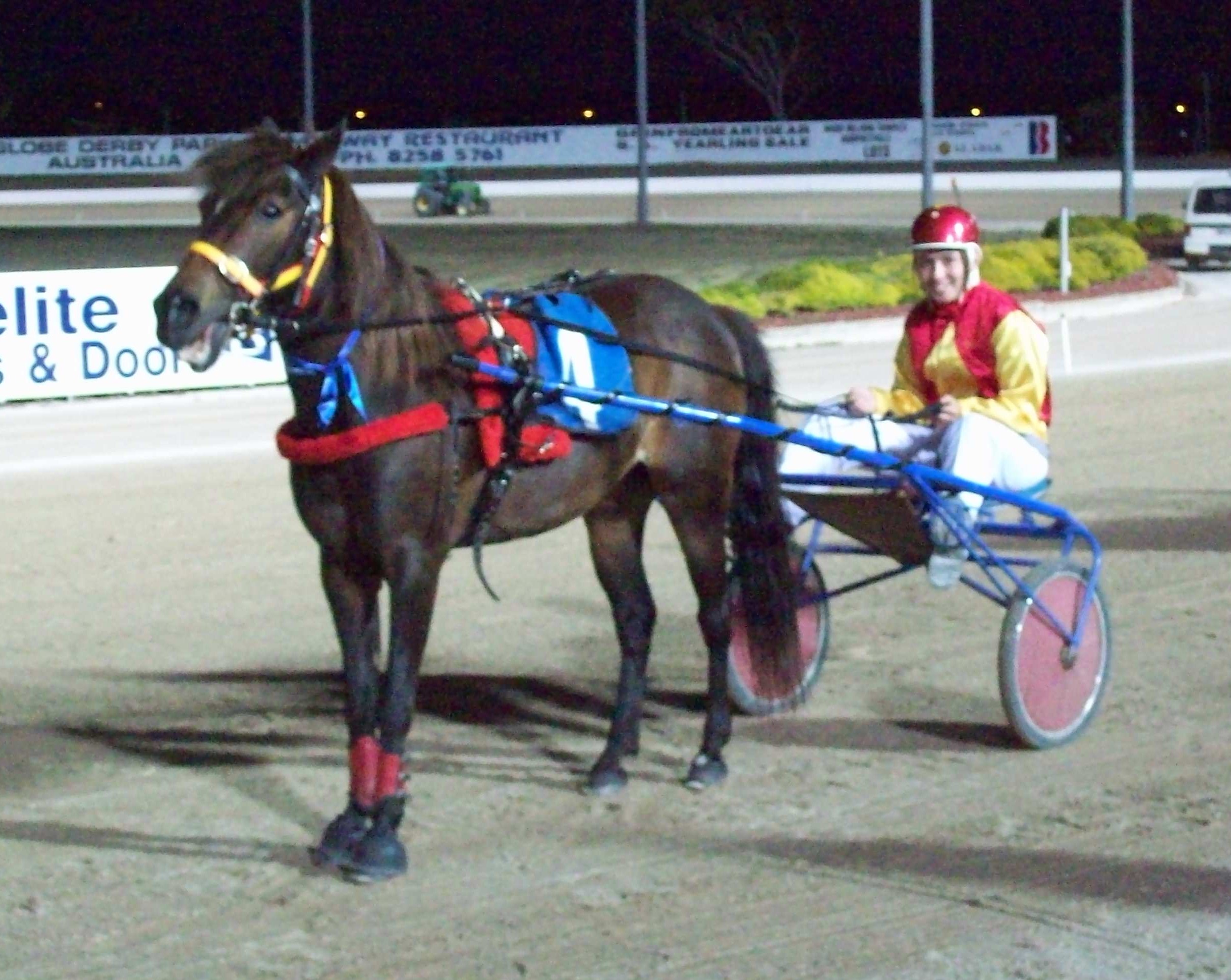 Aussie and Jodie with Ribbon