RESULTS
6 December 2008
Sponsored by K Brereton Jewellers
RACE 1 – SLOW CLASS
1ST Mr Murphy
2nd Lord Monty – Jacob Starick
3rd Spirit – Shannon Platts
4th Westbury Bogart – Jacinta Gilbert
5th Born To Be Wild – Hayley Lehmann
Scr Whataday – Jessica Pascoe
Scr Mumbo Jumbo – Samantha Pascoe
Scr Little Kizz – Jacinta Gilbert
Scr Magpie Mary – Jodie Billinger
The Slow Class race produced four scratchings leaving five ponies in contention. The well presented Mr Murphy raced exceptionally well for his first win of the season. 2nd placing went to Lord Monty driven by Jacob Starick and 3rd to Spirit driven by Shannon Platts.
Written by Braden Jarman
RACE 2 – MEDIUM SLOW CLASS
1st Little Kizz – Christie Gilbert
2nd Chilli Knights – Brodie Webster
3rd Mr Mischief – Matthew Williams
4th Way To Go – Kathryn Lehmann
Scr Mission Impossible – Samantha Pascoe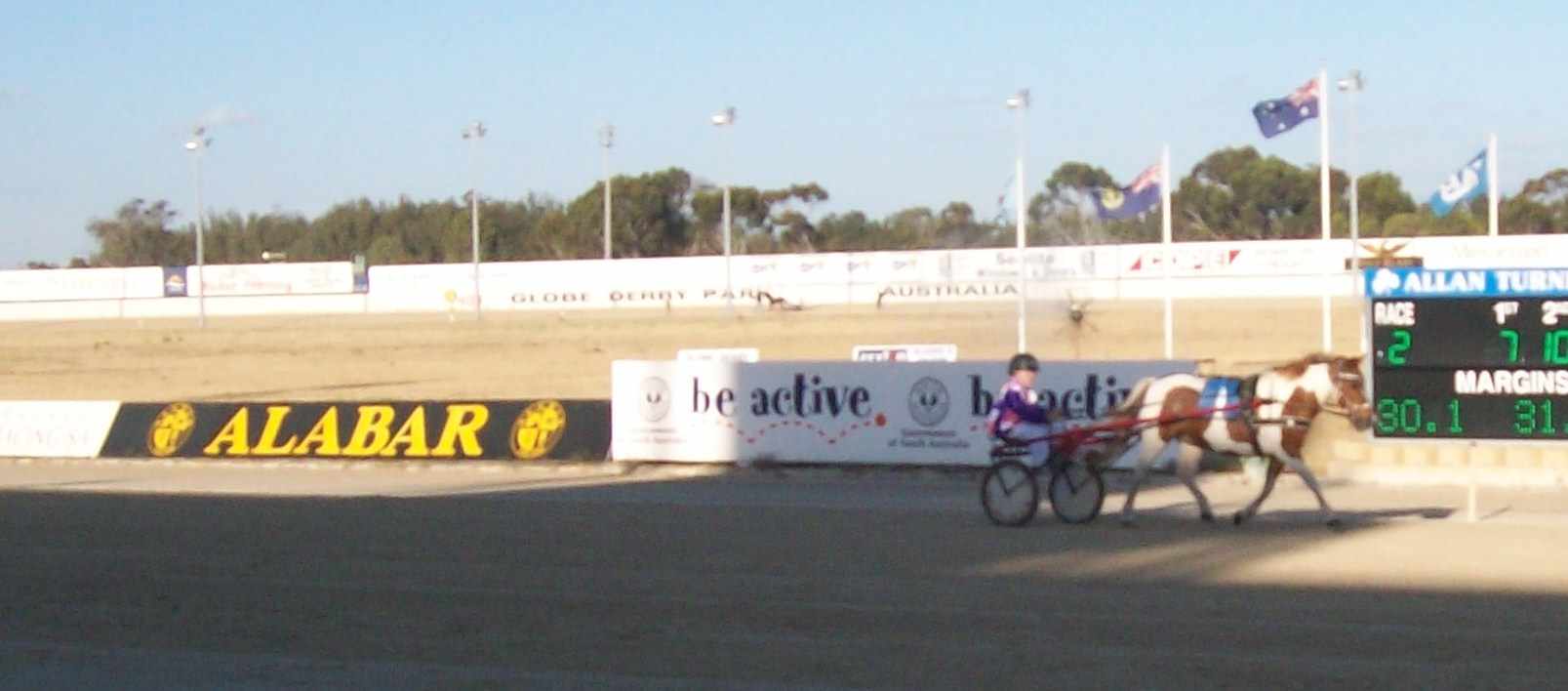 Little Kizz - Christie Gilbert winning
Race 2 was over shadowed by a classy performance by Little Kizz with Christie Gilbert on board. However, there was a incident at the start of the race which provided the large crowd with some rodeo like entertainment provided by Wynkie Sweet Fairytales driven by Jodie Billinger. Calling the race behind the Sponsors board made it challenging for us to see the sensational act by Fairy, however, the race replay shows how lucky Jodie was to stay in the bike.
Written by Braden Jarman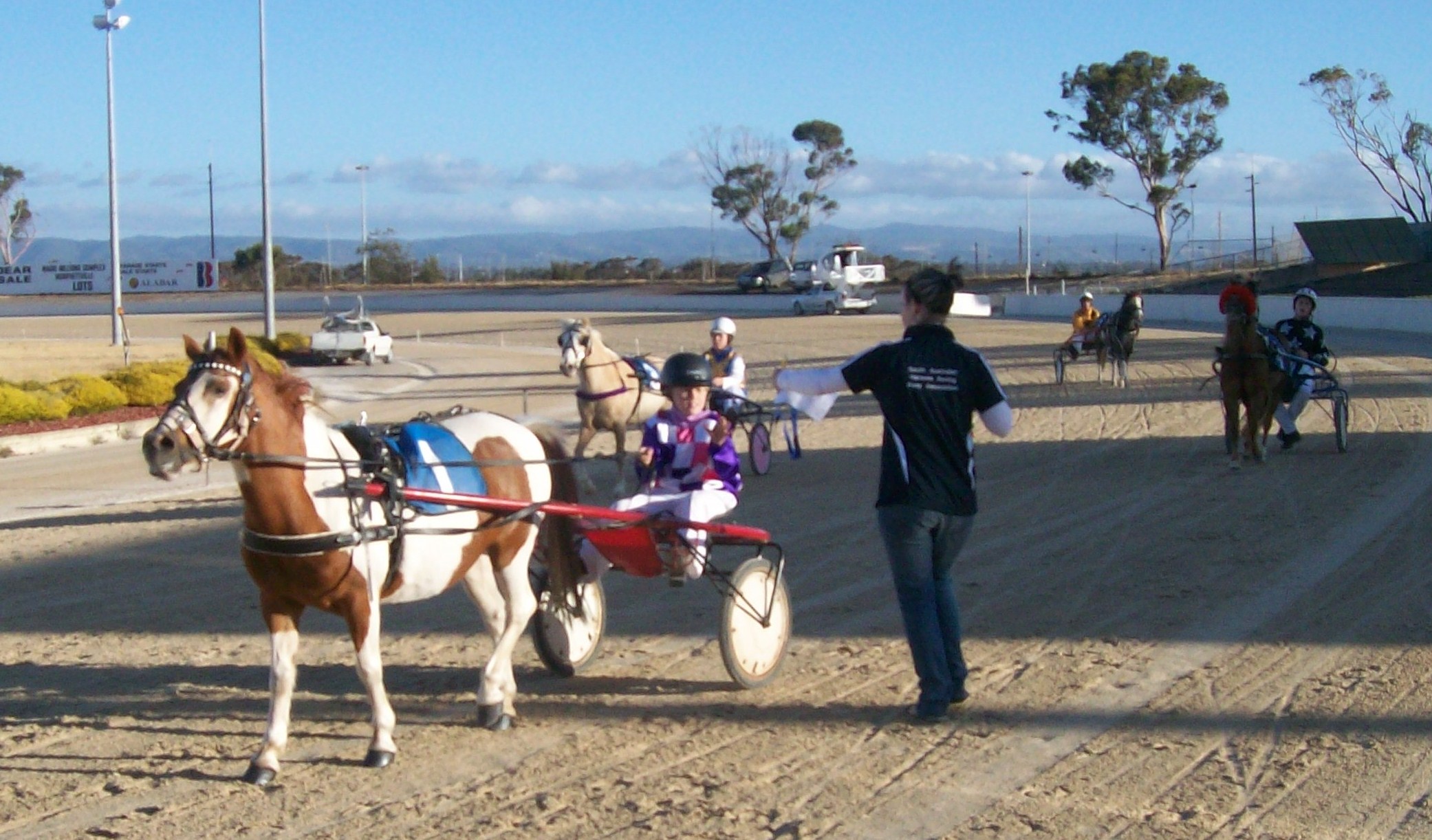 Little Kizz receiving medal
RACE 3 – SHETLAND CLASS
1st Wandarra Tess – Jack Wenham
2nd Till We Meet Again – Brodie Webster
3rd Billy The Kid – Brett Lowe
4th Oungachucka – Chantelle Rendall
5th Midnight Star – Jodie Billinger
6th My Little Pony – Jennifer Lehmann
7th PJ – Bryce Gilbert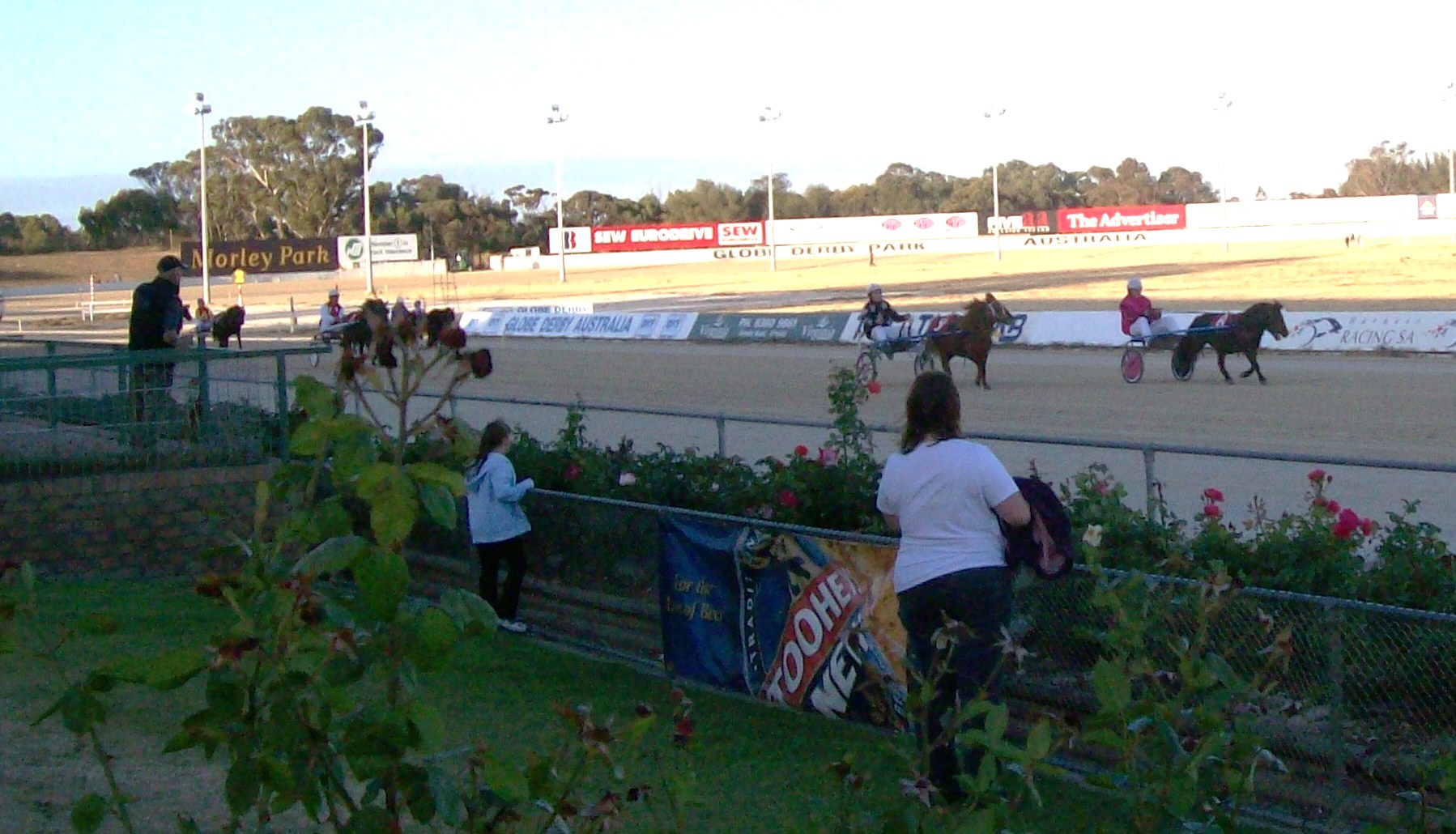 Coming to the line Wandarra Tess 1st and Till We Meet Again 2nd
The Shetland Class is always entertaining for the crowd and tonight was no different. The two stars of the Shetlands, Wandarra Tess and Till We Meet Again battled out 1st and 2nd with Wandarra Tess (Jack Wenham) prevailing, closely followed by Till We Meet Again (Brodie Webster), Brett Lowe's Billy The Kid finished 3rd.
Written by Braden Jarman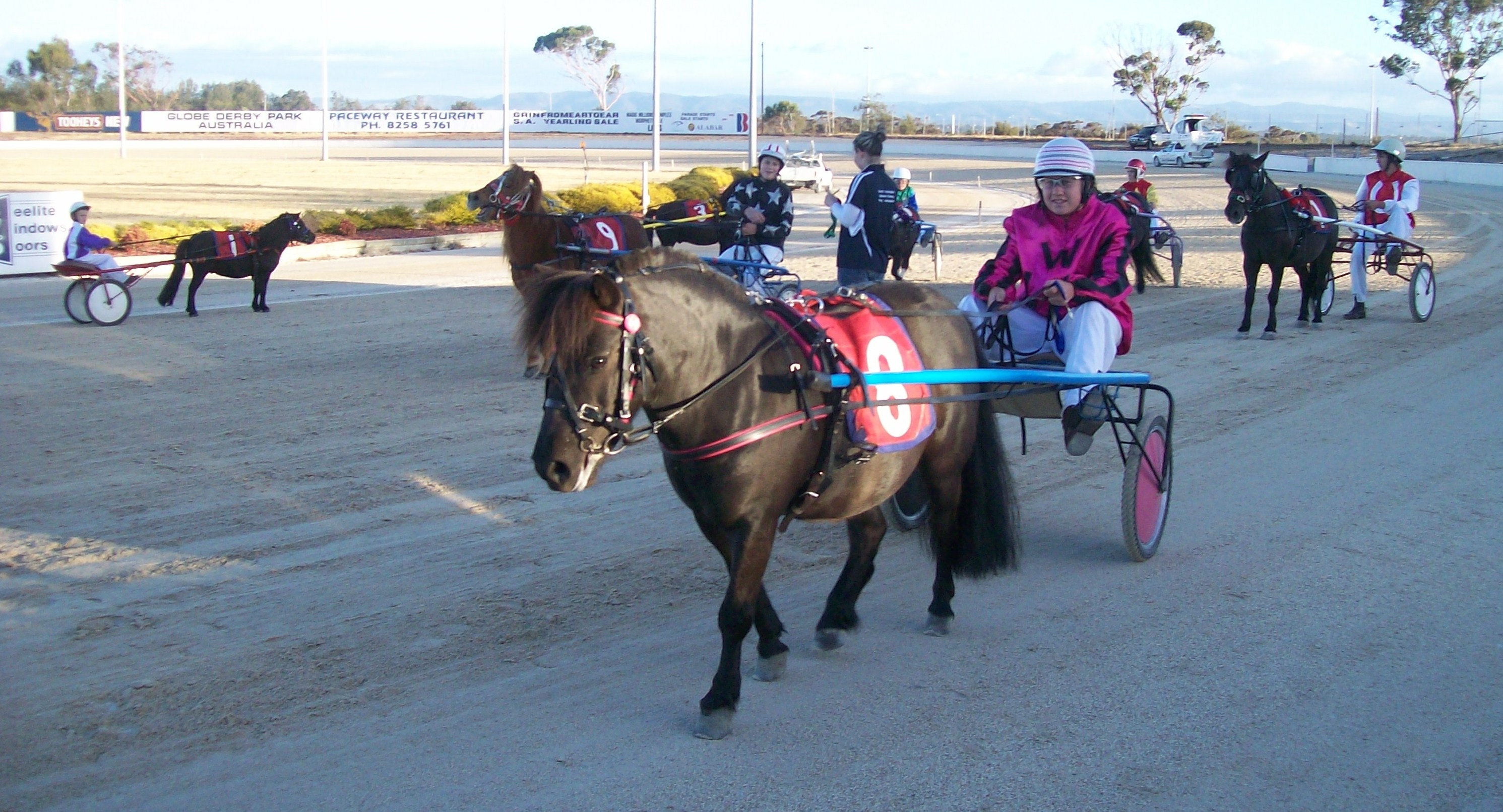 Wandarra Tess with Jack after receiving their medal
RACE 4 – MEDIUM CLASS
1st Cheeky Charlie – Jacob Starick
2nd Sundance – Brett Lowe
3rd Aussie – Jodie Billinger
4th Little Paleface
5th Monkey Business – Chantelle Dodd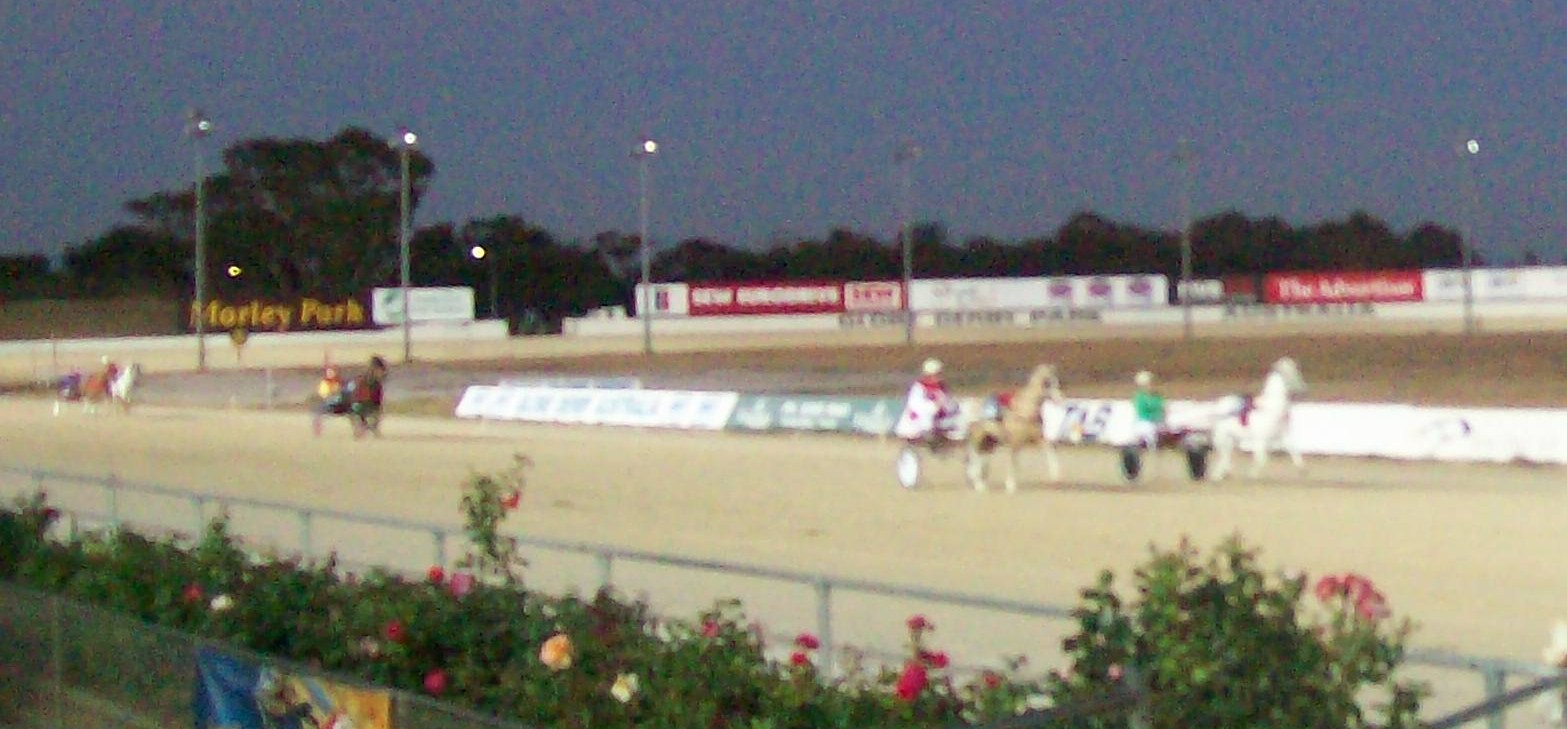 Approaching the line Cheeky Charlie 1st, Sundance 2nd and Aussie 3rd
The ultra consistent Cheeky Charlie driven by Jacob Starick used the sprint lane to snatch a close victory in the Medium Class. Sundance led all the way but was pipped on the line by Cheeky Charlie.
Written by Braden Jarman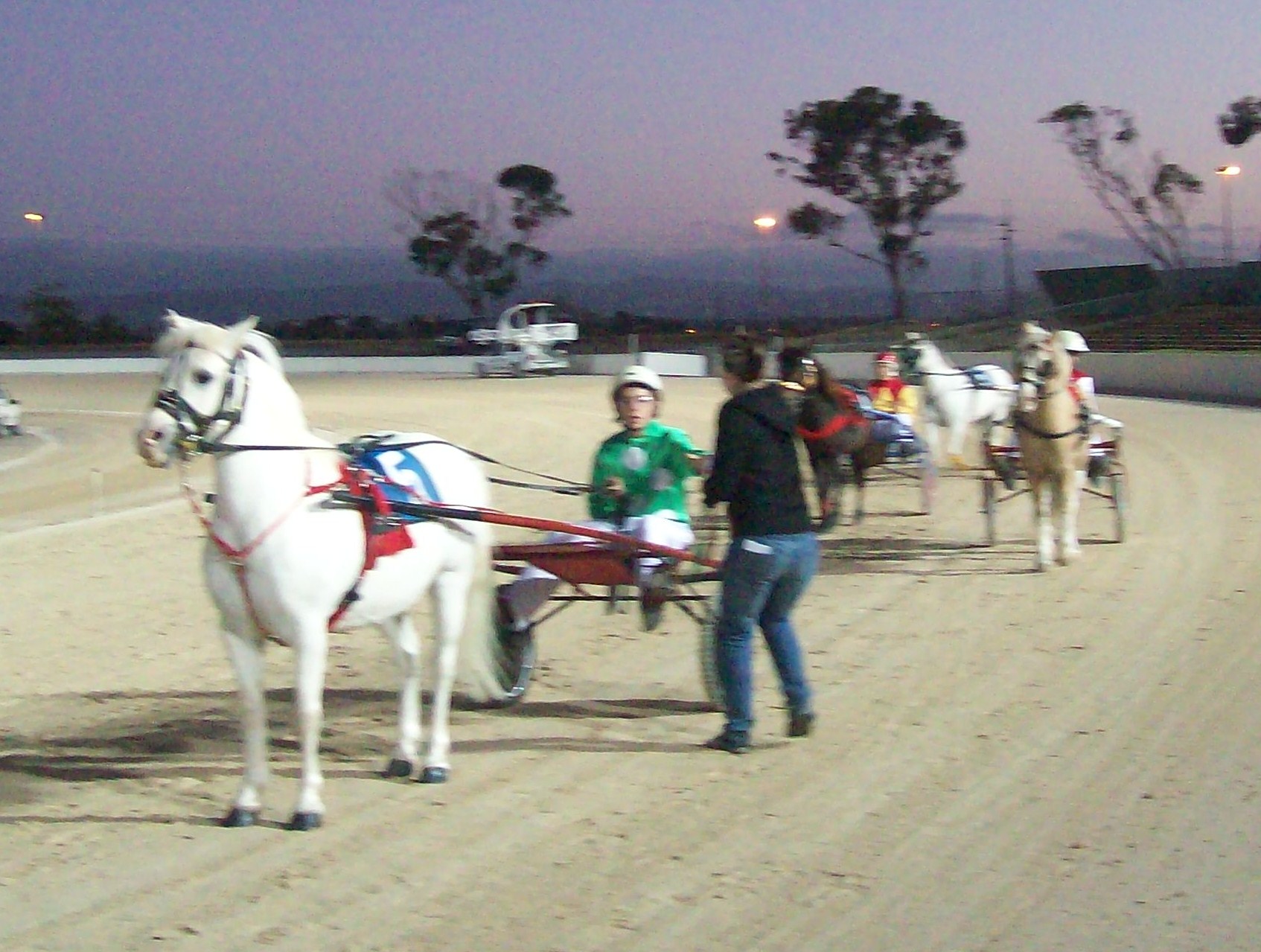 Cheeky Charlie and Jacob receiving their medal