RESULTS
Globe Derby Park - 7 March 2009
Proudly Sponsored by Rivergum Lodge
Thanks to Kelly Billinger for taking the photos tonight and everybody else who contributed
1st – Born To Be Wild – Hayley Lehmann
2nd – Miss Vee – Matthew Williams
3rd – Mr Murphy
4th – Magpie Mary – Kaycee Carey
5th – Westbury Bogart – Jacinta Gilbert
6th – Aadelaidee Lady – Madison Smith
Scr – Whataday – Jessica Pascoe
Scr – Mumbo Jumbo – Samantha Pascoe
Scr – Lord Monty – Jacob Starick
Scr – Spirit – Shannon Platts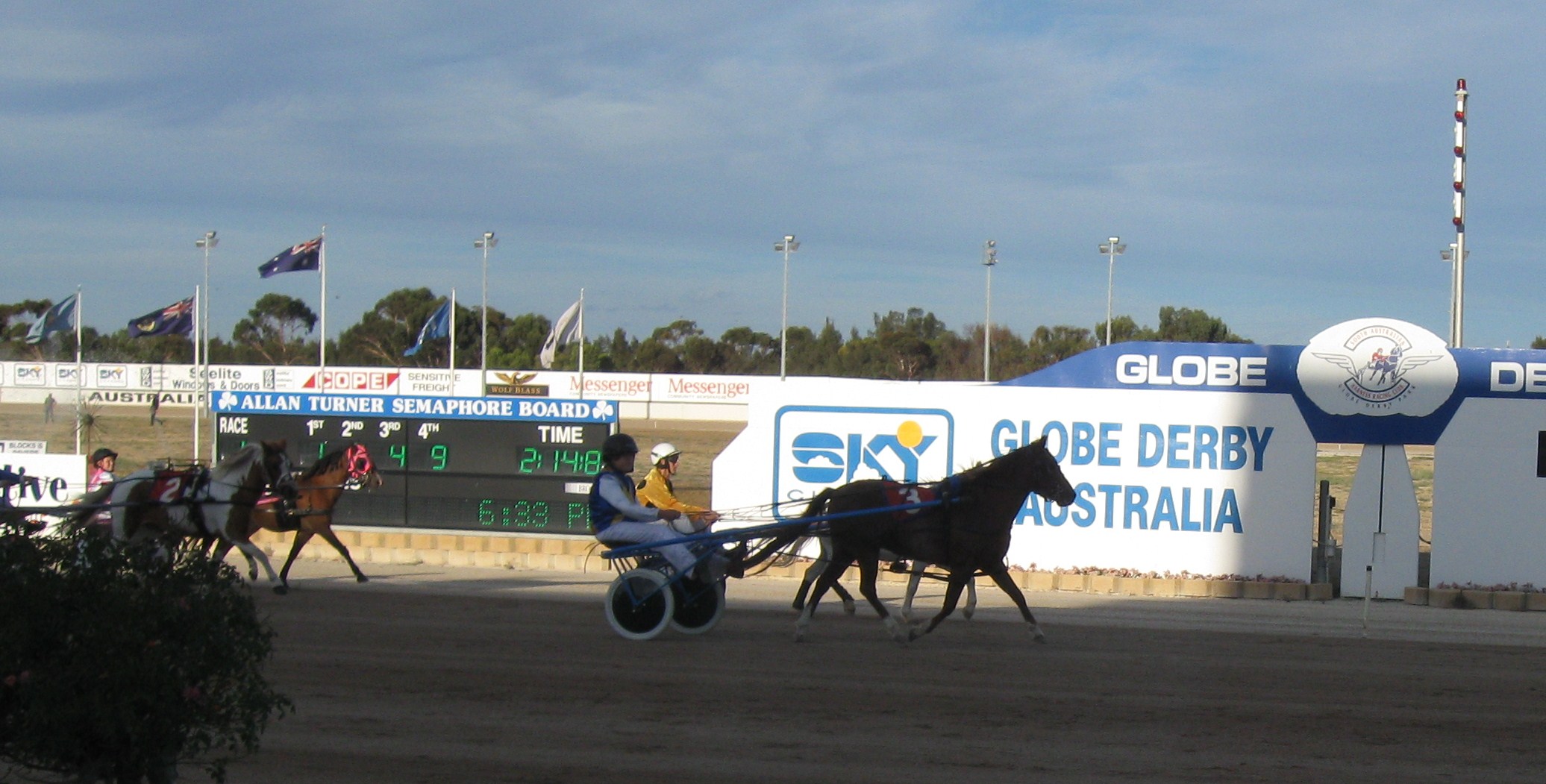 Born To Be Wild grabbing Miss Vee on the line
The first of the races tonight was the Slow Class and was a nice close finish all round. The newcomer Miss Vee jumped to the front early but was grabbed right on the line by the inform Born To Be Wild driven by Hayley Lehmann. Born To Be Wild has gradually improved over the season and has now won at its last two starts. Third placing was another photo finish when the fast finishing Mr Murphy arrived late to beat Magpie Mary and Westbury Bogart, probably only a metre separating the three of them.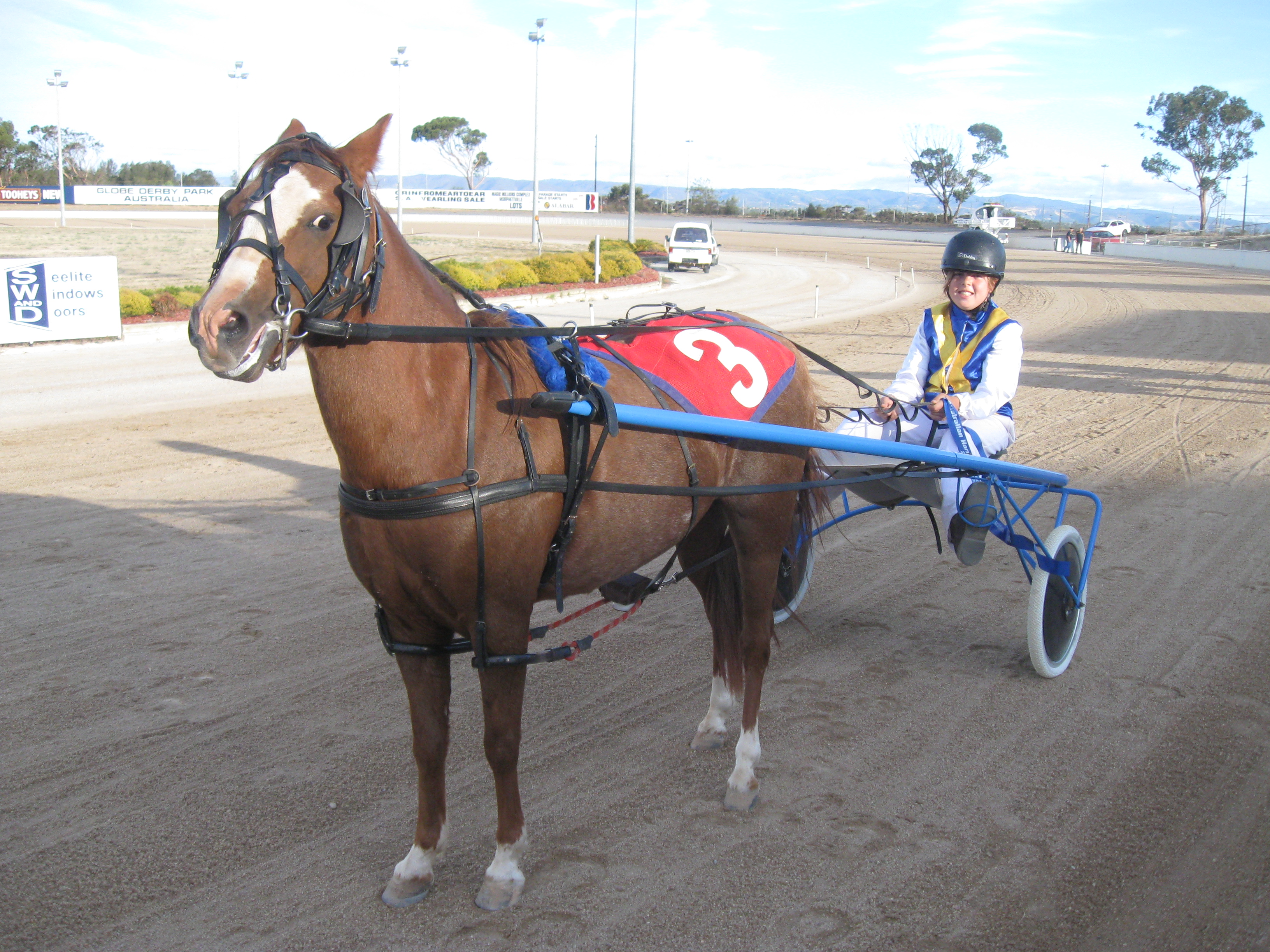 Born To Be Wild with Hayley Lehmann
RACE 2 - MEDIUM SLOW CLASS
1st – Mr Mischief – Matthew Williams
2nd – Way To Go – Kathryn Lehmann
3rd – Chilli Knights – Brodie Webster
4th – Thats What Boys Do
5th – Little Kizz – Christie Gilbert
6th – Wynkie Sweet Fairytales – Jodie Billinger
Scr – Mission Impossible – Samantha Pascoe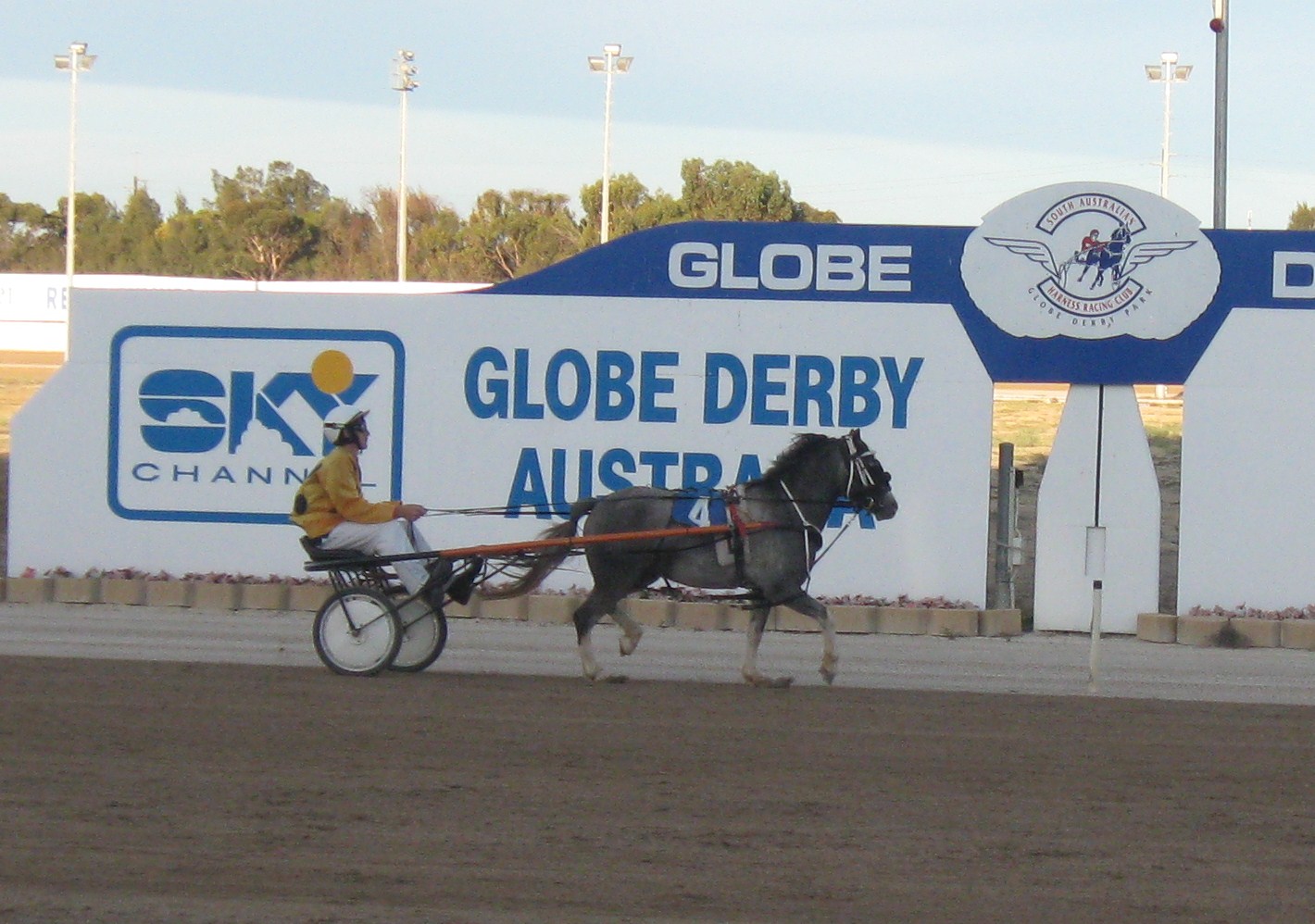 Mr Mischief crossing the line with Matthew Williams
The second race tonight was the Medium Slow Class where Mr Mischief driven by Matthew Williams put it altogether and won easily ahead of Way To Go and our 2009 Interdominion entrant Chilli Knights.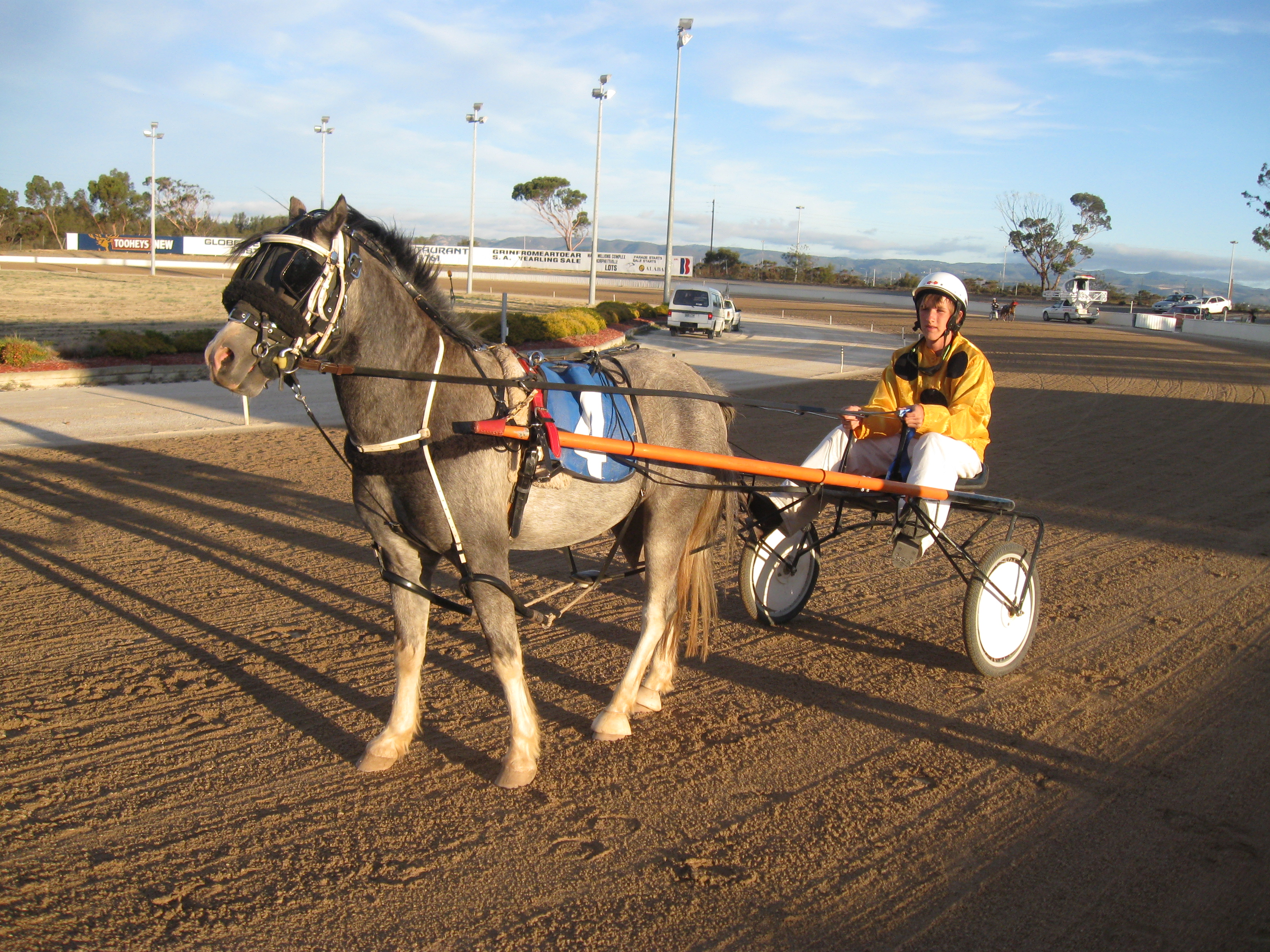 Mr Mischief and Matthew Williams
1st – PJ – Bryce Gilbert
2nd – Midnight Star – Sharni Newman
3rd – Wandarra Tess – Jacob Starick
4th – My Little Pony – Jennifer Lehmann
5th – Till We Meet Again – Brodie Webster
6th – Oungachucka – Chantelle Rendall
Scr - Talking Donkey – Katelin Richter
Scr - Ben Bailey – Grayden Richter
Scr - Billy The Kid – Brett Lowe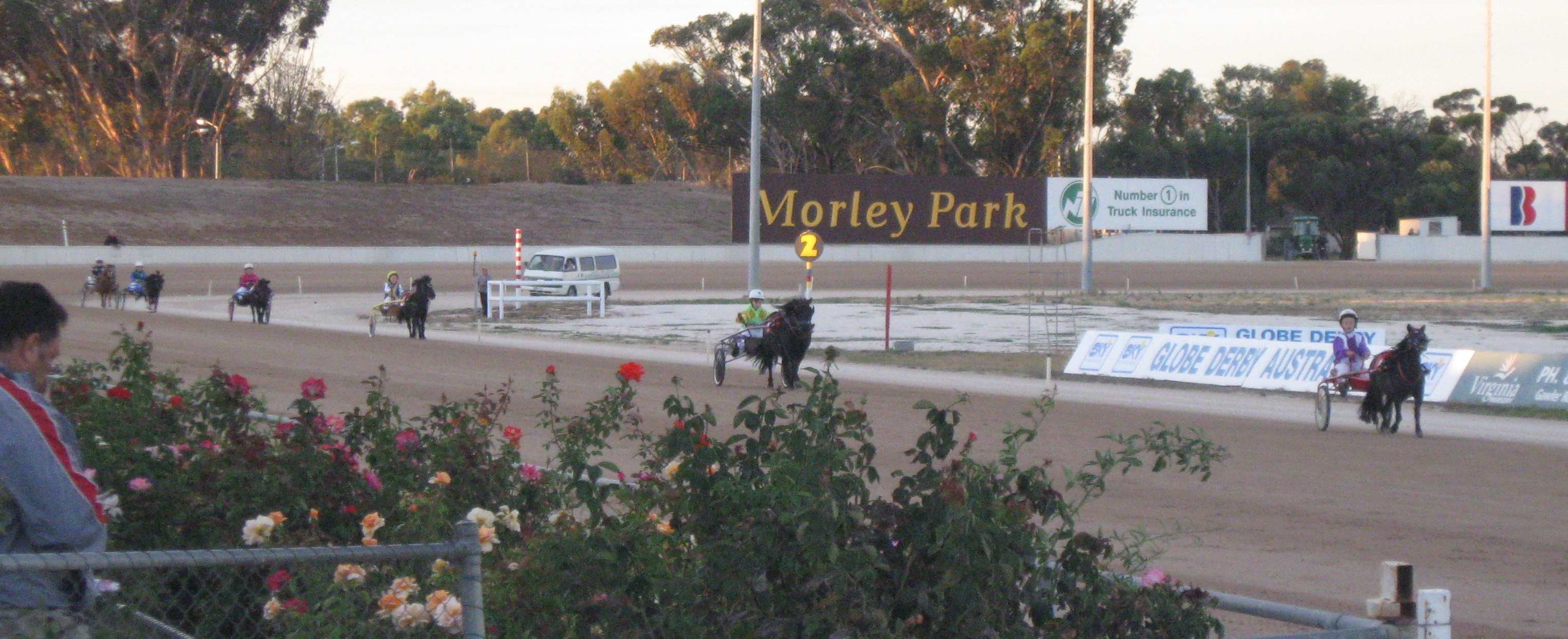 The Shetlands coming down the straight
Everybody's favourite race the Shetland Class was the third race and the smallest pony at Globe Derby every Saturday night little PJ and his first season driver Bryce Gilbert made the most of a front line barrier to beat the fast finishing Midnight Star. It was an exceptionally close finish but the photo shows little PJ winning with his nose right on the line. Congratulations Bryce. Third placing went to the ultra consistent Wandarra Tess who is always charging home at the end of the race.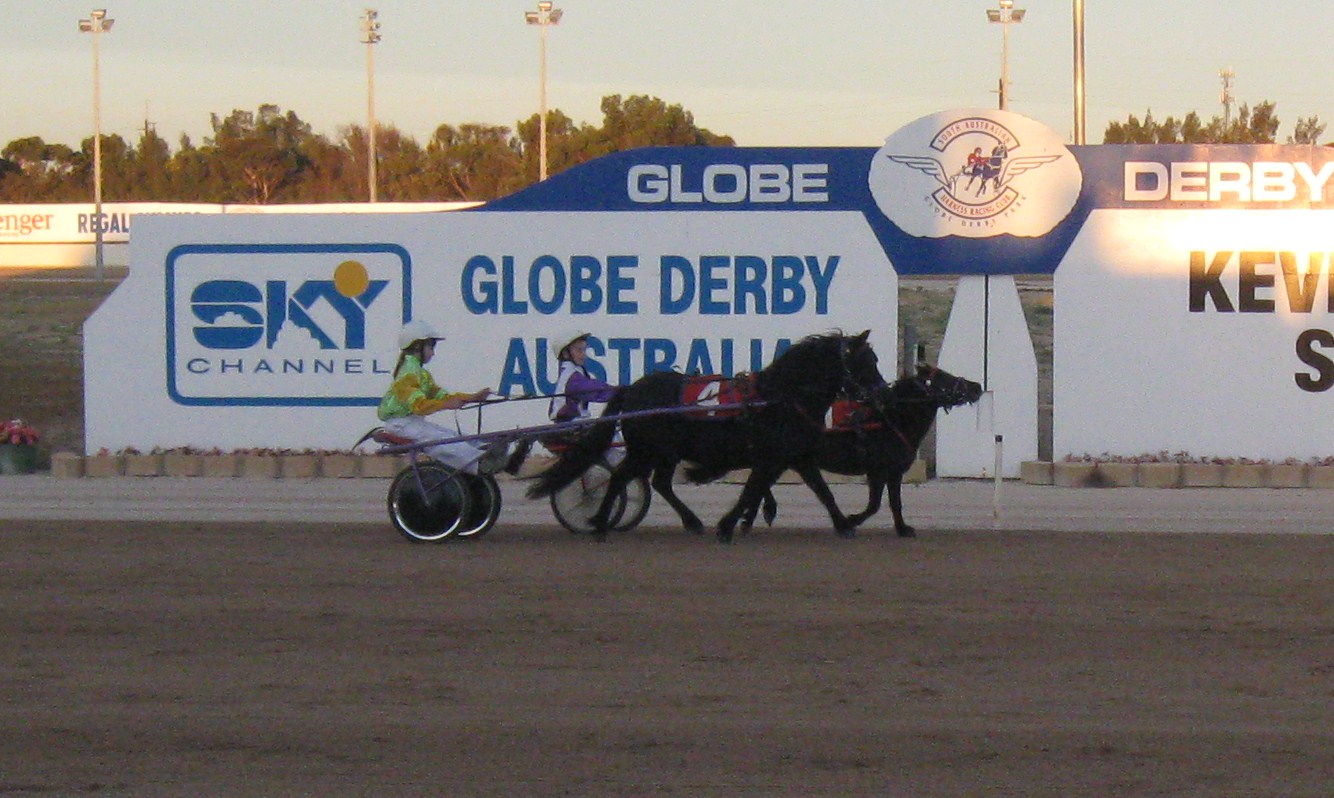 PJ hangs on to win from Midnight Star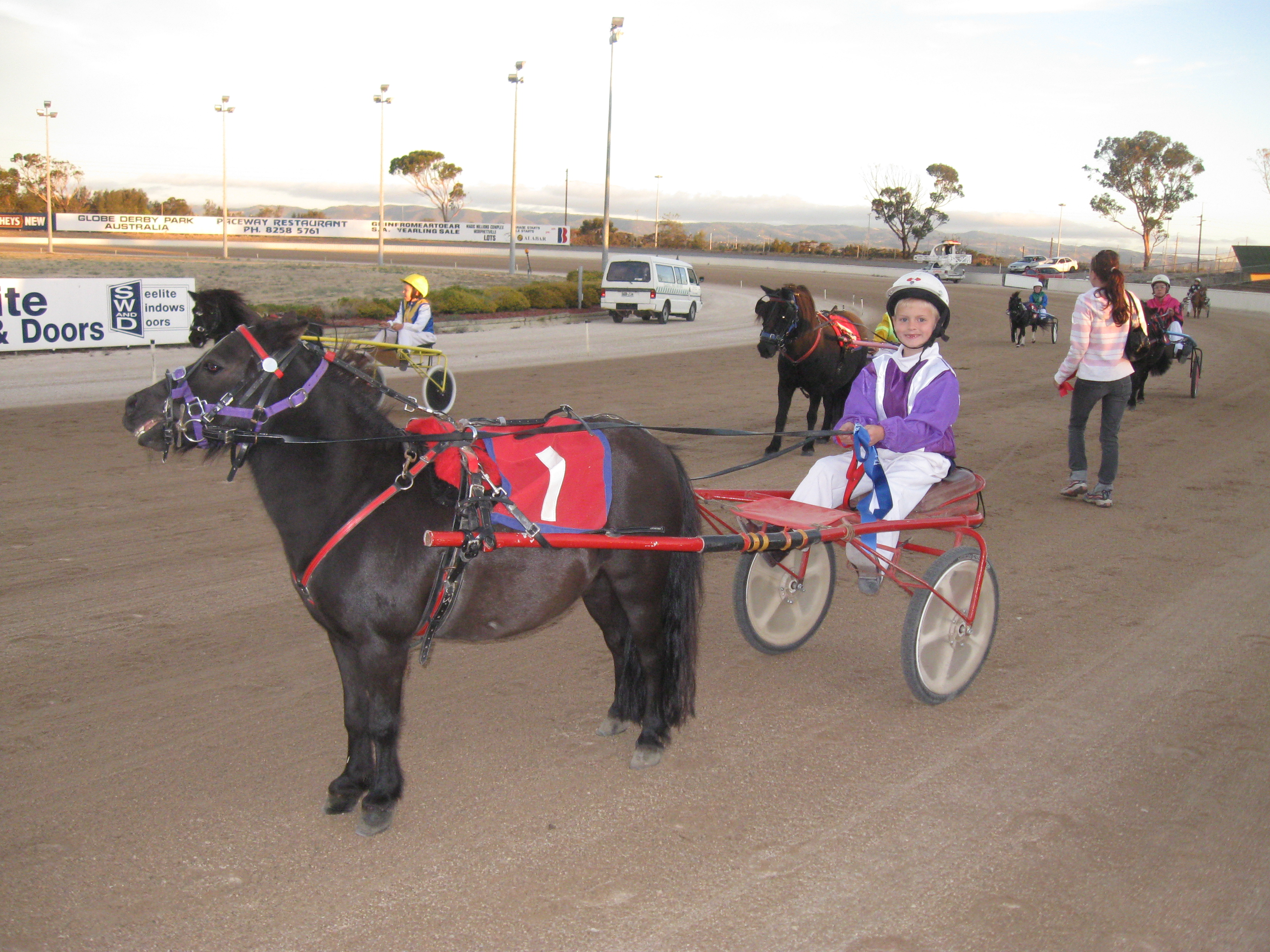 1st – Little Paleface
2nd – Cheeky Charlie – Jacob Starick
3rd – Aussie – Jodie Billinger
4th – Monkey Business – Chantelle Dodd
Scr – Sundance – Brett Lowe
The last of the pony races for the evening the Medium Class went to Little Paleface followed by the fast finishing Cheeky Charlie then a long gap back to Aussie and Monkey Business.