~MT GAMBIER PONY RESULTS~

Mt Gambier Harness Racing Club
Saturday, 1st February 2020

Handicapper Barry Carraill changed things up, staging a 500 metre race for the 'Prelude', kindly sponsored by Des and Heather Glynn.
Poppin Pepe and driver Molly Hinch got off to a very good lead early, a big margin of 70-80 metres to Kloe Phillips, on board Little Miss Geri who was striding out nicely, and making good ground early. Buddy Boom Boom and Marnee Formosa sat some 25 metres back, with Super Marley (Holly Phillips) and Sheza Ginger Ninja (Amity Formosa) closing the gap. Back markers Super Mario (Keeley Formosa) broke gait and took time to settle, while Evie Sealey on Blaze stepped up a gear to chase down to front runners.
As the field turned into the home straight, Poppin Pepe's little legs began to tire, allowing Little Miss Geri to make a move, closely followed by Buddy Boom Boom. Poppin Pepe tried hard to stave off the challenge, but Little Miss Geri was too good, and got to the lead. Fast finishing Blaze stormed down the outside, to be beaten by a small margin by Little Miss Geri, third across the line Sheza Ginger Ninja and Poppin Pepe holding on for fourth. Buddy Boom Boom crossed the finish line in fifth, with Super Marley and Super Mario bringing up the rear, in what was an exciting finish.
The 'Pony Trot Gold Cup' saw beautiful trophies and a pony rug up for grabs, again sponsored by the generosity of Des and Heather Glynn. Enthusiastic race calling by Jimmy Jacques, entertained the onlookers in what was again looking to be another good finish.
Re-handicapped back to the 600 metre race, the field stood at their marks, awaiting the starters whistle. Much like the first race, Poppin Pepe was away out in front, much to the delight of the cheering crowd. Little Miss Geri trotted smoothly in her quest for another victory, Marnee Formosa managed to get Buddy Boom Boom to stretch out better, with Super Marley keeping in close contact with the front runners. Keeley Formosa drove a more settled Super Mario from the back mark, with Sheza Ginger Ninja and Blaze rounding out the field.
Little Miss Geri came out after the leader Poppin Pepe as they rounded the bend, in the race for victory. Super Marley and Buddy Boom Boom made ground on the front pair, meanwhile Sheza Ginger Ninja broke gait running wide, forcing Evie Sealey on Blaze to head to the far outside, flashing home via the grandstand. Super Mario keeping in touch with the field as the winning post loomed. Kloe Phillips could not contain the smile on her face when she crossed the line in first place, taking out the Gold Cup, Blaze came in second, Super Marley, in a solid performance, ran on to finish third and Poppin Pepe fourth. Completing the placings Buddy Boom Boom, Sheza Ginger Ninja and Super Mario.
Back: Evie Sealey (2nd) Amity Formosa (3rd) and Front: Kloe Phillips (1st)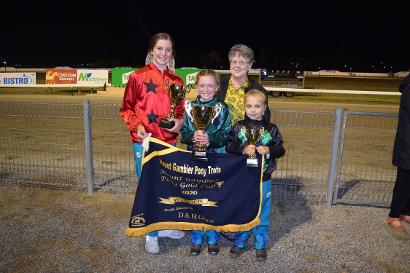 Back: Evie Sealey (2nd) Sponsor Heather Glynn Front: Kloe Phillips (1st) Holly Phillips (3rd)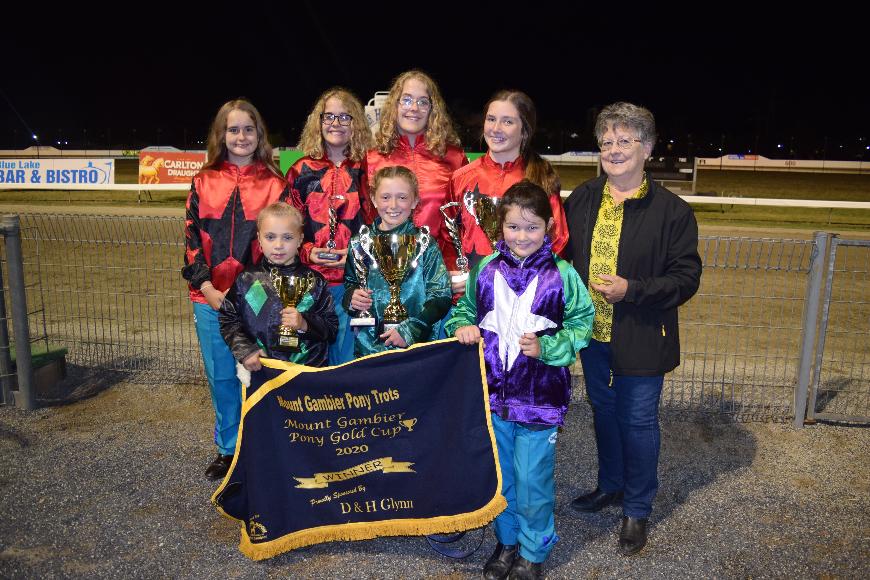 Back: Marnee, Amity & Keeley Formosa, Evie Sealey and Heather Glynn (sponsor)
Front: Holly Phillips, Kloe Phillips and Molly Hinch