RESULTS
MOUNT GAMBIER
20 NOVEMBER 2011
PONIES TAKE TO THE TRACK AT GREENWALD PACEWAY
The 2011-2012 pony trotting season commenced on Sunday at a twilight meeting enjoyed by all participants & supporters alike.
The first race was the Lew Gardiner Memorial Handicap in honour of his long term support & commitment to Pony Harness Racing.
With nerves running high the ponies and drivers took off at the whistle with the 4 front markers all fighting for the lead.
New pony, Chasing The Stars, driven by Grady Hutchesson began well to contest the lead with Frankie Under Fire. Snoopy (Kylie Shepherd) broke under pressure, slipping back through the field, while Frankie Under Fire with first time driver Aaron Shepherd was trying desperately to hold his position. Run Jemma Run (Joshua Micallef) held his position early but ran out of steam, his little legs unable to maintain the pace & faded to the rear of the field.
Meantime, the backmarkers were gaining momentum. They caught the field in the home straight with Marmalade (Jackie Barker) racing to the front with 50m to go. Pumpkin (Emma Greenfield) ran on, closing fast in the straight, but it was Marmalade & Jackie Barker that took the prize by a half head to Pumpkin, followed by Chasing the Stars, Slim Dusty (Stacey Barker), Frankie Under Fire, Willow (Abbey Gull), Snoopy & Run Jemma Run.
Race 2 was sponsored by Shepherd's Superspreading. Over the shorter distance, the ponies jumped away well from the start. By the top of the straight all ponies had overcome their marks and were closely bunched. The backmarkers, Pumpkin & Marmalade, were in blistering form putting on a spectacular show of speed & rivalry to forge their way through the field. Demonstrating good judgement, these young drivers manoeuvred their ponies through the field. Chasing the Stars tried hard to stay with them but broke stride checking Willow, while Snoopy put in a much better performance to maintain his ground.
Slim Dusty, after displaying pre-race jitters, put in a handy performance, while Willow raced along steadily despite interference at the turn.
It was Pumpkin & Emma Greenfield that took the honours ahead of Marmalade, Snoopy, Slim Dusty, Willow, Frankie Under Fire, Run Jemma Run & Chasing the Stars (relegated for excessive galloping).
The next meeting will be held on Sunday 4th December, with another 2 pony races scheduled. Race 1 will be conducted half an hour prior to the first race on the main draw with the 2nd race being conducted during the meeting. Any interested participants or sponsors please contact Darryle Greenfield on 0419931790 or visit the SA Pony Trots website for information.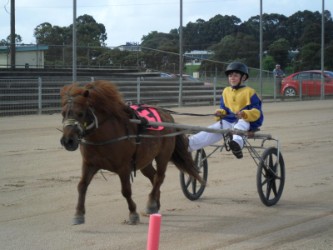 Aaron Shepherd having his first race drive on Frankie under Fire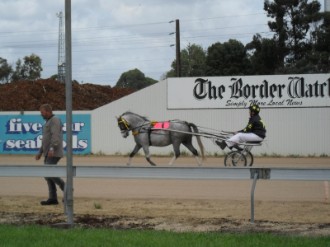 Chase the Stars (Grady Hutchesson) having his first race start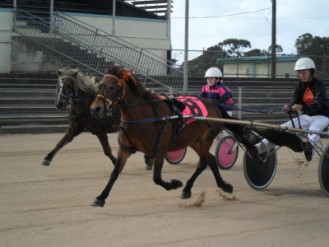 Marmalade (Jackie Barker) winning by a neck from a fast finishing Pumpkin (Emma Greenfield)