RESULTS

Mt Gambier Pony Trots
Sunday, 23rd December 2018
Pony Trots Write-up - Sunday 23rd December
The Christmas Meeting of pony races were proudly sponsored by the Samara Stables, with full fields of nine ponies and their drivers taking part. New addition to the Glynn stables 'Dark Temptation' debuted with Jorja Glynn on board.
All nine ponies stepped off their marks cleanly and trotted nicely out of the back straight. Poppin Pepe (Marnee Formosa) leading the group around the bend, some forty metres clear of their next rivals. Super Marley and Holly Phillips closed the gap on Poppin Pepe, with Slim Dusty and Amity Formosa trying hard to make ground, closely followed by Dark Temptation (Jorja Glynn) and older sister Jemma Glynn on Just a Rumor. Back from their second placing at the Inter Dominion, Buddy Boom Boom and Evie Sealey were putting in the quick ones, with Jerry and Nicola Bowditch, Super Mario and Keeley Formosa and Blaze and Amber Formosa bringing up the rear. As the group entered the home straight Slim Dusty took advantage of the good going out wide and ran on strongly to take the win. Dark Temptation and Jorja Glynn wove their way through the smaller ponies in front of them, and in a tight tussle with Just a Rumor (Jemma) took second placing in a photo finish, making ground late in the running was Super Mario (Keeley), Buddy Boom Boom (Sealey), Jerry and Bowditch struggled to get a good run home with Blaze (Amber) following closely behind. Super Marley (Phillips) conquered Poppin Pepe (Marnee) in the concluding stages of the race.
Race two ran very similar to the first, although Slim Dusty dragged a flat tyre over the latter part of the race and finished mid field. Dark Temptation and Jorja Glynn had their first win in pony trots threading a passage through the field, with Jerry and Bowditch putting in the big strides and getting a clear run to finish second, closely followed by Just a Rumor and Jemma Glynn, Slim Dusty fourth, Super Mario again putting in a big run to finish fifth, Blaze making considerable ground, then Buddy Boom Boom and Super Marley, Poppin Pepe tailed off in a relaxed run home.
All ponies and drivers paraded in Christmas themed fancy dress, after the fourth race, and Blaze delivered Santa to the joy of the children who received lolly bags on his arrival.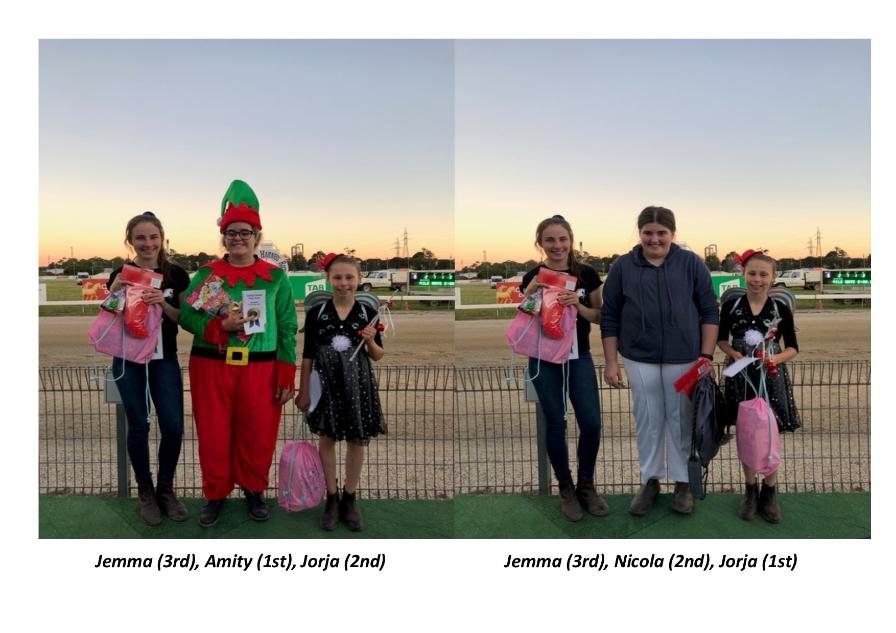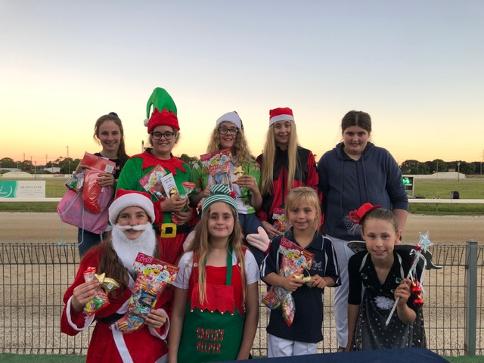 Mt Gambier Pony Trots Christmas Dress-Up