RESULTS
MT GAMBIER
26 MARCH 2011
Celebrity Pony Race
In a night of high drama and thrills a carnival atmosphere fell upon the Greenwald Paceway. More akin to the annual Mount Gambier Show, there was a Merry –go-round and a Jumping castle for the children.
Phil Woods and Kevin Douglas turned back time and looked refreshingly youthful, minus the hairy caterpillars after meeting the razor for a good cause - the Leukaemia Foundation.
The Celebrity race attracted a strong representation of local identities from near and far. Entering onto the track the good nature ribbing turned to steely determination and in some cases pure terror. However, by the end of the race the smiles written across there faces said it all. It showed just how much fun racing mini-trotters can be for everyone.
With our usual race caller (Chris Buttigieg) taking the reins of Marmalade and with his replacement not on track, harness driver/trainer Ben Letizia stepped in to fill the void. An enquiring Peter Gandolfi (Pumpkin) was soon to learn V8 supercars are not the only horsepower that will sit you back in your seat. As the whistle blew, Pumpkin in her customary manner bounded out leaving Peter wondering when the rest of him would catch up with his feet. Sam Dowdy hit her straps taking the early lead on Run Jemma Run and Father Richard Morris (Snoopy) made his move on the home corner. Tim Marshall (Pamela) showed just a clean pair of heels chasing down his quarry, as any good journalist would. However, it was the lightning move of Byron Harfield (Slim Dusty) that saw a likely challenge to the leader. Living Legend Jim Barker soon rediscovered his passion for driving horses instead of ponies, after Minty gave him his most difficult drive of the night. Not to be out done, retired harness driver Craig Gull skipped away at the start on White Lightning which was not on his best behaviour and was likely to need a lengthy sentence. Frankie under Fire ran to script for Stuart Stansfield and saw him well positioned and looking likely to Win in the straight.
It was Father Richard Morris that was making every post a winner and with a large following cheering him on the tempo rose. Peter Gandolfi (Pumpkin) making a late charge thought his time had come, while Slim Dusty under hard driving by Byron Harfield made ground on the outside. But it was not to be and Snoopy (Father Richard) crossed the line to a chorus of cheers, followed in by Pumpkin, Slim Dusty, with unplaced runners Pamela, Frankie under Fire, Minty, Run Jemma Run, and White Lightning.
It was on the return to scale that Barry Carraill interviewed the drivers and with good hearted banter the hard luck stories flowed, some more believable than others. This was enjoyed by the good crowd in attendance. Father Richard acknowledged that his pony had received a special blessing prior to the race, which had met with a chorus of protests all of which were dismissed by race stewards, with Mr. Simpson giving the all clear after viewing the race video.
A happy winner Father Richard

Deputy Mayor Byron Harfield after finishing third lodging a protest
Tim Marshall on Pamela giving his hard luck story to Barry Carraill

A relieved Stuart Stansfield from Win TV

Jim Barker post race interview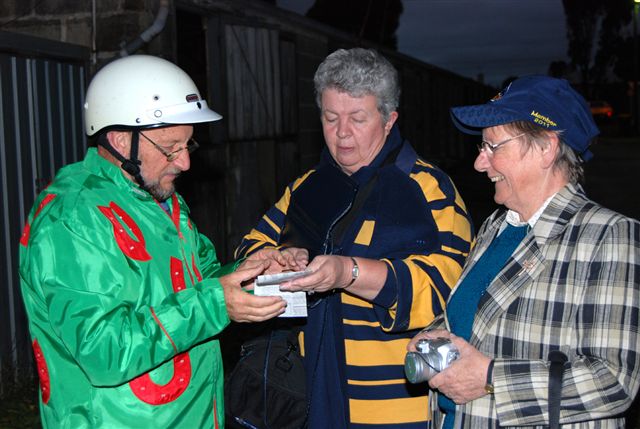 Father Richard and Friends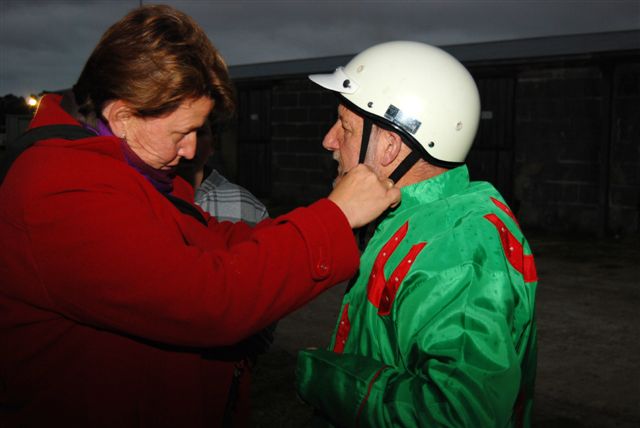 Father Richard with Catherine Harris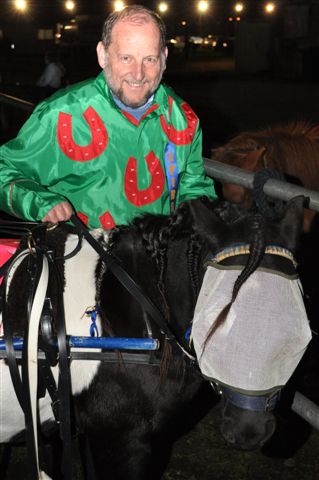 The winners Father Richard and Snoopy

Barry Carraill interviewing Craig Gull after the running of the celebrity race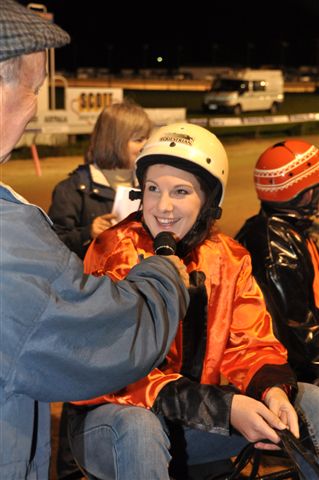 Sam Dowdy from the Borderwatch explaining that it was her generous nature that allowed all the other ponies to pass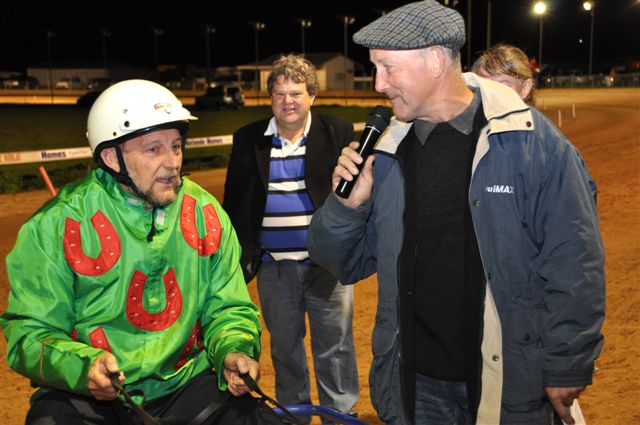 Father Richard gives a race review to the crowd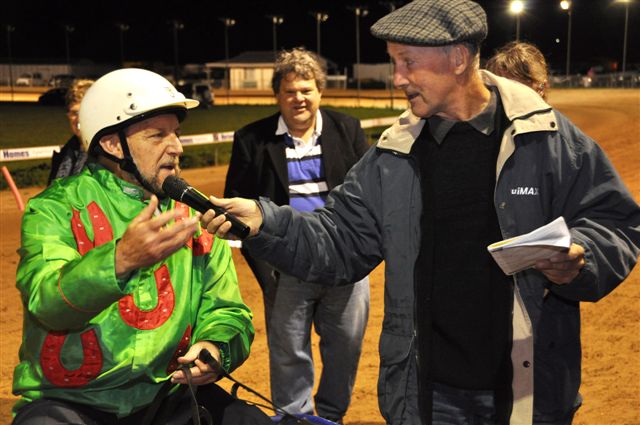 Father Richard explaining he gave Snoopy a blessing pre-race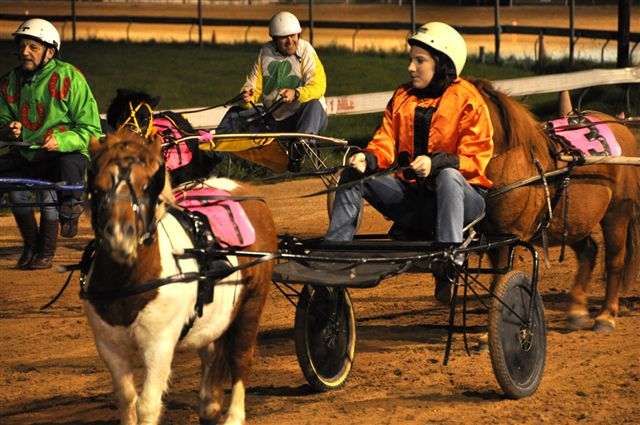 Driver's returning to scale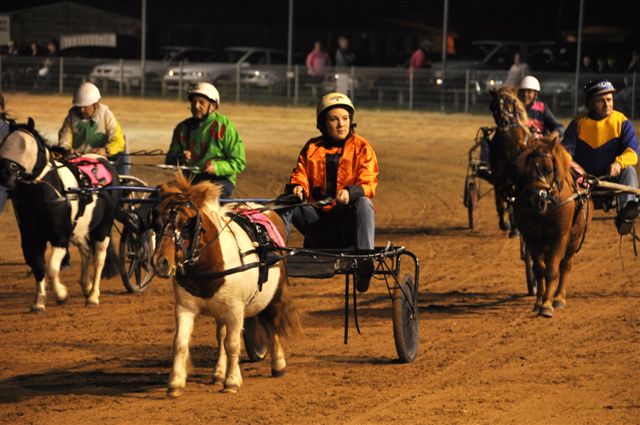 Driver's post race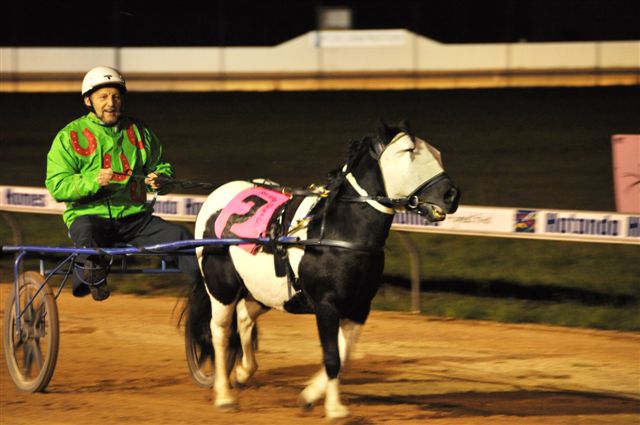 The smiling Father Richard crossing the Line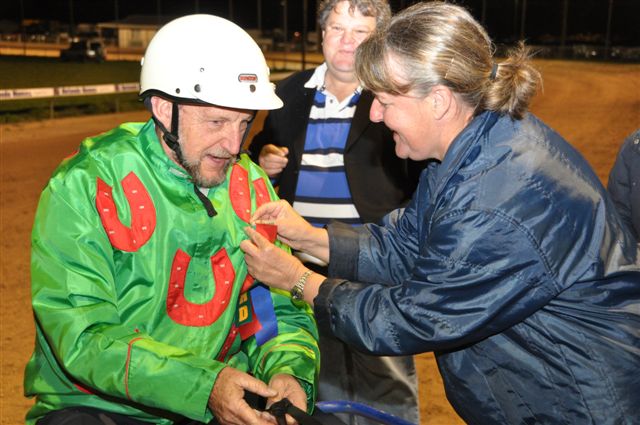 Father Richard Morris receiving 1st plc ribbon from Liz Barker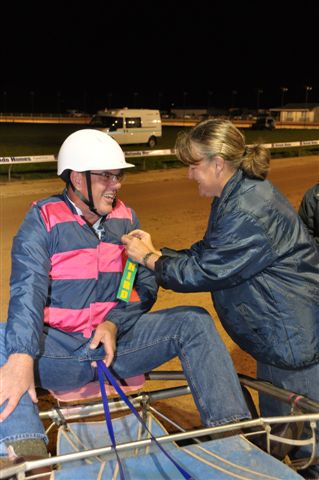 Mayor Peter Gandolfi receiving 2nd plc ribbon from Liz Barker The smile says it all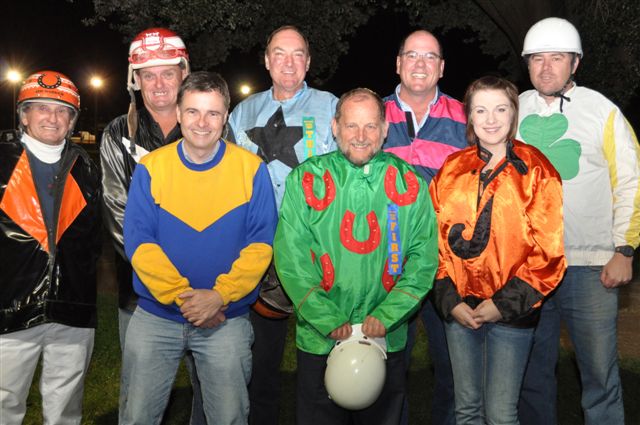 Group Photo of Celebrity race participants
Back Row: Hall of Fame inductee Jim Barker, Craig Gull harness driver, Mount Gambier City Deputy Mayor Byron Harfield, Wattle Range Mayor Peter Gandolfi, ABC Rural reporter Tim Marshall,
Front Row: Stuart Stansfield WINTV presenter, Father Richard Morris (Winner of the Celebrity Mini-trot), Borderwatch social page reproter Sam Dowdy, absent Chris Buttigieg Racecaller
Glencoe Pony Cup
The final race of the season for mini-trotting ended on Saturday night with the running of the Glencoe Pony Cup proudly sponsored by The Glencoe Community, The Tack Room and David Drury Racing Stables.
All the ponies presented for the night looked immaculate and judges found it a difficult task in presenting broad ribbons for best turned out pony and driver for the night. These were Minty (Hayley Greenfield)
Marmalade (Jackie Barker) and Slim Dusty (Stacey Barker)
All ponies started well, with Run Jemma Run and Abbey Gull racing too the front. White Lightning (Tom Rundle) quickly over came his handicap to race alongside Frankie under Fire down the back straight.
Starting off formidable handicaps Marmalade (Jackie Barker) and Pumpkin (Emma Greenfield) set about running down the front markers with the backmarker Minty in hot pursuit.
After two recent cup wins Pamela (Grady Hutchesson) found her new handicap a difficult task. She took up the running alongside Slim Dusty and Snoopy (Kylie Shepherd) down the back straight.
White Lightning continued to hold form and surged to the lead with Pumpkin making good ground. Minty, overcoming a large handicap, showed a marked improvement with Hayley Greenfield in the sulky. It was however to be Tom Rundle's night crossing the line ahead of a now customary fast finishing Pumpkin, followed by a fist pumping Matthew Shepherd on Frankie under Fire. Unplaced runners were Run Jemma Run from Minty, Marmalade, Slim Dusty, Snoopy and Pamela.
Presentations for pony of year will be held next week at the final meeting of the season for the M.G.H.R.C. We wish to congratulate all participants on their exemplary behaviour and presentation throughout the season.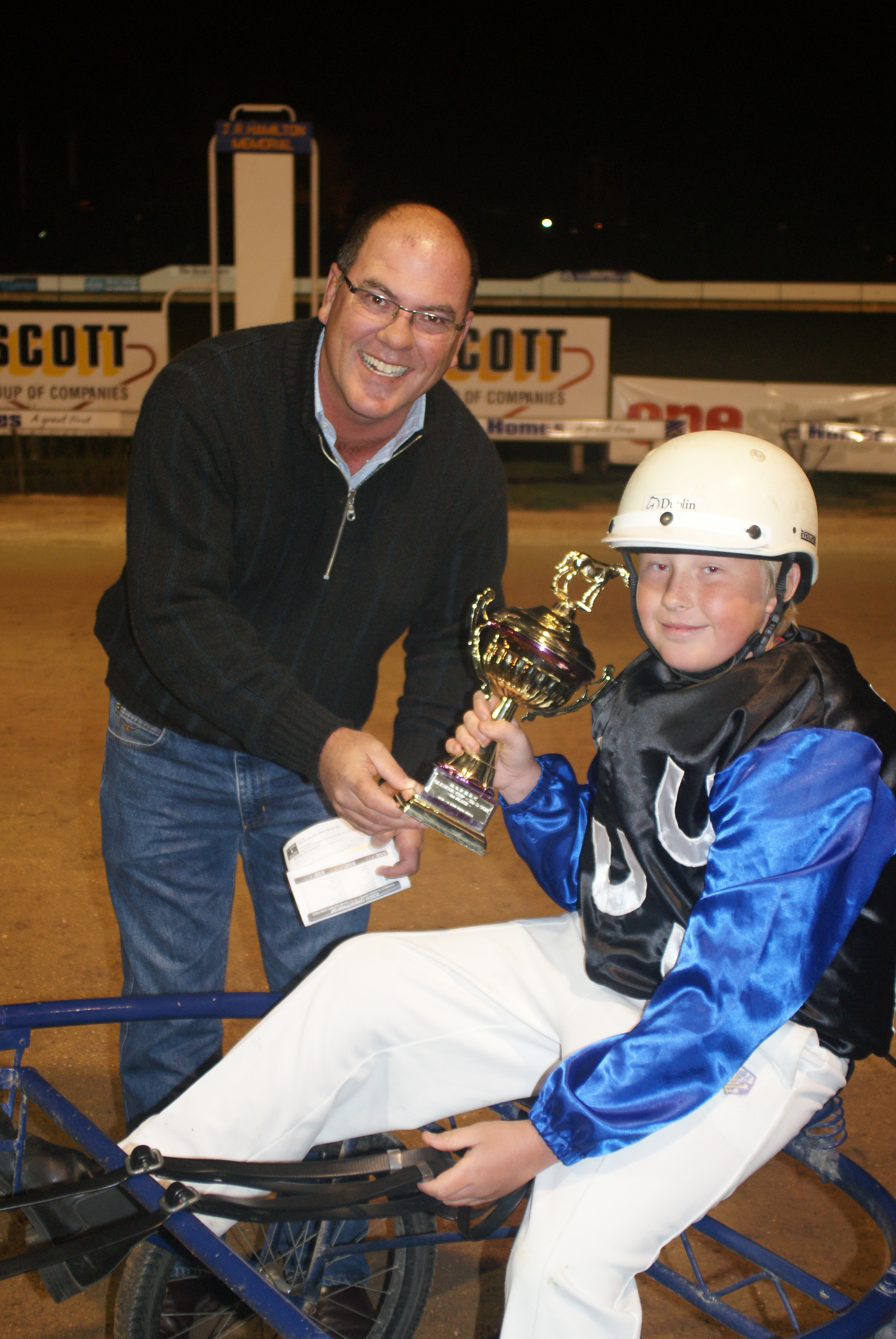 Tom Rundle winner of the Glencoe Pony Cup being presented his trophy from Wattle Range Mayor Peter Gandolfi