RESULTS

Mt Gambier Pony Trots
Tuesday, 27th October 2020

Proudly Sponsored by "Lisa Glynn"
Race One, the "Season Opener" was sponsored by Lisa Glynn, and saw a field of five ponies and drivers take to the track. Debut pony driver Angus Hinch was off the front mark on Poppin Pepe. Lining up at number two was the combination of Molly Hinch and Rocking Rex, a new pony to pony trots this season. Number three was Kloe Phillips and Little Miss Geri. Pocket rocket Super Marley and Holly Phillips started ahead of the new combination and back marker Super Mario and Marnee Formosa. Poppin Pepe was the early leader with Rockin Rex trotting nicely for his first race and Little Miss Geri going well, Super Marley was making up ground with the back marker Super Mario was trotting along closing the gap on the front markers. As the back markers Super Marley and Super Mario headed out of the back straight, Poppin Pepe(Angus) and Rockin Rex (Molly) had a 30 meter lead turning into the straight. As Little Miss Gerri and Super Marley rounded the turn together, Super Mario was making ground quickly it was going to be a close finish. Rockin Rex was trotting well out in front, Poppin Pepe was under pressure from fast finishing Super Marley. Marnee Formosa took the outside run on Super Mario who streamed down the outside to win by half a head to Rockin Rex (Molly) and 3rd place Super Marley (Holly) followed by Poppin Pepe (Angus) and Little Miss Geri (Kloe) brought up the tail end of the field.
In Race Two, sponsored by Lisa Glynn handicapper Bary Carrail moved Super Mario back 10 metres and Poppin Pepe and Little Miss Geri moved forward 10 metres. All ponies stood perfectly at the start and all settled into their gait upon the starters whistle. Poppin Pepe (Angus) stepped away nicely for his second race of his pony trot career. Rockin Rex (Molly) made up good ground on Poppin Pepe catching him on the corner of the home straight. Little Miss Geri (Kloe) was trotting along nicely and trying to catch the front markers. Super Marley was making up a lot of ground, driver Holly Phillips let Super Marley settle into a good trot. Super Mario in last place had a big job in front of him to catch the leader. Young Molly Hinch on Rockin Rex was trotting nicely out in front. With fast finishing Super Marley closing the gap quickly and crossed the finish line in first place a head of season campaigner Super Mario and Little Miss Geri coming in third followed by Rockin Rex and Poppin Pepe.
Next Mount Gambier Harness Race meeting Tuesday the 10th November 2020.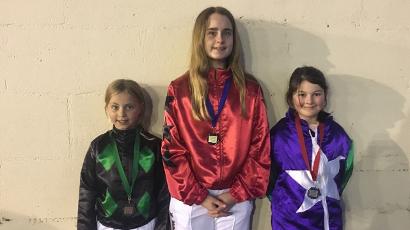 Race 1: Holly Phillips 3rd Marnee Formosa 1st Molly Hinch 2nd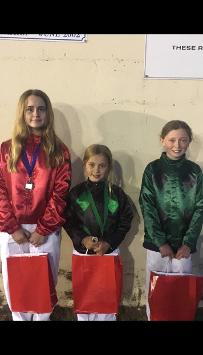 Race 2: Marnee Formosa 2nd. Holly Phillips 1st, Kloe Phillips 3rd