RESULTS

Mt Gambier
Sunday, 3rd february 2013

Sponsored by ~ Peter & Lesley Medhurst and Tackroom Sadleworld & Glencoe General Store
ZENA WINS GLENCOE CUP
The biggest fields for the season lined up for the 2 pony races on Sunday evening, with 2 new ponies & drivers making their debut drive. With increased competition nerves were running high especially for Race 2 on the program, the Glencoe Cup.
Race 1: Lindhurst Lodge Handicap
At their marks, new ponies Jackim driven by Jacob Opperman & Pablo driven by Jessica Shepherd stepped away nicely after a few pre-race jitters.
From the same mark Minty (Emma Shepherd) struggled forward having trouble maintaining her gait, with Pumpkin (Emma Greenfield) approaching quickly from behind.
In the mid-field, Blaze (Courtney Sealey) powered ahead of Zena (Jhett Perry) & took on the challenge of catching the front- runners, with Smokey (Millie Beveridge) chasing hard behind.
Out in front Run Jemma Run (Joshua Micallef) tried desperately to maintain his lead but Willow (Abbey Gull) & Frankie Under Fire (Aaron Shepherd) proved too good, with Willow emerging the leader.
As the field merged together the battle began. Willow held the lead to Frankie Under Fire but Blaze was motoring in from behind. Pumpkin also rose to the challenge passing the main field in the run for home.
After running into trouble Jackim was driven superbly out chasing Pumpkin down the home straight.
It was Blaze with a faultless drive by Courtney Sealey that emerged the winners, followed by Willow, Frankie Under Fire, Pumpkin, Smokey, Run Jemma Run, Minty, Zena, & Pablo, who did everything right during his first race.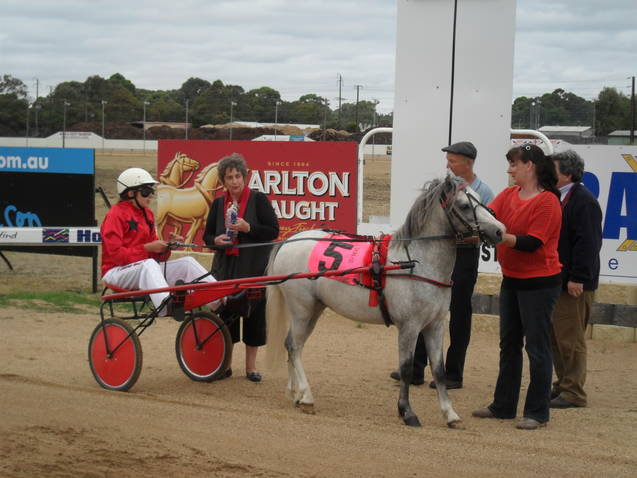 Courtney Sealey and Blaze

Race 2: Glencoe Cup sponsored by the Glencoe Community, The Tackroom, & Glencoe General Store
The Glencoe Cup started at the whistle with all ponies jumping away well with drivers eager to win the pony rug on offer.
Run Jemma Run led from the start ahead of Frankie Under Fire & Willow who were steadily approaching from behind.
Blaze & Zena headed off from the same mark with Blaze unable to find the form of the previous race. Zena capitalised on this & with new- found energy forged on towards the front-markers.
Smokey trotted on consistently but struggled to make ground while the backmarkers moved forward.
Minty (Matthew Shepherd) was once again having trouble with her gait ahead of Jackim (Emma Shepherd) who was trotting along faultlessly behind.
In the run down the straight Zena hit the front leaving Willow & Frankie Under Fire fighting for position with Blaze & Pumpkin racing in from behind in an attempt to get into the minor placings.
Amidst cheers from the crowd Zena emerged victorious with back to back Cup wins from Willow & Frankie Under Fire who managed to hold onto their placings, ahead of Blaze, Pumpkin, Run Jemma Run, Smokey, Minty & Jackim.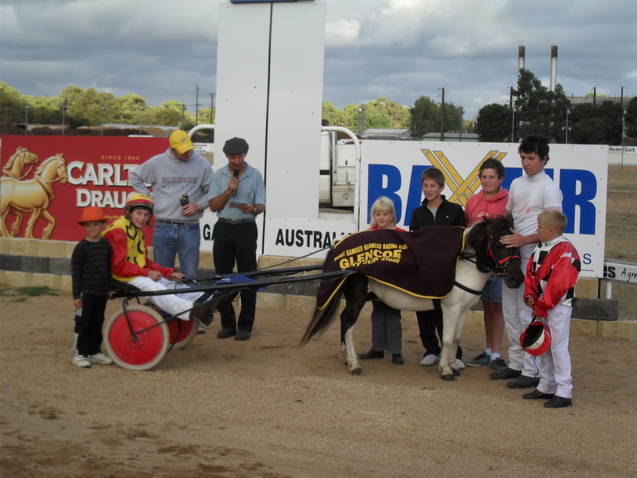 Jhett Perry and Zena winners of the Glencoe Cup

~Future Events~
The Pony Cup series continues next Friday Night with the running of The Young Drivers of the Future Cup sponsored by P&L Livestock & Real Estate in the lead up to the Gold Cup.