RESULTS

Mt Gambier
Friday, 30th November 2012

Sponsored by ~ Greenfield Family & Shepherd Super Spreading

Pony Racing at the Paceway
The 2012/2013 Pony Harness Racing season opened on Friday night in perfect conditions with six ponies lined up for the 2 races that were programmed for the evening.
Race 1
The Greenfield Family Handicap saw all 6 ponies & drivers set off at the whistle.
From the outset Run Jemma Run, driven by Joshua Micallef, were the clear leaders with Frankie Under Fire (Aaron Shepherd) & Willow (Abbey Gull) chasing hard to close the gap.
Down the back straight Blaze (Courtney Sealey) was unable to hold back the approaching Zena & Jhett Perry, while Pumpkin (Emma Greenfield) was forging forward from behind to catch the tail of the field at the back turn.
In the home straight the frontrunners battled out for the lead position.
Frankie Under Fire worked his way steadily forward dominating Run Jemma Run in the race to the finish followed closely by Willow.
Very little separated the 3 as they hit the line. A jubilant Aaron Shepherd drove Frankie Under Fire to victory ahead of Run Jemma Run & Willow, followed by Pumpkin, Zena & Blaze.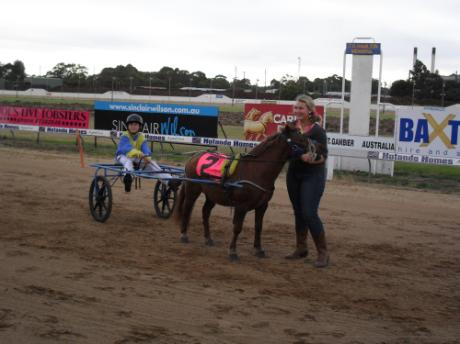 Aaron Shepherd and Kylie Shepherd Frankie Under Fire winning Race: 1
Race 2
Warm Conditions prevailed for the running of the Shepherd Superspreaders Handicap.
Backmarker Pumpkin had another good start blistering down the back straight in her chase to catch the frontmarkers.
Meanwhile, Run Jemma Run led around the turn but was unable to maintain her lead. Willow & Frankie Under Fire were driven hard fighting their way to the front, with Blaze following the leaders.
From behind, Zena was driven with fierce determination by Jhett Perry as they passed the field in the run for home.
A very fast finishing Pumpkin, superbly driven by Emma Greenfield, ran them down on the line to take the honours ahead of Zena, Willow, Frankie Under Fire, Blaze & Run Jemma Run.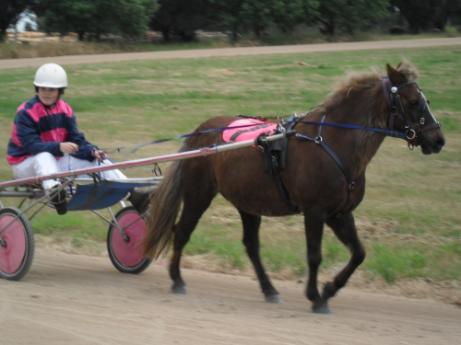 Emma Greenfield and Pumpkin winner's of Race: 2 the Shepherd Superspreading handicap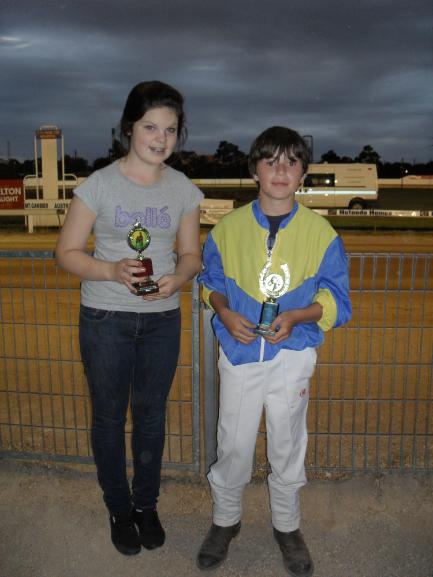 Emma Greenfield and Aaron Shepherd receiving their trophies
Future Events
The ponies will return on Friday 14th December dressed up in their Christmas finery with a colourful show to herald the season.
Late January & February sees the running of the Summer Cup Series, with the dates for the State Championships at Globe Derby yet to be determined.