RESULTS
MOUNT GAMBIER
4 MARCH 2011
PONIES POWER HOME
Friday night's pony racing was an eagerly contested affair with Race 1 being sponsored by the K. Pettit & R. Lattin Racing Stables.
Front marker Run Jemma Run (Joshua Micallef) took the lead early, with Pamela chasing. On the turn Pamela looked promising. Back in the field Slim Dusty (Stacey Barker) trotted his way forward, passing Snoopy (Kylie Shepherd) and Frankie Under Fire (Matthew Shepherd) who was sporting the effects of the wonderful season we have been experiencing.
Marmalade driven by Jackie Barker stormed into the home straight, with Pumpkin (Emma Greenfield) trying hard to close the gap. These two runners finished in that order, with third placing going to Pamela (Grady Hutchesson). Run Jemma Run finished in 4th ahead of the new rodeo 'bronc' Slim Dusty who would not have been out of place at the East Gambier football club rodeo. Frankie Under Fire, Minty (Emma Rundle), and Snoopy rounded out the unplaced runners.
While there were no disqualifications some warnings were issued for excessive galloping.
Race 2 sponsored by Gambier Vets saw 4 ponies re-handicapped.
With an impressive run Pamela driven by Grady Hutchesson forged to the front, passing Snoopy & then catching Run Jemma Run in the straight for home.
Slim Dusty tracked Pamela throughout and managed to gain some ground, while Minty & Emma Rundle chased them hard. In the straight the backmarkers met a wall of horses, Emma Rundle weaved her way through too finish strongly. Pamela took out the win with the judges awarding 2nd place to Slim Dusty and 3rd place to Minty after being relegated to third for breaking her gait.
They were followed by Frankie Under Fire & Marmalade who was unable to overcome her new handicap. Next was Snoopy & Pumpkin who couldn't find her previous form. Run Jemma Run was disqualified for excessive galloping.
With the end of the season approaching there is still no clear leader for Pony of the Year. There are 4 points separating the top 4 ponies so this sought after prize is still very much in contention.
Friday night is the running of the Naracoorte Pony Cup & on the 26th of March the Pony Trots will be hosting a celebrity race. Local identities will be taking to the track to display their varying skills behind a pony. With a practice or two beforehand the challenge will be on!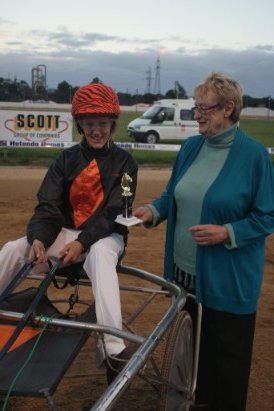 Winner of Race 1
Jackie Barker being presented with her trophy from K Pettit from K. Pettit and R. Lattin Racing Stables
Winner of Race 2

Grady Hutchesson (Pamela) being presented with his trophy from Gambier Vets
Marmalade (Jackie Barker) takes the lead from Grady Hutchesson (Pamela) and Pumpkin Emma Greenfield