RESULTS

Mt Gambier Pony Trots
Sunday, 6th January 2019

Mount Gambier Pony Trots Write-up 06/01/19
The Phillips Harness Racing sponsored pony trot, had eight contenders line up for the first race of the night. Just a Rumor (Jemma Glynn) missed the start, while the other competitors trotted off their marks swiftly. Back markers Blaze (Amber Formosa) and Super Mario (Keeley Formosa) hit their straps early and kept on the pace heading out of the back straight. Holly Phillips and Super Marley, together with Buddy Boom Boom and Evie Sealey, led the field around the bend and into the home straight. Congestion on the bend saw a few of the ponies restricted for a run home with Slim Dusty (Amity Formosa) taking the outside running, Jerry (Nicola Bowditch) through the middle with Dark Temptation (Jorja Glynn) in hot pursuit. With fifty metres to go Super Marley had a strong lead and went on to win, closing the gap ever so fast, Blaze and Jerry battled it out for the minor placings, Jerry being officially announced as second place getter in a tight photo finish, from Blaze, closely followed by Slim Dusty, Super Mario, Dark Temptation, little Buddy Boom Boom and Just a Rumor bringing up the rear of the field.
The '2019 Young Driver of the Future' race was generously sponsored by Diverse Transport Fabrications (Davina & Trent Gravestock) with a rug presented to the winner. Re-handicapping of a couple runners ensured a close finish yet again. Marnee Formosa picked up a drive on Slim Dusty in the second, with all ponies getting away smoothly. All drivers appeared to drive with more vigour, and tactical moves were aplenty, with the smallest gaps being an avenue to make a run home. Stylish pair Just a Rumor and Dark Temptation finished at the rear of the field, not far behind Buddy Boom Boom & Super Marley. Slim Dusty galloped at the hands of Marnee Formosa and will need to improve next week to remain eligible. Again Jerry and Blaze battled for the minor placings, this time round Blaze finishing in second, ahead of Jerry. Keeley Formosa, and her every reliable pony Super Mario, took out the win, and therefore Keeley named "2019 Driver of the Future".
Both races on the night were a credit to handicapper Barry Carraill, with tightly contested finishes, and all ponies crossing the line in a relatively close group.
Saturday, January 19th, sees the running of the Pony Trot Gold Cup, and Calcutta. Children on course can enter to go in the draw for a pony in the race, and the child who draws the winning pony will take home a prize. Entries to be dropped in the box at the Secretary's office.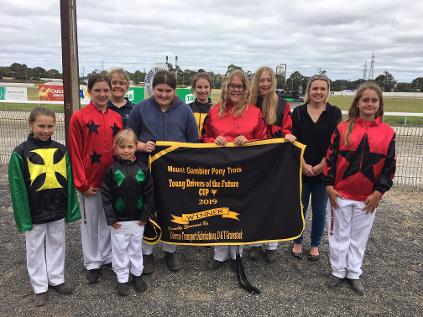 Back row L-R Amity Formosa, Jemma Glynn, Amber Formosa (second).

Middle row L-R Jorja Glynn, Evie Sealey, Nicola Bowditch (third),

Keeley Formosa (winner), Sponsor representing Diverse Transport

Fabrications Davina Gravestock, Marnee Formosa.

Front: Holly Phillips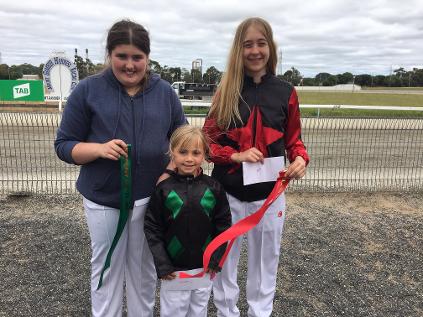 Nicola Bowditch (Jerry), Holly Phillips (Super Marley)

first (in the middle), and Amber Formosa (Blaze) second.