RESULTS

Mt Gambier Pony Trots
Friday, 8th March 2019

Pony Trots Write-up for Meeting 08/03/19
Race One saw the running of the 'Bouderae Standardbred' Pony Trot, over 600 metres. A full field of nine lined up for the starter. Just A Rumour misbehaved and reared up for driver Jemma Glynn, who handled her pony well, moving forward off the mark and getting away soundly. Front marker Poppin Pepe, with Marnee Formosa in the driver's seat, secured a big lead of eighty metres early on, with Holly Phillips making the charge on Super Marley and closing the gap. Nicola Bowditch settled Jerry into a smooth trot, quickly making ground on the front runners. Bridging the gap were back markers Blaze (Amber Formosa) and Super Mario (Keeley Formosa), along with Dark Temptation (Jorja Glynn) striding out and moving through the field. Mid-field Slim Dusty (Amity Formosa) and Evie Sealey on Buddy Boom Boom were not really a winning chance, with the winning post coming all too fast. A hundred metres out and a smiling Holly Phillips, on Super Marley, looked confident in catching Poppin Pepe, and after shying on the run down the home straight, went on to cross the finish line in first place. Jerry came at the leader a fraction too late, to finish second and early leader Poppin Pepe ran home in third. Dark Temptation trotted home in fourth with Slim Dusty, Buddy Boom Boom and back markers Blaze and Super Mario not far behind. Just a Rumour crossing the line at the tail end of the field.
The second pony trot race, kindly sponsored by Peter & Gaylene Radley, saw the same trifecta as the first race, albeit in a different order. Race Caller Jim Jacques always provides an entertaining call for the pony trot races, and is a great supporter of pony trots, which is appreciated by all the patrons, as much as the pony drivers. All ponies stepped away well, and trotted cleanly, from the starter's whistle. Poppin Pepe was looked upon favourably by handicapper Barry Carraill, and was fortunate enough to lead from start to finish, winning his first ever race, to the cheers of the crowd. Stablemates Dark Temptation & Just A Rumour both had patches where they trotted roughly, as they made their way around the outside of the field, gaining ground. Buddy Boom Boom had a quiet night, along with veteran of the track, Slim Dusty. Super Marley tried chasing down the leader to run home in second, closely followed by Jerry, Just a Rumour home in fourth in a much better performance. Next over the line were Dark Temptation, Buddy Boom Boom , Super Mario and Blaze, followed by Slim Dusty in last place.
Pony drivers, and female harness racing drivers, wore teal pants as a part of the Women's Cancer Foundation raising awareness, and funds, for Ovarian Cancers. $200 for every win by a reinswoman is donated to the cause, with over $26,000 raised so far. Pony drivers also went through the crowd with donation tins in support of the cause #GetRealSupportTeal
Final meeting of the year is scheduled for Friday 22nd March, with Presentation Night the following Friday, on the 29th March.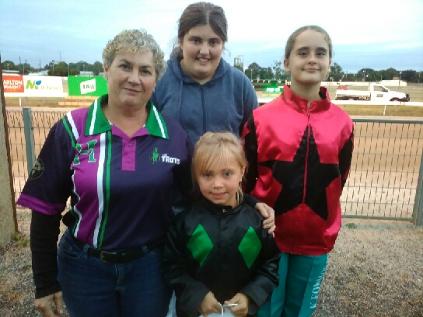 Back: Nicola Bowditch (second)

Middle: Lesa Van Uitert - Bouderae Standardbreds (race sponsor), Marnee

Formosa (third)

Front: Holly Phillips (first)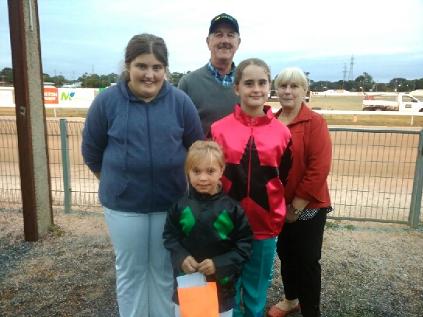 Race Two

Back: Peter Radley ( race sponsor)

Middle: Nicola Bowditch (third), Marnee Formosa (first), Gaylene Radley

(race sponsor)

Front: Holly Phillips (second)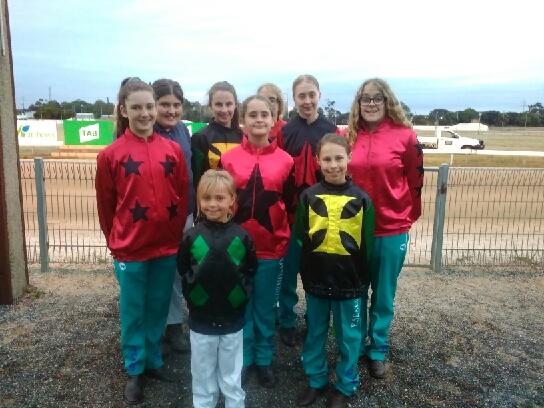 All the pony trot drivers (mostly) wearing the teal pants in

support of the Women's Cancer Foundation, and the fight against ovarian

cancers.