~MT GAMBIER PONY RESULTS~

Mt Gambier Harness Racing Club
Friday, 8th November 2019

Race One, the 'Season Opener", was sponsored by Lisa Glynn, and saw a field of seven ponies and drivers take to the track. Debut pony driver Molly Hinch was off the front mark on Poppin Pepe, who moved to the Portland stable only a few weeks prior. Lining up at number two was the combination of Kloe Phillips and Little Miss Gerri, both newcomers to the pony trots scene. Pockets rockets Super Marley and Holly Phillips started just ahead of the new combination of Marnee Formosa and Buddy Boom Boom. Driver Amity Formosa introduced Sheza Ginger Ninga to the Mount Gambier Pony Trots, formerly coming from the Gisbourne area, and while the tall chestnut was a little unsettled at the start, stepped away and trotted throughout the remainder of the race. Super Mario and Keeley Formosa started slightly ahead of seasoned campaigner Blaze, with Evie Sealey enjoying the challenge of driving a bigger pony in 2019-20. As the back markers headed out of the back straight, Poppin Pepe and Molly had a sixty metre lead turning into the home straight. Ponies Little Miss Gerri, Super Marley and Buddy Boom Boom all rounded the turn together, three wide across the track, with Super Mario making ground quickly, along with Sheza Ginga Ninga and Blaze bringing up the rear of the field. Buddy Boom Boom made ground on the outside, then Marnee Formosa took to the inside running, to sneak home for the win, closely followed by a fast finishing Super Mario, who streamed down the inside. Molly excitedly crossed the line on Poppin Pepe to finish third, Super Marley (Holly) and Little Miss Gerri (Kloe) trotted across the line, while Blaze (Evie) and Sheza Ginger Ninga (Amity) brought up the tail end of the field.
In Race Two, sponsored by Phillips Harness Racing, handicapper Barry Carraill moved Buddy Boom Boom back ten metres. A couple ponies were a bit restless at the start, but all ponies settled into their gait upon the starter's whistle. Poppin Pepe (Molly Phillips) stepped away nicely and led the field for the majority of the first two hundred metres. Buddy Boom Boom (Marnee) took the outside running, passing Little Miss Gerri (Kloe) in the process. Sheza Ginger Ninga (Amity) made considerable ground and turned into the home straight right in amongst the action. Super Marley (Holly) hit the lead half way down the home straight, and didn't give up the lead, crossing the line in first place. Sheza Ginger Ninga (Amity) stormed home to finish second, closely followed by Buddy Boom Boom (Marnee) and Super Mario (Keeley) sneaking an inside run to finish fourth. Poppin Pepe trotted well to run into fifth, with a quiet run from Blaze (Evie) and Little Miss Gerri (Kloe) doing everything right, in a solid performance.
Last year's retired pony trot driver Nicola Bowditch, has continued her involvement by now being the Judge for pony trots, during the 2019-20 season.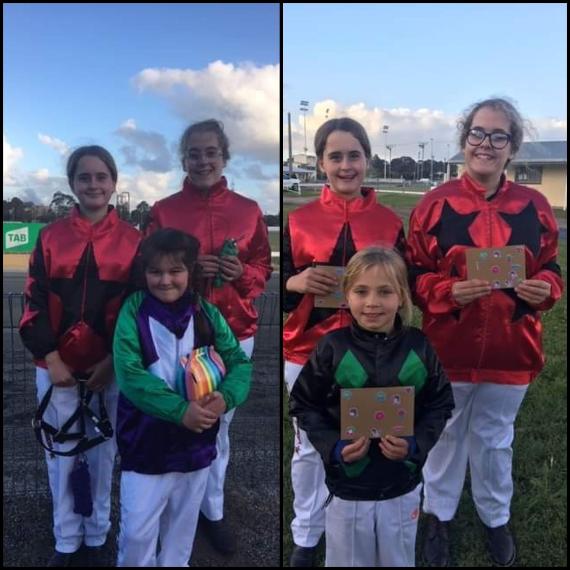 Race One - Back left Marnee Formosa 1st, Keeley Formosa
2nd, Front Molly Hinch 3rd
Race Two - Back left Marnee Formosa 3rd, Amity Formosa 2nd,
Front Holly Phillips 1st