RESULTS
Victor Harbor - 11th January 2009
Proudly Sponsored by Strawberries Galore Loxton, Rex Shelbourn and the SA Harness Racing Pony Association
Thank you to Jim Jacques for being our Race Caller today as usual he did a wonderful job and also thanks to Kelly for taking all the photos
It was a fabulous day at Victor Harbor with the weather not too hot.  The floats for the pony's were designated a spot at the southern entrance, a nice big paddock and close to the track.  The pony's were after Races 1 and 5 and as Strawberries Galore Loxton donated the trophy's for the day the SA Harness Racing Pony Association in return of appreciation donated a $10 Voucher to all drivers which they were able to use to feast out on after the first race at the Strawberries Galore Van.  The $10 was of good value as most children were able to buy something form themselves and another family member.  Rex Shelbourn kindly donated some books for the children, they were to be distributed to the first three placegetters of both races and one Encouragement Award.  There were 7 drivers on the day and 6 of them had finished first to third so it was decided to give Samantha Pascoe the Encouragement Award as she was the only driver on the day not to receive a Trophy/Ribbon/Certificate.  The day was a lot of fun, for more photos from Victor Harbor go to Gallery - Victor Harbor
1st Magpie Mary - Kaycee Carey
2nd Aussie - Jodie Billinger
3rd Wandarra Tess - Jacob Starick
4th Mumbo Jumbo - Samantha Pascoe
5th Whataday - Jessica Pascoe
6th Midnight Star - Sharni
7th Aadelaidee Lady - Madison Smith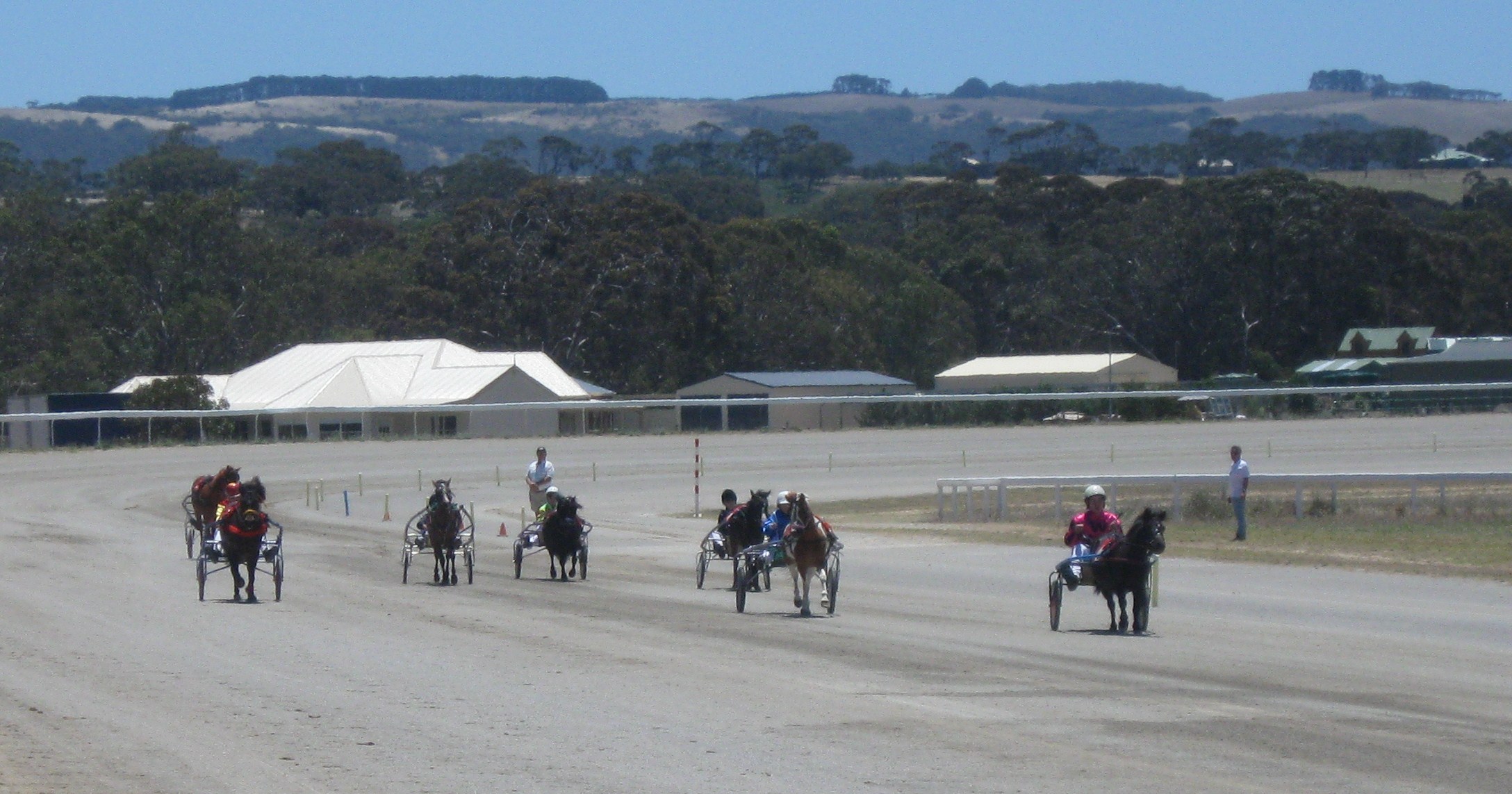 Wandarra Tess on rails, Magpie Mary on outside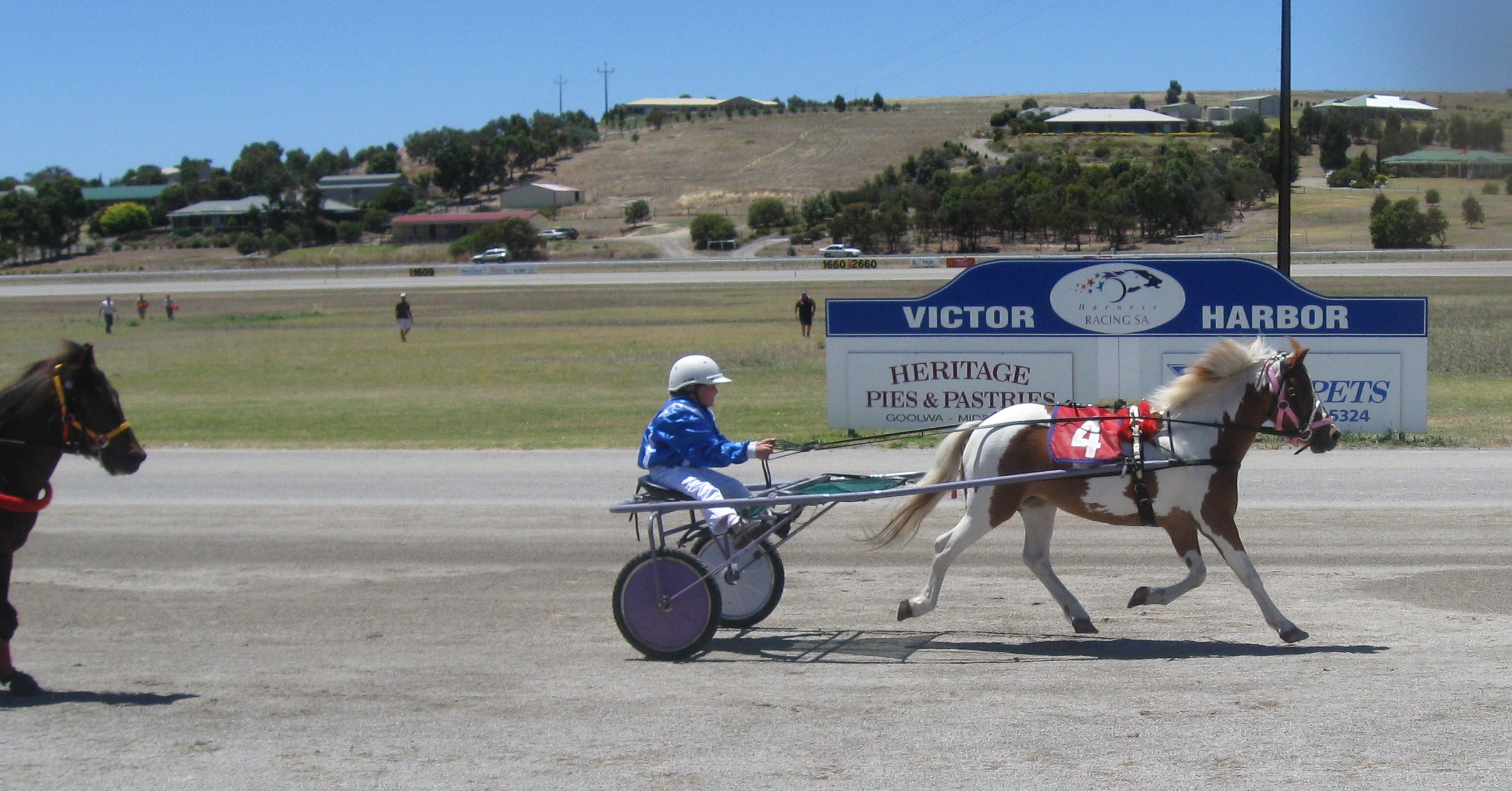 Magpie Mary driven by Kaycee winning
Magpie Mary receiving trophy kindly donated by Strawberries Galore Loxton
Kaycee Carey was having her first ever race drive on Magpie Mary today and what a wonderful experience to win at your first drive. The slower of the pony's were caught by the backmarkers at the top of the straight and then with about 30 metres to go it looked like being a close finish with Wandarra Tess on the rails, Magpie Mary in the centre and Aussie three wide but Wandarra Tess today being driven by Jacob Starick shied at something on the inside of the track and lost a little momentum and Magpie Mary was able to make the most of it and go on to win with Aussie finishing second and Wandarra Tess third.
I asked Kaycee after the race if she was a little bit nervous before her drive which she replied - no. She also informed me that driving was Good and she thought she might win today. Kaycee might not have been nervous but I know her mum was.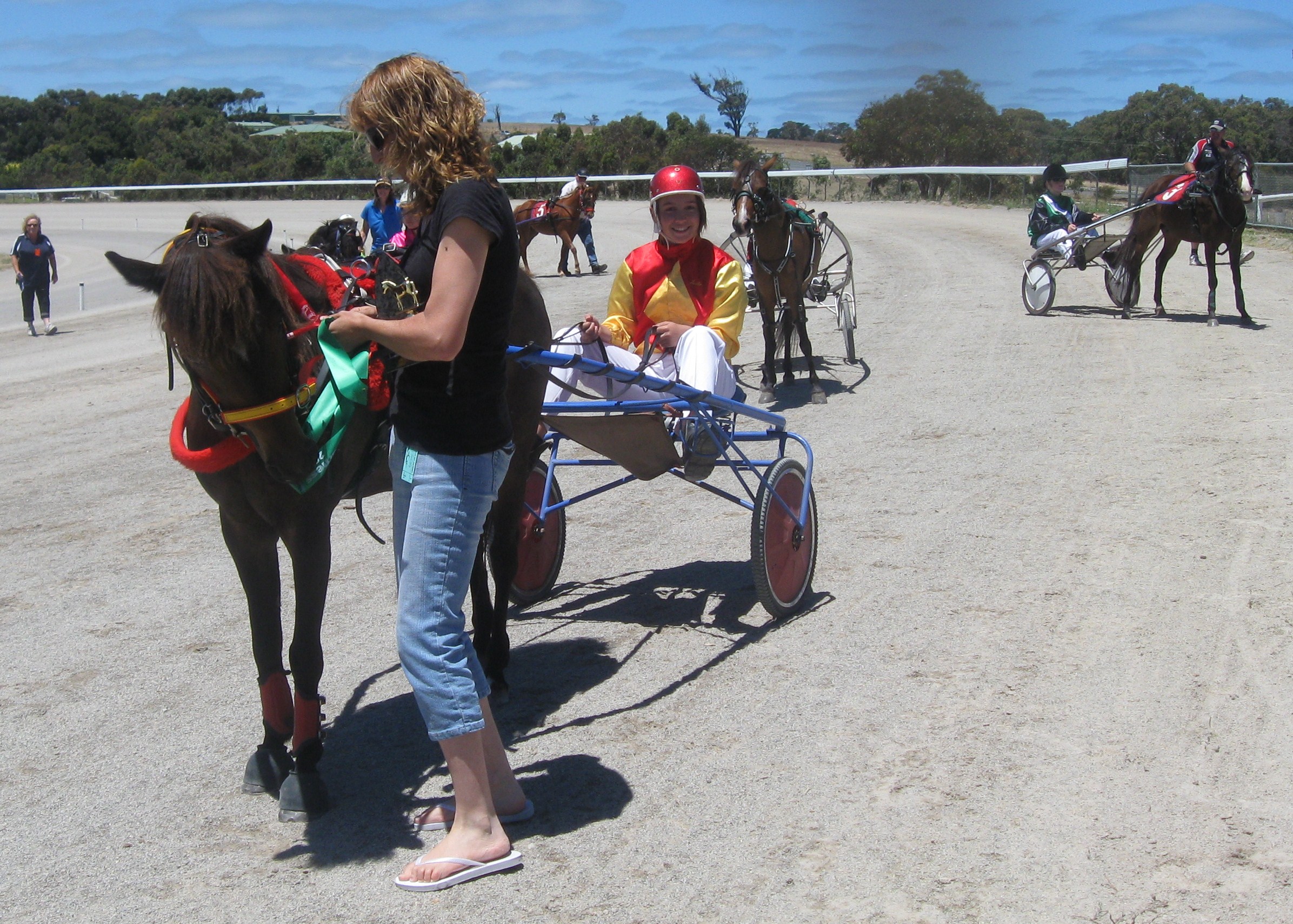 Aussie receiving 2nd place Ribbon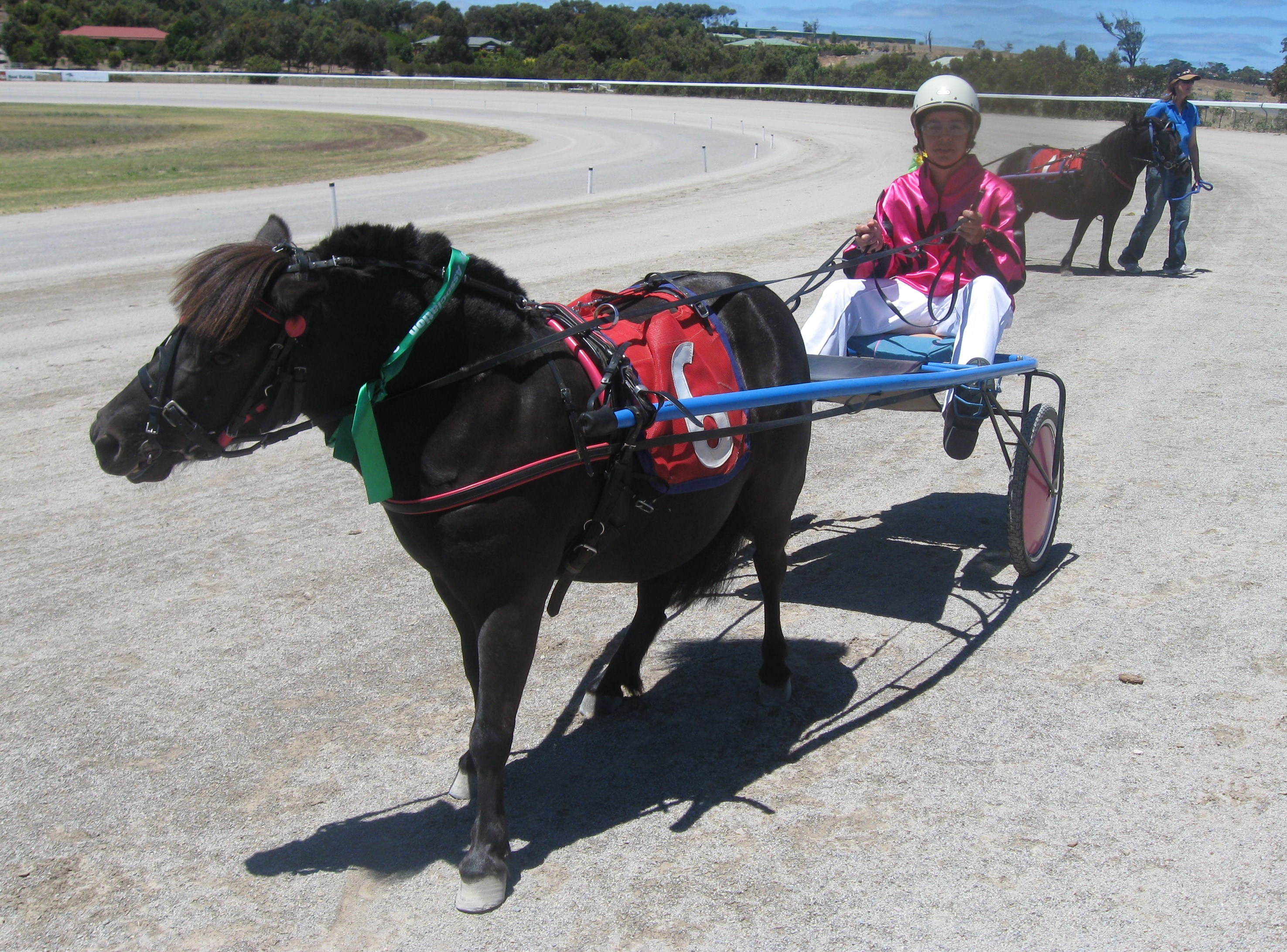 Wandarra Tess with 3rd Ribbon
1st Midnight Star - Sharni
2nd Aadelaidee Lady - Madison Smith
3rd Whataday - Jessica Pascoe
4th Mumbo Jumbo - Samantha Pascoe
5th Wandarra Tess - Jacob Starick
6th Aussie - Jodie Billinger
Disq Magpie Mary - Kaycee Carey

Midnight Star coming down the straight in front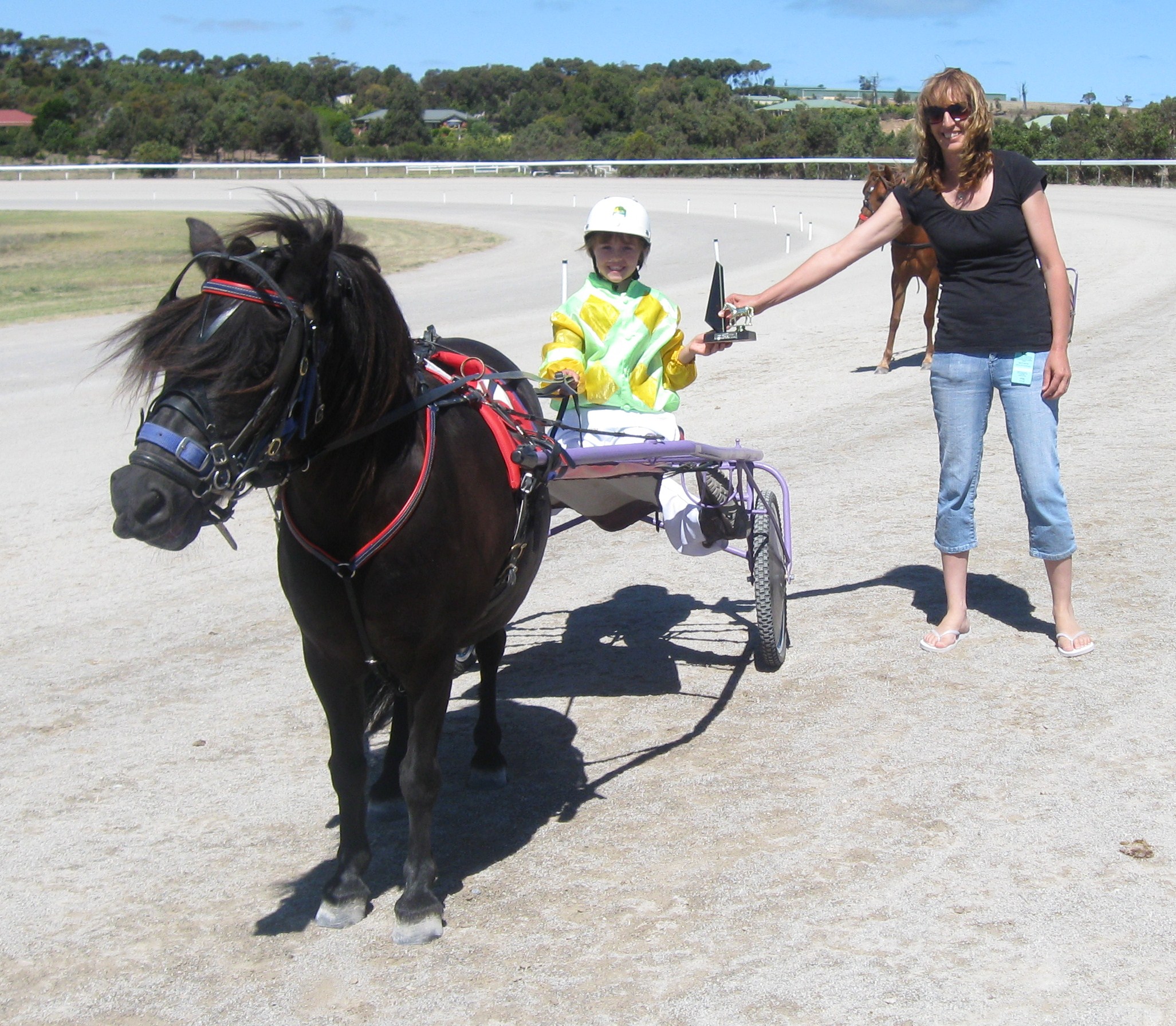 Midnight Star and Sharni receiving trophy kindly donated by Strawberries Galore Loxton
After rearranging the handicapping to give the slower pony's a chance, we had another first time driver win at their first race drive this time is was Sharni on Midnight Star. Heading out to the start Sharon (Sharni's mum) was running a long out in front of Midnight Star and we were beginning to think Midnight Star was chasing so well that maybe she should be his lure but that wasn't required and Midnight Star went on to win. The next three placings were very close and it could of gone any way but the newcomer Aadelaidee Lady driven by Madison Smith finished 2nd ahead of the Pascoe sisters, a very happy Jessica 3rd on Whataday and Samantha on Mumbo Jumbo.
After the race I asked Sharni if she was a little nervous before both races which she replied - yes, but said it was Good fun driving today.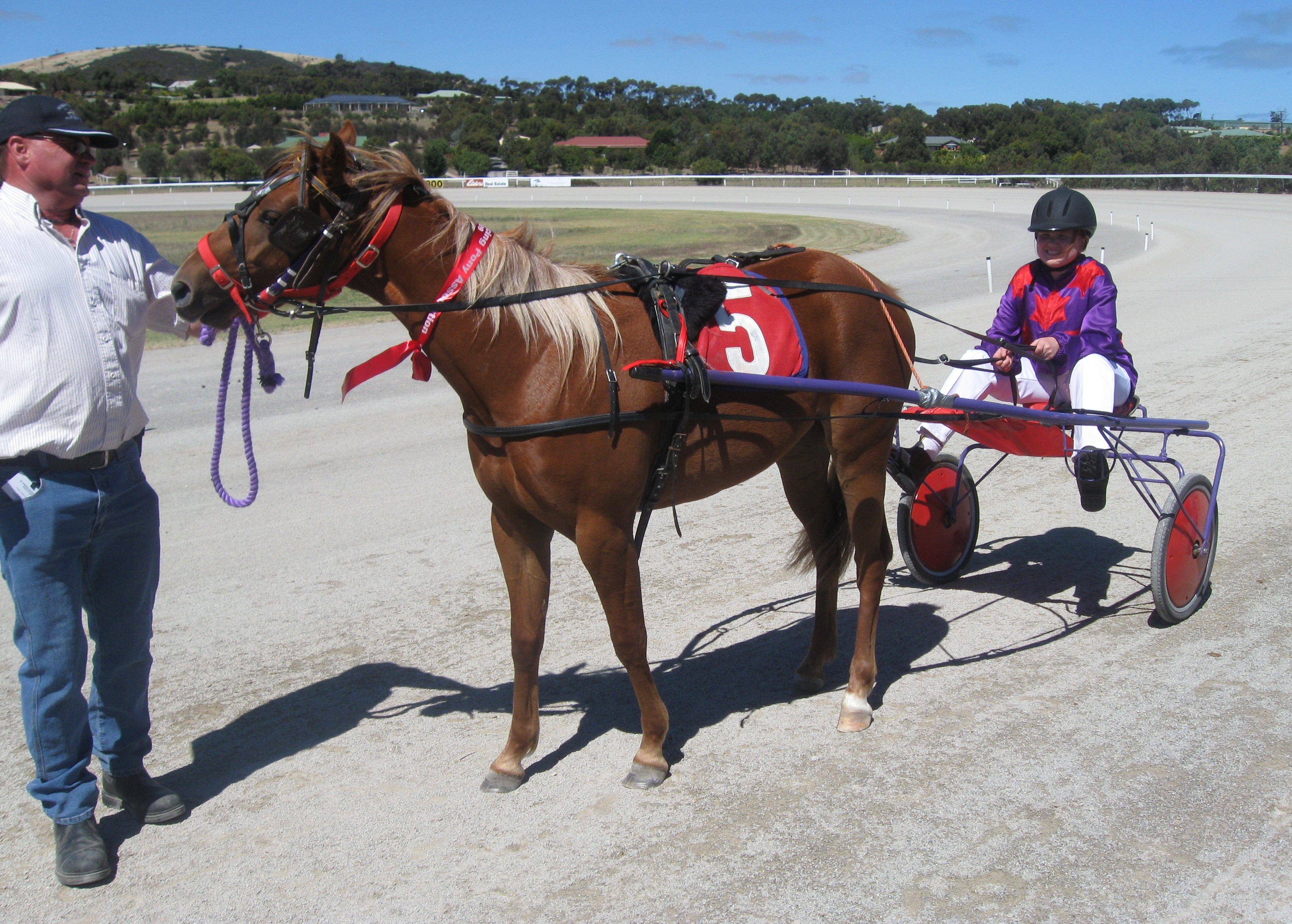 Aadelaidee Lady with 2nd Ribbon