Pascoe's Performing Proudly
During the 2008/2009 pony season both Samantha and Jessica Pascoe only attended a handful of meetings, however, the meetings that Samantha did attend she made her presence felt.  At the 2008 Royal Adelaide Show she won on Magpie Mary for Kaycee Carey, then during the Summer Carnival won on both Magpie Mary again and Wandarra Tess for the Wenham family, then won the Gawler Cup on Wandarra Tess.   Jessica on the other hand at 7 years old was having her first season of racing and with only limited drives waited until the end of the season to win her first race on 21 March with her pony Whataday.
Since the pony season has finished the Pascoe family have been quite the jetsetters, leaving dad Scott at home to do all the work, mum Mandy, Samantha and Jessica took some time off school and headed to NSW to compete at the National Pleasure Horse Association (NPHA).  The NPHA was held at the Sydney Equestrian Centre, which was built for the 2000 Olympics.
Samantha is 11 years old and has only been riding for 18 months so what she achieved during the month of May is outstanding.  Samantha won in the following categories: 
1.                  Junior Youth Showmanship where she led Charary Glory B by hand.  Charary Glory B is a Quarter Horse and owned by D Philpots-Green.  Also in this event Jessica led YLS Cool Seekin Rhythm and finished 7th, Cool Seekin Rhythm is a Quarter Horse owned by Blayze Williams.
2.                  Junior Youth Western Horsemanship where she rode Charary Glory B in the nicest pattern.
3.                  Junior Youth Hunter Under Saddle where she rode GK Little Skip Jack dressed in English attire.  GK Little Skip Jack is an Appaloosa owned by Blayze Williams.  In this event Jessica rode Charary Glory B into 7th placing.
Samantha's points for her age group over the whole show gave her the Highest Point National Champion Award.
After this show they headed to the Quarter Horse Nationals (Q9) where she won in the following categories:
1.                  Youth Hunter Under Saddle 11 years & Under where she rode Charary Glory B.
2.                  Youth Western Pleasure 11 years & Under where she rode Charary Glory B.
The maneuvers in the competitions were quite different and riders had to demonstrate specific skills.  Samantha achieved these results riding two different horses, both of which she had only ridden once before.
Back here is South Australia Samantha has also recently won High Point under 13 at the Appaloosa state show and the High Point 13 and Under at the Quarter Horse state show.
Samantha is only young but there is no doubt she is showing the potential to have a bright future in the saddle or the sulky.
Dated June 2009
Samantha riding GK Little Skip Jack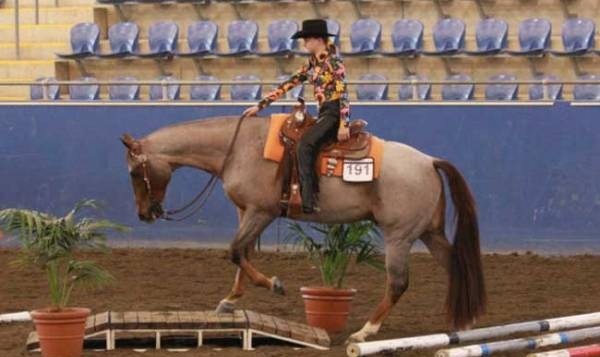 Samantha riding Charary Glory B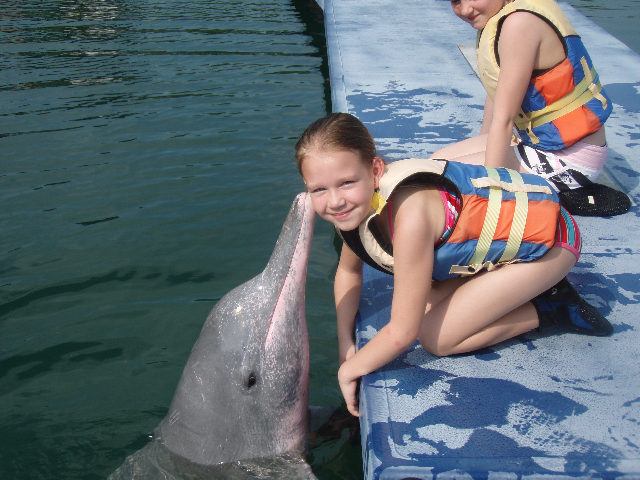 Jessica getting a kiss from a Dolphin in Qld