The story of one of SA's most travelled Shetland ponies of the latter years. The Black 9.1hh Shetland mare "Wandarra Tess" known as "Tess" to her followers. She is owned by Helen Wenham. Tess has been pony racing for over 11 years. She is good in harness but very naughty around home. Her first big trip was to Harold Park N.S.W for the Pony Interdominion when driven by Courtney Wise she ran unplaced, being her first season of racing. Coming back home she started to really race well finishing 2nd twice runner-up for Pony of the Year. Over the following years she was lucky enough to win the top award for the Shetlands 6 times. In 2007 when the Pony Interdominion at G.D.P she finished 3rd in the Shetland final.
Her next big foray was to Leeton N.S.W for the Australian Pony Championship held on Easter weekend in 2009. My daughter Angela Wise, her daughter Courtney, Jacob Starick and myself went. We had a wonderful time. There were 140 ponies competing, 46 in the Open class, 64 in the Shetland class and 30 in the mini Shetlands. Tess made the final 12, driven by Jacob. On the morning of the final Tess had a touch of colic and ran 9th in the final. On the last day, Monday, races were held for former pony drivers. Courtney drove Tess into 3rd place in a field of 12 from a 400 meter handicap in the Shetlands.
Over the years she has raced at many tracks including Harold Park, Leeton, Mildura, Port Pirie, Kadina, Kapunda, Gawler, Victor Harbour and Wayville Showground's. Many drivers have driven her, 12 different in all, including Courtney Wise, Ryan and Jack Wenham, Caitlin Forrest, Samantha Pascoe, The Lehmann Sisters Kathryn, Hayley and Jennifer, Matthew and Lauren Basto, Jacob Starick and currently by Jacinta Gilbert.
This 2011/12 season Tess was lucky enough to win the 3 main cups run at G.D.P, they being H.R.S.A Cup, the G.H.R.C Cup and the Championship against Mt Gambier.
Over her racing career she has only messed 4 race meetings at G.D.P. Thanks must go to Angela for all the driving. Her special assignment each Christmas is to take Father Christmas to the children.
With her performances she now has to start from the back marks of between 570 and 630 meters but loves the challenge to catch the front markers.
Hopefully at only 14 she has many more years of racing and other drivers to drive her.
Written by Tess's mum Helen Wenham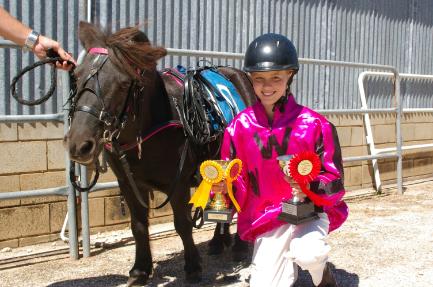 Jacinta Gilbert driving Wandarra Tess
Jacinta Gilbert with the two cups she won driving Wandarra Tess